10
THIS POST HAVE DEAD LINKS
REQUEST A REUPLOAD

HERE



CHECK SUBMITTED REQUESTS
BEFORE POSTING A NEW ONE!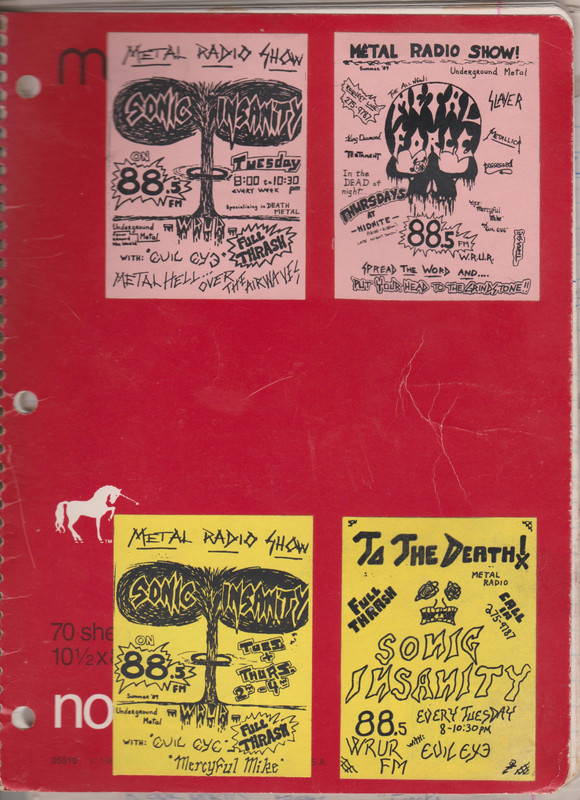 SONIC INSANITY Radio Show
– Tuesday, January 9, 1990 from 8pm-Midnight
(
the show ran late that night 'til almost 1:00am
)
on 88.5 WRUR-FM Rochester, NY, w/hosts Ron "Evil Eye" and Mike "The Mercyful One"
(
Missing 1st 2 hours of near 5-hour long show
–
Tape #1 is missing
and we put in the 2nd tape 25 mins late)
►
dead link
Tape #2
1. Side A (45:55)
2. Side B (45:52)
Tape #3
3. Side A (46:05)
4. Side B (37:52)
Ripped at 320 kbps
The following Tuesday (Jan. 16th) was an Overkill/Powermad/Krystal Synn show in Rochester so we play a Promo we made throughout the show and do a ticket giveaway after the Xyster song on Tape 2 - Side A. Sonic Insanity ran from the summer of 1989 to the summer of 2004.
Tracklistings
:
Tape #2
Side A
(
cuts in
) COVEN – Succubus
COVEN – 6669
DARK ANGEL – Older Than Time Itself
RIGOR MORTIS – Bodily Dismemberment
NUCLEAR ASSAULT – Stranded In Hell
CELTIC FROST – Morbid Tales
XYSTER – Inquisition
OVERKILL – Elimination
OVERKILL – Rotten To The Core (
cuts off
)
Tape #2
Side B
(
cuts in
) OVERKILL – Rotten To The Core
OVERKILL – Feel The Fire
OVERKILL – The Years Of Decay
OVERKILL – Hammerhead
OVERKILL – E.vil N.ever D.ies
OVERKILL – Overkill
DEATH – Open Casket
CORONER – Absorbed
CANDLEMASS – Under The Oak (
cuts off
)
Tape #3
Side A
(
cuts in
) CANDLEMASS – Under The Oak
FORBIDDEN – Chalice Of Blood (live)
WHIPLASH – Nailed To The Cross
WHIPLASH – The Burning Of Atlanta
WHIPLASH – Hiroshima
BATHORY – Blood Fire Death
KREATOR – Under The Guillotine
KREATOR – Total Death (
cuts off
)
Tape #3
Side B
(
cuts in
) KREATOR – Total Death
KREATOR – Tormentor
KREATOR – Behind The Mirror
KREATOR – Betrayer
KREATOR – Riot Of Violence (live)
METALLICA – Fade To Black
VOIVOD – To The Death
(
End Of Show
)
(
Station goes off-the-air until morning
)