45
THIS POST HAVE DEAD LINKS
REQUEST A REUPLOAD

HERE



CHECK SUBMITTED REQUESTS
BEFORE POSTING A NEW ONE!
Artist: Luigi Anada Boys
Release: Feeling The Ceiling
Genre: NWOBHM/Hard Prog
Country: UK (Leeds, England)
Bitrate: 320 kbps
►
Dead Link
---------------------------------------------------------------------
Info
LUIGI ANADA BOYS - Feeling The Ceiling (1978) UK
Criminal Records CR 0001
320 kbps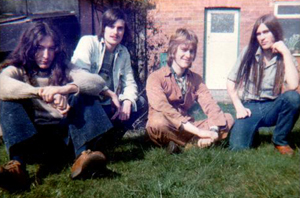 Duncan McFarlane : Guitar & Vocals (SHARP PRACTICE, THE WAY, A NEW OPERA, ANOTHER WAY, DUNCAN McFARLANE BAND, TAYLOR MAX)
Geoff Taylor : Guitar (DUNCAN McFARLANE BAND, TAYLOR MAX)
Dave Roberts : Bass & Vocals
Rob Steeles : Drums & Percussion (TAYLOR MAX)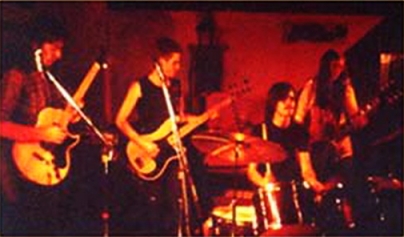 The curiously named LUIGI ANADA BOYS, (try saying it fast with an Italian accent), were a Yorkshire based NWoBHM/Hard Prog quartet, formed in Leeds, England, in 1977 by four extremely talented young musicians.
They released just one rare album, "Feeling The Ceiling", privately in 1978, on their own Criminal Records label.
It was pressed in limited numbers & came in a plain white cardboard sleeve with a pasted on tracklist & credits.
If you decide to hunt down a mint original LP i hope you have fat wallets, as you can expect to pay upwards of £1,500 for a copy nowadays!
For once though, this albums rarity & high price tag amongst collectors is actually matched by the quality of it's musical content.
The record entertains throughout with it's impressive twin guitar interplay & compositional experimentalism.
Opening with the epic 10 minutes long "Horror Suite", the group flit easily between the Hard and Progressive sides of their style, with a consistency and musicality that belies their youthfulness.
The driving, breezy, 'Suck It And See', has an earthy celtic feel to it which may endear fans of THIN LIZZY or ASHBURY to it.
Despite actually getting some airplay on BBC Radio 1 courtesy of an enthusiastic John Peel, (who introduced them as "a bunch of itinerate waiters from Leeds"), the record unfortunately never led the band to bigger things, wider recognition or further recordings
In early 1978 Dave Roberts & Geoff Taylor departed the band, and were replaced by guitarist Phil Cockerham & bassist Dave Turner, both formerly of JOBE St. DAY.
This new line up gigged all round the UK whilst attempting to hold down day jobs, but the strain eventually proved too great and founder member Duncan McFarlane reluctantly decided to leave, resulting in Cockerham also calling it a day.
After briefly attempting to carry on with a new guitarist & keyboard player, the remaining members saw the writing on the wall and finally threw in the towel in 1979.
On the very rare occasions where the album is discussed, their sound is often compared to that of WISHBONE ASH because of their shared fondness for twin harmony guitars coupled to a tight rhythm section, which allowed both bands to explore a wide variety of musical landscapes.
I can also hear strong traces of early EPITAPH and AUTOMATIC FINE TUNING (A.F.T.) in their sound, or, for a more modern comparison, some of WYTCH HAZEL's material also bears many of the same hallmarks.
Luigi Anada Boys guitarist Duncan McFarlane subsequently went on to become a solo artist playing acoustic folk music, & in 2000 also formed the five piece folk rock DUNCAN McFARLANE BAND, which features his former L.A.B. bandmate Geoff Taylor.
DISCOGS :
https://www.discogs.com/Luigi-Anada-Boy ... se/6918650
art & txt included
---------------------------------------------------------------------
01. Horror Suite (10:31)
02. Turn And Walk Away (6:27)
03. Jigalo (2:04)
04. The End Of Some Are Cold (4:49)
05. Suck It And See (4:20)
06. The Last Supper (5:37)
07. Feeling The Ceiling (6:05)
08. J' Accuse (6:03)