42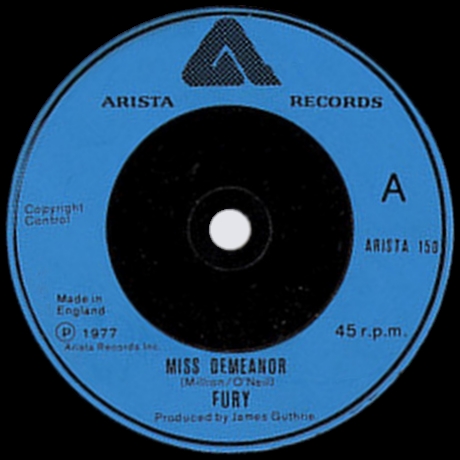 Artist: Fury
Release: Miss Demeanor 7"
Genre: NWOBHM/Hard Rock
Country: UK (London)
Bitrate: 320 kbps
►Link
Hidden Link
---------------------------------------------------------------------
Info
FURY - Miss Demeanor 7" (1977) UK/Canada
Arista Records ARISTA 150
320 kbps
Gerard 'Ged' Milne (aka 'Jeb Million') - Vocals (BLAZER BLAZER, RADIO EARTH, TURKEY, BROADWAY BRATS)
Derek O'Neil - Guitars (BLAZER BLAZER, SHOTGUN, MARSHALL, MARSHALL FURY, BOMBAY, BUTLER, THE HEAT BROTHERS, CANADIAN GOOSE, PAT TRAVERS)
Steve Barnacle - Bass (BLAZER BLAZER, MARSHALL, MARSHALL FURY, VISAGE, STRANGE CRUISE, WILDLIFE, BROADWAY BRATS)
Nicko McBrain - Drums (IRON MAIDEN, TRUST, STREETWALKERS, CHARLIE, McKITTY, BLAZER BLAZER, PAT TRAVERS, STRETCH, THE FULL METAL RACKETS, WHOCARES)
FURY were a short-lived UK based Hard Rock band with a half British, half Canadian line up, formed in 1976.
Nowadays best remembered for including future IRON MAIDEN drummer Nicko McBrain, the group also featured bass player Steve Barnacle, guitarist Derek O'Neil and singer Ged Milne, the latter pair from Canada.
The band released just one 45, 'Miss Demeanor', on Arista Records, timed to co-incide with Fury's opening slot with URIAH HEEP on their 1977 'Innocent Victim' UK tour.
The A-Side is a commercial track with more than a hint of STORIES 'Brother Louie' about the chorus, but the slow burning B-Side 'Stay On Your Feet' is far better, and, i'm told, more representative of Fury's overall direction.
Fury later changed it's name to BLAZER BLAZER and McBrain soon departed to join PAT TRAVERS, with former HACKENSACK & BE BOP DELUXE man Simon Fox taking his place.
Blazer Blazer toured the UK in early 1978 as special guests with NAZARETH, before they hit the road again as the support act to AC/DC on their sold out 'Powerage' tour in October & November.
The band then released their three song 'Cecil B. Devine' EP on Logo Records in 1979.
O'Neil also found the time that year to contribute guitarwork to BLONDE ON BLONDE's 'And How!' album, just before Blazer Blazer split up
From 1980 to 1981 O'Neil was part of Ken Hensley's post-Uriah Heep group SHOTGUN, as was Barnacle who went on to play with VISAGE.
O'Neil then returned to Canada where he played in the bands BUTLER and BOMBAY, then later relocated to Los Angeles where he played with THE HEAT BROTHERS.
In 1980 Ged Milne found himself in a band called BROADWAY BRATS with future Iron Maiden guitarist Adrian Smith and his guitar partner from URCHIN Andy Barnett.
The band gigged around for a year, mostly playing in London, but by the years end they went their separate ways, with Steve Barnacle joining to play one final gig after their regular bassist departed.
In 1986 IRON MAIDEN recorded a cover version of an unreleased Fury/Blazer Blazer song called 'Juanita' that Broadway Brats had also performed. It saw release on the B-Side of the 'Stranger In A Strange Land' 12", the first single from the 'Somewhere In Time' LP.
Ged Milne reappeared that same year, releasing a couple of solo pop singles under the JEB MILLION name, before he fronted the pop/synth group RADIO EARTH for two 45s in 1987.
Over the years, songs Milne had written were recorded by artists as diverse as ROGER DALTREY, LULU, AIR SUPPLY & SHAKIN' STEVENS.
He too eventually moved to America, settling in L.A. in 1996, where he worked in computer animation.
Sadly, Derak O'Neil passed away in 2007, and Milne too died in 2013.
Barnacle in recent years has been making library music for use in TV & film, whilst McBrain remains behind the Iron Maiden kit, where he's been now for over 35 years.
This Fury aren't the same act who released the 1983 'River Deep Mountain High' single on Anchor Records.
I realise this is a borderline release for this thread because of the UK/Canadian line up and the just-slightly-too-early-to-be-truly-considered-NWOBHM, but with the band's links to Blazer Blazer, Iron Maiden & Urchin it seemed like the best place to post it for those who might be most interested to find it.
If the mods disagree, feel free to move it, i won't be offended.
art & txt included
---------------------------------------------------------------------
01. Miss Demeanor
02. Stay On Your Feet