23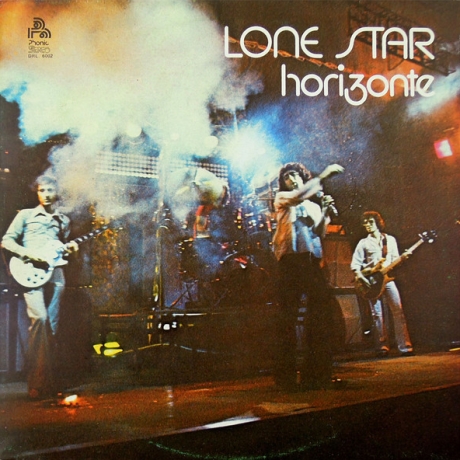 Artist: Lone Star
Release: Horizonte
Genre: Hard Rock/Progressive Rock/Heavy Metal/Pomp Rock/Classic Rock
Country: Spain (Barcelona)
Bitrate: 320 kbps
►Link
Hidden Link
---------------------------------------------------------------------
Info
LONE STAR - Horizonte (1977) Spain
Phonic ‎Records DRL 6002
320 kbps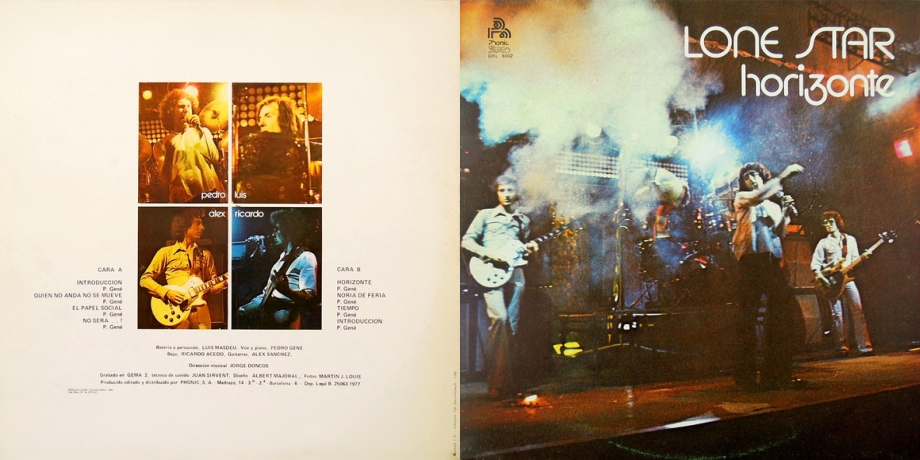 https://www.discogs.com/Lone-Star-Horiz ... er/1007600
Vocals & Keyboards – Pedro Gené
Guitars - Álex Sánchez
Bass – Ricardo Acedo
Drums & Percussion – Luis Masdeu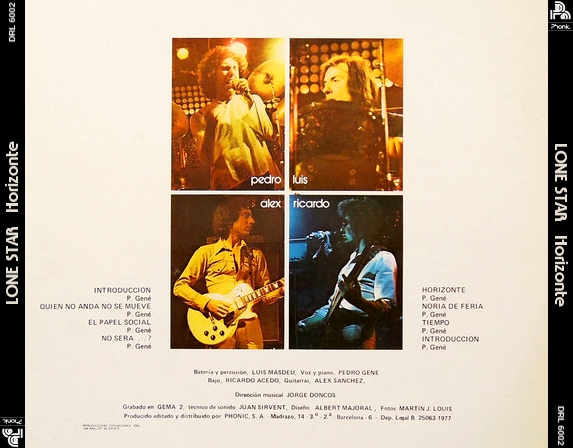 Very listenable Prog flecked Hard Rock with some outstanding guitar. Recommended.
LONE STAR were a Spanish rock group formed in Barcelona by Pedro Gené (vocals and leader of the band), Willy Nab (guitar), Rafael de la Vega (bass), Enrique Fusté (piano) and Enrique López (drums).
The group began in 1959, when Pedro Gené returned to Spain after living for a year in England. There he saw the emergence of rock and roll in all its splendor. Gené had given piano lessons at the Liceo de Barcelona conservatory and returned to Spain with the idea of ​​forming a rock group, and this was how he brought together some old colleagues from the conservatory.
Pedro's fascination with the American Civil War and the blues led him to name the group Lone Star.
This is how the Lone Star concerts began in bars and clubs in Barcelona. At that time, they played versions of Ray Charles, an authentic revelation for many who listened to him. At a concert in the pub "Texas", in the Plaza Real, a Dutchman named Willy Nab takes the stage with his guitar and plays a couple of songs with the group. In this way, Nab would complete Lone Star during those first years.
In 1961, EMI noticed them and they recorded the first EP, sung in English, and where one of their first classics was included: "My babe". In 1962 and after the recording of the second EP, Joan Miró would replace Willy Nab on the guitar, while the keyboardist Enrique Fusté left the band.
But one of the great successes would be the version they would make in 1964 of "La casa del sol nasciente", translation in Spanish of "House of the rising sun" by The Animals, so much so that, in Spain, the Lone Star version soldl more singles than the British band. The issue became number one in all of South America and later in Spain.
Taking advantage of this, EMI Odeón organized a concert in Barcelona with Lone Star and The Animals, which would be repeated a year later at the Palacio de Deportes of Barcelona, ​​in 1965.
From this success they recorded more EP's for EMI, although consisting only of covers, among them more adaptations of The Animals stand out as "Understanding" ("Please Don't Let Me Be Misunderstood"), "I Cry" ("I'm Crying") or "Very Far From Here" ("We Gotta Get Out Of This Place"), & also The Rolling Stones, "Satisfaction" & "Get Off Of My Cloud".
In 1966 came the group's opportunity to record their first full-length album. Gené managed to agree with EMI that half of the songs would be cover versions and the other half, their own songs.
On this epononymous disc the record company begins to understand that it has to give room for manoeuver to the group. It was also here that Álex Sánchez joined the group, replacing Joan Miró, who had to complete military service and who would return to the band one year later.
In 1967 comes the second long play, entitled 'A Set With Lone Star - Anthology', which contains songs like "It's A Man's Man's Man's World", "Sundays", "Around This world", or two well-known songs: "Rio Endless" and "The House Of The Rising Sun", among others.
In 1968 his third album appears: 'Vuelve El Rock', released by La Voz de su Amo, a subdivision of EMI; this LP continues in the line of the first two, although with more emphasis on classic rock and roll and rhythm & blues, with songs like "Lucille", "Long Tall Sally", "Hello Josephine", "Mean Woman Blues" or "I Got A Woman".
During 1967 and 1968, Lone Star alternated between performances as a rock group and concerts as a jazz group, something completely unheard of at the time.
In 1968 the group produced "Lone Star in Jazz", an album with a totally atypical sound for a rock group, where compositions such as "Misty" or "El Cant Dels Ocells" stand out.
In 1968, they would record one of their most legendary songs: "Mi calle", which would become one of the main courses in their later concerts. In 1969 Lone Star released the single "The Trilogy/And Died Love", which won the prize of the SGAE as song of the year, although that same year, the drummer and founding member Enrique López leaves the group, replaced in January 1969 by Joan Vidal.
After a few gigs in the month of September he gives way to Luis Masdeu and, shortly after, Joan Miró left too, (this time for good), with Álex Sánchez returning to play again on the six strings.
With the new decade the group embarks on a tour of Central Europe, from which emerged the album "Spring 70" (1970), recorded live and in English.
In 1972, after dissociating from EMI, Lone Star scored two hits with the single "Lonely Girl/My Sweet Marlene", released by their new record company, Unic, although Rafael de la Vega leaves the group and so enters Sebastià Sospedra on bass .
In those years, the success of Lone Star is incontestable, coming to play in two strange and exclusive places: the American aircraft carrier John Fitzgerald Kennedy and the Palau de la Música in Barcelona, ​​at that time very reluctant to any kind of music that is not Classical.
With the Unic they launched "Es Largo El Camino" in 1972, and a live show entitled "Adelante Rock En Vivo" in 1973, while their music changed from the old rhythm & blues of the 60s, to a heavier contemporary sound.
Towards 1976 they are signed by Diplo Records, another small national company with which they release the LP '¡Síguenos !!', becoming one of the first groups to sing rock in Catalan.
In 1977 they released a maxi single in Catalan with 2 songs, "Punta D'Alba" and "L'Amor Se'n Va", recorded under the musical direction of Jordi Doncos.
Arriving at the end of the 70s, they released "Horizonte" on the Barcelonesa Phonic label in 1977, and "Oveja Negra" on the Madrid-based Musivoz in 1979, small companies like all of which Lone Star played since its break with EMI Odeon, modest productions of a surviving band that contrast with those of the 60s and early 70s, when the group's popularity was much higher.
The first and only album of the band in the new decade appeared in 1982 with "Viejo Lobo", published by AUVI. The line-up for this work includes Pedro Gené in voice, Álex Sánchez in guitar, Sebastià Sospedra in bass, and Gerónimo Martínez in drums, highlighting the songs "In the year 62", "I believe in you" and "Children of rock and roll ".
The album has a flavor close to Hard Rock and Heavy Metal, in tune with bands such as Baron Rojo or Obús, although this album would be the last of Lone Star until 1996.
In 1996, after many years of silence and in the digital age, Lone Star re-launched with a new work for the company AZ, "Hacia El Futuro", which included a number of old songs re-recorded in new versions, with the incorporation of the bass player Jaume Rivera in place of Sebastià Sospedra.
In 2010 a CD called "Concierto Teatro Infanta Beatriz Madrid 1968" was published, documenting this live performance, during the group's most popular period.
The current status of Lone Star, according to its official site, is inactive.
art & txt included
---------------------------------------------------------------------
01. Introduccion (04.37)
02. Quien No Anda No Se Mueve (05.49)
03. El Papel Social (03.40)
04. No Sera...? (04.17)
05. Horizonte (05.21)
06. Noria De Feria/Tiempo/Introduccion (13.14)