20
Artist: IC-Rock
Release: Anyway Ya Want It
Genre: Hard Rock
Country: Finland (Pudasjärvi)
Bitrate: 192 kbps
►Dead Link
---------------------------------------------------------------------
Info
IC-ROCK - Anyway Ya Want It (1982) Finland
Kerberos Records KEL 627
192 kbps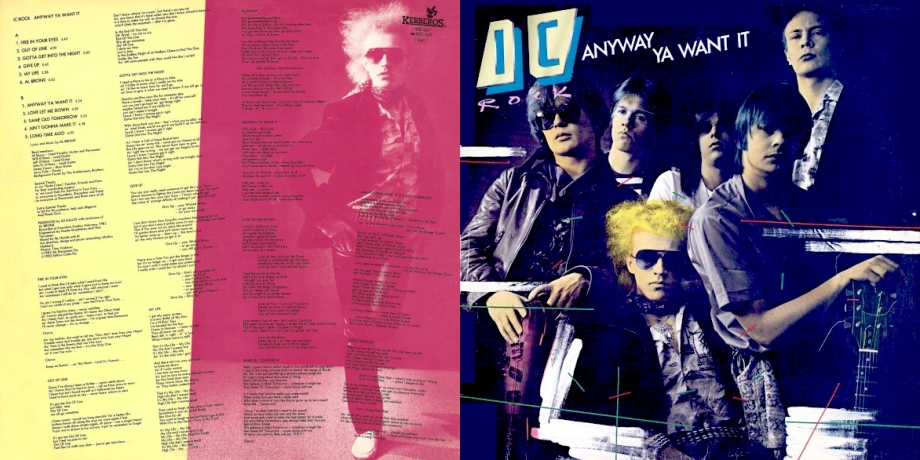 Tapani "Tanna" Tikkanen : Vocals & Harmonica (IC, TANNA, PRAYER)
Juha-Pekka "Juice" Kiviniemi : Guitar (IC)
Ville "Vikke" Mattinen : Guitar (IC, TANNA)
Veli-Matti "Troy" Partanen : Guitar (IC)
Juha Nauha : Bass (IC)
Juha Jaara : Drums (IC)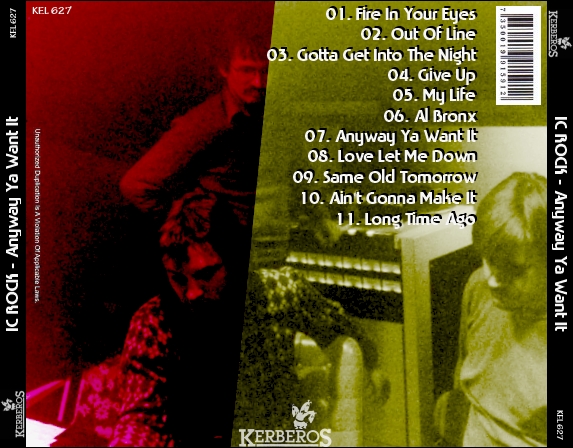 IC-ROCK was a six piece Hard Rock band founded in Pudasjärvi, Finland in ​​1979.
Unlike many of their peers the group sang in English and featured three guitarists.
With Juha Jaara being replaced by Jukka Korhose on the drums, the band made their debut LP 'Anyway Ya Want It' in 1982 for the Kerberos label.
The record was a critical hit, with one particular reviewer (accurately) describing IC-Rock as sounding like "a surprising collision between HANOI ROCKS & THIN LIZZY".
A year later the LP was followed by the non-album single 'Young Girl's Eyes'.
Kerberos Records then proposed that the band sing in Finnish, but after trying their hand at writing new material in their native tongue they ultimately decided against it.
Parting ways with Kerberos, the band decided to abbreviate their name to IC.
Under this new name, a brand new album 'Hard Beat' and 2 singles 'Hurt' & 'Secret' were released by their new label Amulet Records in 1984.
IC also made a memorable appearance at the Kuusrock Festival that year, showing how much they had grown in confidence and ability since their appearances low down the bill at the 1981 & '82 events.
IC-Rock/IC never quite made it beyond semi-professional status however, and after some members left the band Tikkanen, Korhonen and Mattinen formed a new outfit in 1985 called TANNA.
Tanna's debut LP 'Unelmien Viidakossa' then appeared later that same year on the Euros label.
The group's melodic Pop-Rock, (sung in Finnish), became popular with the public, and in 1986 the in concert 'Live!' LP was released by Bang Trax Records.
In 1988 their second studio album 'Onnensoturi' was released by Kräk! Records.
Following the release of a final 45, 'Sydämeesi Jäin', Tanna split up in 1989.
A collection of unreleased Tanna recordings were later assembled on the posthumous 1992 album 'East Of Eden'.
In the 21st century Tikkanen returned to music, playing in the Hard Rock band PRAYER.
In 2009 a new IC-ROCK album appeared entitled 'IC-Rock 70's' which featured the band taking on songs by their favourite 70s artists such as LED ZEPPELIN, STEPPENWOLF & DEEP PURPLE.
Biography based on an original Finnish article @
https://www.ouka.fi/oulu/pohjoista-musiikkia/ic-rock
art & txt included
---------------------------------------------------------------------
01. Fire In Your Eyes
02. Out Of Line
03. Gotta Get Into The Night
04. Give Up
05. My Life
06. Al Bronx
07. Anyway Ya Want It
08. Love Let Me Down
09. Same Old Tomorrow
10. Ain't Gonna Make It
11. Long Time Ago