18
THIS POST HAVE DEAD LINKS
REQUEST A REUPLOAD

HERE



CHECK SUBMITTED REQUESTS
BEFORE POSTING A NEW ONE!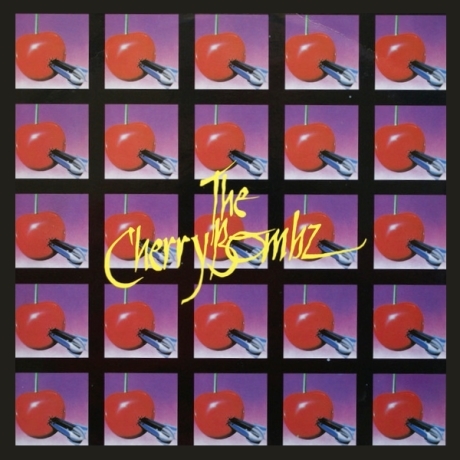 Artist: The Cherry Bombz
Release: The Cherry Bombz [EP] (1985)
Genre: Hard Rock/Glam Rock/Rock 'n' Roll
Country: Finland/UK
Bitrate: 320 kbps
►Dead Link
---------------------------------------------------------------------
THE CHERRY BOMBZ - The Cherry Bombz EP (1985) Fin/UK
Lick Records LIXT3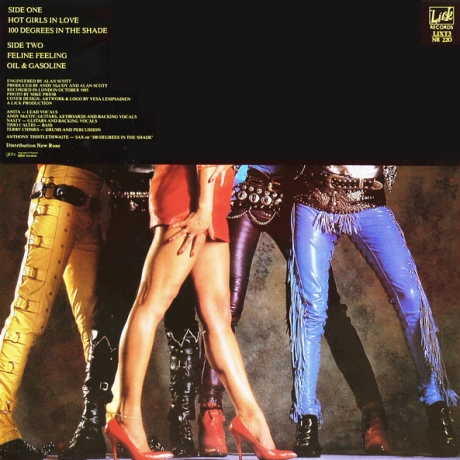 Anita Chellamah (aka Anita Mahadervan) - Vocals (TOTO CUELO, ANITA CHELLAMAH BAND)
Andy McCoy (aka Antti Hulkko) - Guitar & Vocals (BRIARD, PELLE MILJOONA OY, HANOI ROCKS, FALLEN ANGELS, THE SUICIDE TWINS, IGGY POP, SHOOTING GALLERY, GREASE HELMET)
Nasty Suicide (aka Jan Stenfors) - Guitar & Vocals (BRIARD, HANOI ROCKS, FALLEN ANGELS, THE SUICIDE TWINS, CHEAP & NASTY, SOHO VULTURES, DEMOLITION 23)
Timo "Timppa" Kaltio - Bass (HANOI ROCKS, CHEAP & NASTY, JOHNNY THUNDERS, VOID, TRANSYSTEM V, PECKHAM COWBOYS, TANGO PIRATES, ANITA CHELLAMAH BAND)
Terry "Doctor" Chimes - Drums (LONDON SS, THE CLASH, JOHNNY THUNDERS, COWBOYS INTERNATIONAL, GEN X, BILLY IDOL, HANOI ROCKS, BLACK SABBATH, THE CRUNCH, ANITA CHELLAMAH BAND)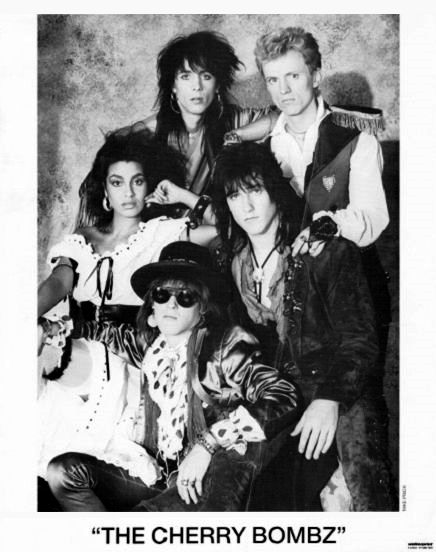 THE CHERRY BOMBZ were formed in the summer of 1985, by four former members of the legendary HANOI ROCKS, who had just split up.
Andy McCoy, Nasty Suicide, Timo Kaltio and Terry Chimes decided to stay together after Hanoi's singer Mike Monroe left, but opted to change their name & form a new band rather than keeping their former monicker.
Deciding on the Cherry Bombz name, they recruited former LEGS & Co. dancer Anita Chellamah as vocalist.
Chellamah had recently been in the band TOTO CUELO who had a few minor hits with singles like 'Dracula's Tango' & 'I Eat Cannibals', but had never quite broken through.
The first recorded fruits of the band's efforts was a self-titled 4 song EP.
With the opening song, 'Hot Girls In Love', receiving some airplay on radio, the song was released as a 7" single, but the 45 failed to trouble the singles charts despite constant gigging & several TV performances in support of the release.
The EP was released by Lick Records in the UK & Europe, with PVC Records picking it up for release in the U.S., and Mercury Records doing the honours in Japan where Hanoi Rocks had been hugely popular.
In Finland the EP was expanded to Mini LP length for it's release on Yahoo Records, with the addition of a fifth song, 'Pin Up Boy'.
After the shows to support the EP/Mini LP were completed, bassist Timo Kaltio was shown the door, to be replaced by former SHAM 69 & LORDS OF THE NEW CHURCH man Dave Tregunna.
The new line-up wasted no time hitting the studio to record the 3 song 'House Of Ecstasy' EP, which boasted a fourth track, 'Declaration', on the U.S. edition.
To support the EP's release in May 1986, the band hit the road again playing all over Europe, including the band's biggest shows on their 16 city UK tour.
The Cherry Bombz then flew to the States for a 10 week U.S. tour, with their American label combining the two EP's into an album entitled '1000 Degrees In The Shade', to coincide with the band's visit.
The U.S. tour proved to be a gruelling affair, and with the volatile band members trapped in cramped close quarters with each other for long periods, serious tensions began to emerge within the ranks.
Upon their return to the UK, the band discovered they were broke and were now also without a record deal.
As a result the members drifted apart & the curtain came down prematurely on The Cherry Bombz.
A posthumous live album, 'Coming Down Slow', which had been recorded at London's Marquee Club, was released in 1987 on the High Dragon label in Europe & on Mercury in Japan.
The live album & both studio EPs were later combined for a 1990 CD release entitled 'House Of Ecstasy', which was only available in Japan.
Terry Chimes went on to play drums with BLACK SABBATH on their 'Eternal Idol' tour, before eventually giving up the music business and becoming a chiropracter.
Dave Tregunna remained very active in the music world, moving through the ranks of KILL CITY DRAGONS, IGGY POP, SHOOTING GALLERY & BRIAN JAMES GANG.
Nasty Suicide formed CHEAP & NASTY with his former Cherry Bombz band mate Timo Kaltio, releasing two EPs & two well received albums, before joining up with his former Hanoi Rocks bandmates Sami Yaffa & Mike Monroe in DEMOLITION 23.
After a 1996 solo album called 'Vinegar Blood', Nasty walked away from the music business, and is now the head of a successful pharmaceutical company in his native Finland.
Andy McCoy stayed busy musically, releasing a pair of solo albums before joining Iggy Pop's band.
His next group SHOOTING GALLERY were signed to major label Mercury Records in a worldwide deal, but with typical bad timing, their lone self-titled 1992 album was released just as grunge was hitting big, and the label decided to let the band go soon after.
McCoy then briefly returned to his solo career before reforming Hanoi Rocks with Monroe in the early 2000's.
After Hanoi disbanded once again, following the release of 3 more studio albums, McCoy formed a new band called GREASE HELMET, who have released one self-titled album to date.
Post Cherry Bombz, Anita Chellamah spent a few years as a presenter on the UK's Sky TV, before stepping away from show business entirely to marry & raise a family.
She has recently begun performing again in the ANITA CHELLAMAH BAND, with her group currently including three more former Cherry Bombz members, Timo Kaltio, Dave Tregunna & Terry Chimes.
art & txt included
---------------------------------------------------------------------
01. Hot Girls In Love
02. 100 Degrees In The Shade
03. Feline Feeling
04. Oil & Gasoline