136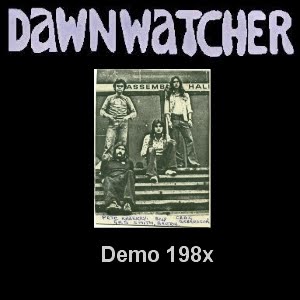 Artist: Dawnwatcher
Release: Demo 198x (Studio Recordings 1977-83)
Genre: NWOBHM
Country: UK
Bitrate: 320 kbps
►
new link in comment section below
---------------------------------------------------------------------
Info: Information not currently available about this release, except for track list. It is believed that, like all other releases from this band, it is entirely privately resourced.
Includes 2 songs that never made it to the vinyl stage : Attitudes and Children of the Night
http://www.metalmusicarchives.com/album ... ed-kingdom
)/demo-198x(demo)
http://medlem.spray.se/nwobhm/demos_d.htm
http://medlem.spray.se/nwobhm/interview ... atcher.htm
http://www.metal-archives.com/band/view/id/19647
Anyone got their 1978 3 tr. demo (1. A Winter's Tale 2. Bird in Flight 3. In the Wake of Dawn) ?
---------------------------------------------------------------------
1. Hall of mirrors
2. Attitudes
3. Spellbound
4. Firing on all eight
5. Salvador's dream
6. Children of the night
7. Backlash