.
.


Artist: Tirant Sin
Release: Demos, 1987 - 1989
Genre: Thrash / Death Metal
Country: United States
Bitrate: 192 / 320 kbps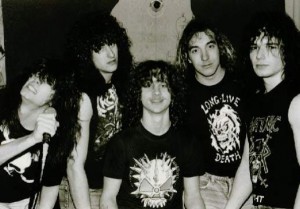 ---




Info:



(From Metal Archives) The band was originally called Satan's Angel. It consisted of Chris Barnes (vocals), Paul Mazurkiewicz (drums), Rich Ziegler (bass) and Bob Rusay (guitar). They were a high school band and played one show in December 1985, in which they did two cover songs, "Balls to the Wall" and "Dethroned Emperor". At this point, they were Tirant Sin. In 1986, Chris left to join Leviathan. Paul, Rich and Bob moved up to Absolute Storage. They practiced with a couple singers, nothing worked out. Cam V. joined as the second guitarist. In February 1987, Dennis John joined Tirant Sin as vocalist. Cam left in the Summer of 1987 and was replaced by Joe Morelli on guitar.

In late 1988, Paul, Chris and Bob (ex-Tirant Sin) got together with Alex Webster and Jack Owen (ex-Beyond Death) and formed the now famous Death Metal band, Cannibal Corpse. In 1989, Dennis, Rich and Joe formed Mayhemesis with Jim Link (drums) and Phil Frost (guitar).

These can be found fairly easily enough on-line but, I didn't see them up already and wanted to post them for those who haven't heard them and the uninitiated. Enjoy!



---




Desecration of the Graves (1987)



No cover sorry

1. Slaughtered
2. Desecration of the Grave
3. Blasphemy
4. Mass Mutilation




Chaotic Destruction (1987)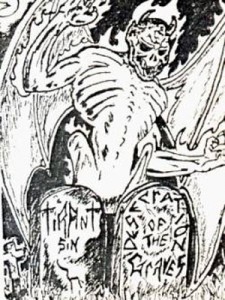 1. Ambition to Kill (Intro)
2. Crucified in Blood
3. Decapitated
4. Bamm-Bamm
5. Chaotic Destruction
6. Medieval Odyssey




Mutant Supremacy (1989)






1. Mutant Supremacy
2. Exhausted
3. Crucified in Blood
4. Untitled Bonus Track

*





*

Not sure if this track is them or not. It was included in the file so I'll include it here.

►Hidden Link:

USE THE "THANK FOR POST" BUTTON TO SEE HIDDEN LINK [

GUIDE

]

Spam, flooding, meaningless, one word or short non-sense posts NOT allowed.
Your account will be limited/suspended if you dont follow the forum rules.