33
THIS POST HAVE DEAD LINKS
REQUEST A REUPLOAD

HERE



CHECK SUBMITTED REQUESTS
BEFORE POSTING A NEW ONE!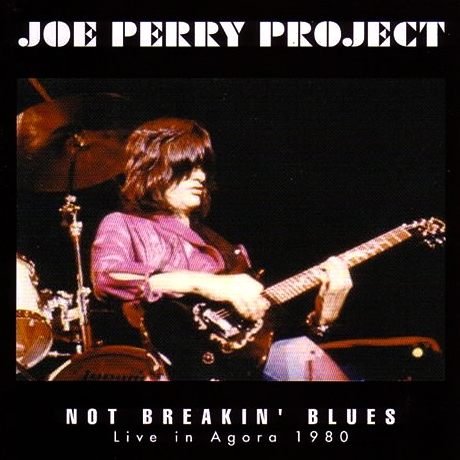 Artist: Joe Perry Project
Release: Not Breakin' Blues
Genre: Hard Rock/Classic Rock
Country: USA (Boston MA)
Bitrate:
►
---------------------------------------------------------------------
JOE PERRY PROJECT - Not Breakin' Blues (1980) USA
The Polar Bear Records - PB-102
ジョー・ペリー・プロジェクト Unofficial Japanese Release
FM Radio Broadcast From The Agora Ballroom, Cleveland, Ohio 11/04/1980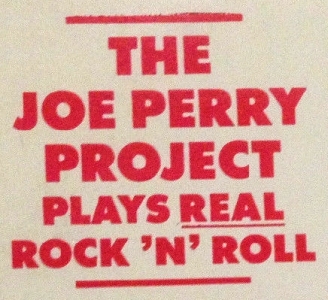 Tracks 1, 2, 5, 7 & 13 : Originally by AEROSMITH
Track 3 : Originally by BO DIDDLEY & NEW YORK DOLLS
Track 8 : Originally by ELVIS PRESLEY
Track 11 : Originally by THE MUSIC MACHINE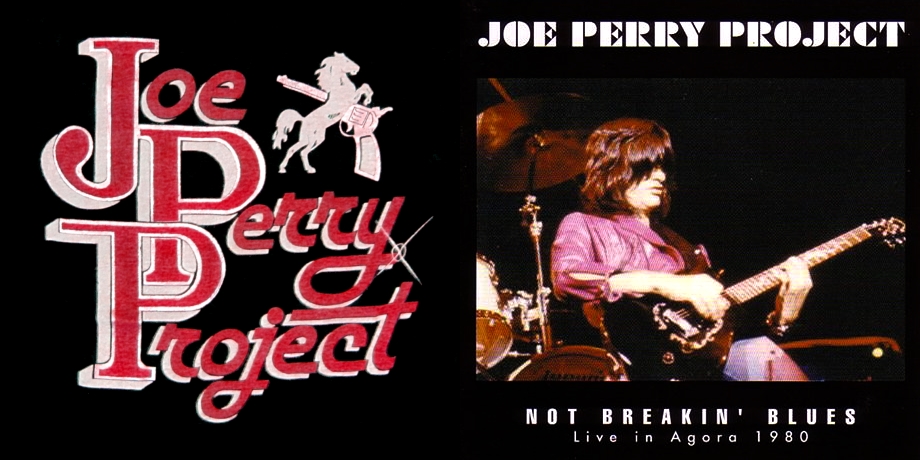 Ralph Morman - Vocals (THE OUTCASTS, APPALACHIAN MAINLINE, THE STORE, TANGERINE, HEAVY RAIN, BUX, MAGNUM, SAVOY BROWN, CHAMELEON, DUTCH COURAGE)
Joe Perry - Guitar, Vocals (THE JAM BAND, AEROSMITH, HOLLYWOOD VAMPIRES)
David Hull - Bass, Vocals (LOVE, WHITE CHOCOLATE, THE DIRTY ANGELS, TED NUGENT, FARRENHEIT, MODERN FARMER, PETE DROGE & THE SINNERS, AEROSMITH, KAT IN THE HAT)
Ronnie Stewart - Drums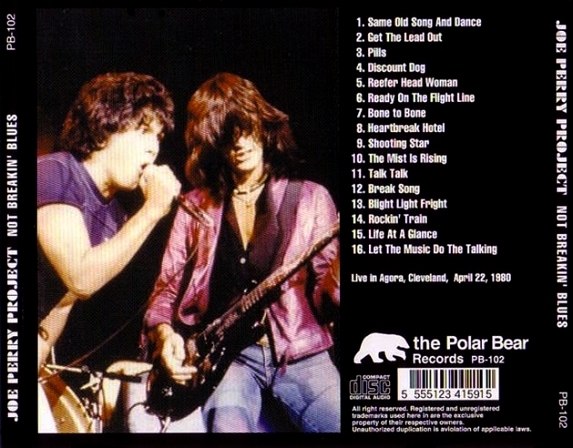 JOE PERRY PROJECT was an American rock band formed by AEROSMITH lead guitarist Joe Perry shortly before his departure from that band in 1979.
The Joe Perry Project signed a record deal almost immediately after Perry's exit from the band with Columbia Records.
The original band line-up consisted of Perry, singer Ralph Morman, bassist David Hull and drummer Ronnie Stewart.
This line-up recorded The Project's 1980 debut album, 'Let the Music Do the Talking', which was produced by long-time Aerosmith producer Jack Douglas.
The album was fairly well received and sold a respectable 250,000 copies in America within its first six months of release.
During the tour in support of the album, Morman's behavior became very erratic due to alcohol-related issues, and he was dismissed from the band in June 1980.
He was temporarily replaced by singer Joey Mala, of the New York-based act REVOLVER, in order for Perry to fulfill concert obligations until a permanent vocalist could be brought in.
Morman would go on to become lead singer for SAVOY BROWN, just a few short weeks after being fired by Perry.
A permanent replacement for Morman was found in singer and rhythm guitarist Charlie Farren.
Perry, Farren, Stewart, and Hull then recorded 'I've Got The Rock 'n' Rolls Again', which proved to be less successful than the group's debut effort.
Columbia's reluctance to promote the album combined with Perry's continuing drug and financial problems led to the entire band quitting in 1982.
Equipped with a new record label, (MCA Records), and three new band members in ex-THUNDERTRAIN singer 'Cowboy' Mach Bell, bassist Danny Hargrove and drummer Joe Pet, the band released 'Once A Rocker, Always A Rocker' in 1983.
The new album met the same fate as its predecessor however, selling less than 50,000 copies.
Despite those poor sales, the Project went out on a final tour in support of the album, adding then-former Aerosmith guitarist Brad Whitford to the line-up.
The following year, after the dissolution of the Joe Perry Project, both Perry and Whitford would rejoin Aerosmith.
A JPP compilation album, 'The Music Still Does The Talking : The Best Of The Joe Perry Project', was released in 1999.
Sadly, original singer Ralph Morman passed away on 17/08/2014 after a long battle with mesothelioma, a rare form of lung cancer.
art & txt included
---------------------------------------------------------------------
01. Intro/William Tell Overture/Same Old Song And Dance
02. Get The Lead Out
03. Pills (Or Love's Labours Lost)
04. Discount Dogs
05. Reefer Headed Woman
06. Ready On The Firing Line
07. Bone To Bone (Coney Island White Fish Boy)
08. Heartbreak Hotel
09. Shooting Star
10. The Mist Is Rising
11. Talk Talk
12. Break Song
13. Bright Light Fright
14. Rockin' Train
15. Life At A Glance
16. Let The Music Do The Talking