19
THIS POST HAVE DEAD LINKS
REQUEST A REUPLOAD

HERE



CHECK SUBMITTED REQUESTS
BEFORE POSTING A NEW ONE!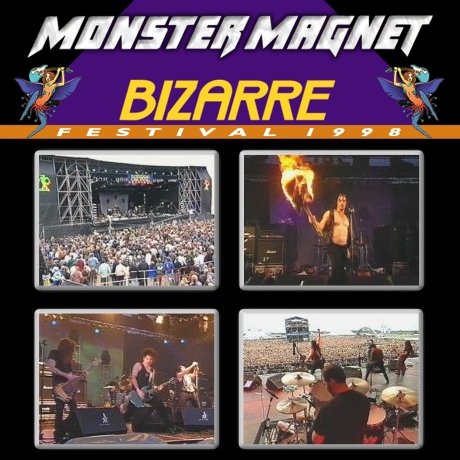 Artist: Monster Magnet
Release: Bizarre Festival
Genre: Hard Rock/Heavy Rock/Space Rock/Proto Metal
Country: USA
Bitrate: USA (Red Bank, NJ)
►
---------------------------------------------------------------------
MONSTER MAGNET - Bizarre Festival (1998) USA
Bizarre Festival, Cologne, Germany 22/08/98 : Rockpalast Broadcast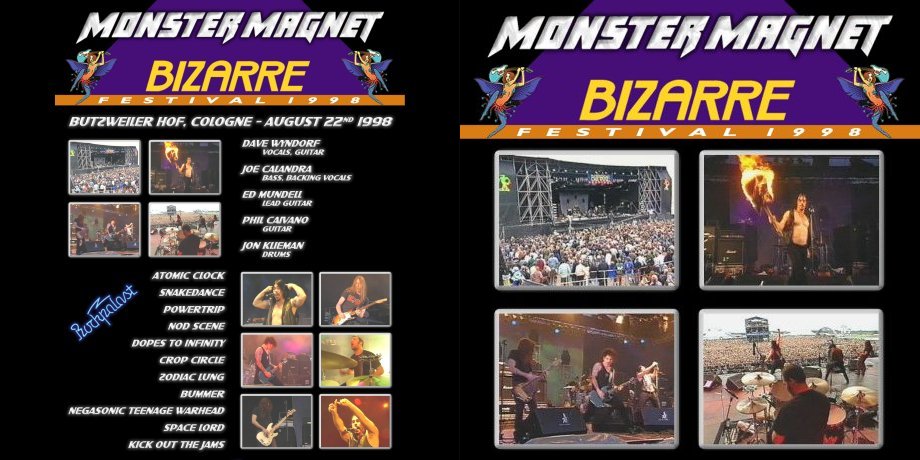 Dave Wyndorf - Vocals & Guitar (SHRAPNEL, LOVE MONSTER)
Ed Mundell - Guitar (THE ATOMIC BITCHWAX, DAISYCUTTER, SCENE KILLER, GALLERY OF MITES, THE ULTRA MEGA GALACTIC, 9 CHAMBERS)
Phil Caivano - Guitar (SHRAPNEL, MURPHY'S LAW, BLITZSPEER, GALLERY OF MITES, JAKALOPE, STIGMA, CAPRICORN)
Joe Calandra - Bass & Vocals
Jon Kleiman - Drums (THE RIBEYE BROTHERS, GALLERY OF MITES, JOHN McBAIN)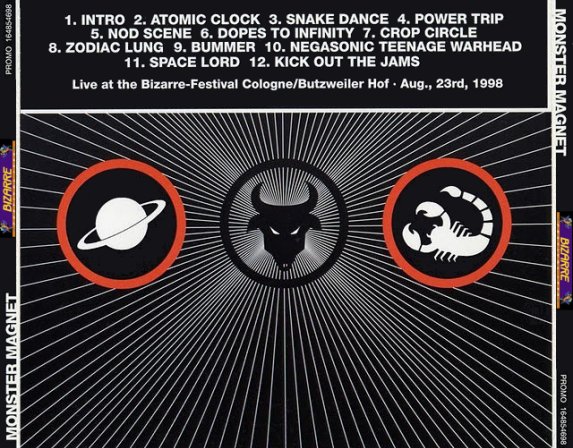 MONSTER MAGNET is an American Heavy Rock band hailing from Red Bank, New Jersey.
The group was founded by ex-SHRAPNEL man Dave Wyndorf (vocals & guitar), John McBain (guitar) and Tim Cronin (vocals & drums) in 1988.
The band's first commercial release was a 1990 single 'Lizard Johnny/Freakshop USA' on the Long Island based Circuit Records.
Jon Kleiman and Joe Calandra then joined on bass & drums, with a self-titled EP then recorded for the German label Glitterhouse Records.
In 1990 the band signed with Caroline Records and released the single "Murder/Tractor", with Cronin leaving soon after.
In 1991 Monster Magnet released their first full-length album, the cult classic 'Spine Of God'.
The band followed this with a high profile tour supporting SOUNDGARDEN, which helped them get a recording contract with major label A&M Records.
Their final release with Caroline Records was an EP titled 'Tab' which was recorded before 'Spine Of God', yet released after it.
McBain quit the band soon after it's release and was replaced by THE ATOMIC BITCHWAX guitarist Ed Mundell.
1993 saw the release of their first album for A&M, 'Superjudge', followed by a sustained period of road work for the next year or so.
Next album, 1995's 'Dopes To Infinity', had a minor hit single in 'Negasonic Teenage Warhead', which benefitted from a music video that received regular rotation on MTV.
After the 'Dopes To Infinity' tour, Wyndorf moved to Las Vegas, Nevada in order to begin working on 'Powertrip', their 1998 breakthrough hit album that earned the band a gold record.
'Space Lord', the first single, was a major radio hit and the band went on tour with an additional new guitarist on board.
An old friend of Wyndorf's, Phil Caivano was also his former band mate in Shrapnel.
The resultant touring cycle saw Monster Magnet play with the likes of AEROSMITH, METALLICA, ROB ZOMBIE, HOLE & MARILYN MANSON.
After two years spent supporting 'Powertrip', the band released 'God Says No' in 2000.
However, it failed to match the commercial success of the band's previous release, and Joe Calandra and Jon Kleiman left the band soon after.
They would be replaced by former LORD STERLING man Jim Baglino and Michael Wildwood.
Wildwood was then quickly also replaced, by former LOVE AMONG FREAKS drummer Bob Pantella.
In 2003, A&M released 'Greatest Hits', a double album featuring their best known songs, alongside rarities and music videos.
Monster Magnet then signed to the SPV label, and in early 2004 released 'Monolithic Baby!'.
In March, 2005, Caivano departed after seven years service, in a split described as amicable by Wyndorf.
In 2007, Monster Magnet released a new album, '4-Way Diablo', with Phil Caivano then returning to the band in time for their 2008 tour dates.
Next album, 'Mastermind', was released in October 2010 on new label Napalm Records.
Guitarist Ed Mundell then left the band after 18 years service, forming 2 new bands; 9 CHAMBERS with ex-BLACK SABBATH drummer Vinnie Appice and THE ULTRA MEGA GALACTIC.
In addition to his commitments to these two bands he plans a solo album release this year and continues to work as a session musician in Los Angeles.
A brand new Monster Magnet album 'Last Patrol' is currently fresh on the shelves, and has been hailed by many in the press, and fans alike, as a real return to form.
art & txt included
---------------------------------------------------------------------
01. Intro
02. Atomic Clock
03. Snake Dance
04. Powertrip
05. Nod Scene
06. Dopes To Infinity
07. Crop Circle
08. Zodiac Lung
09. Bummer
10. Negasonic Teenage Warhead
11. Space Lord
12. Kick Out The Jams