68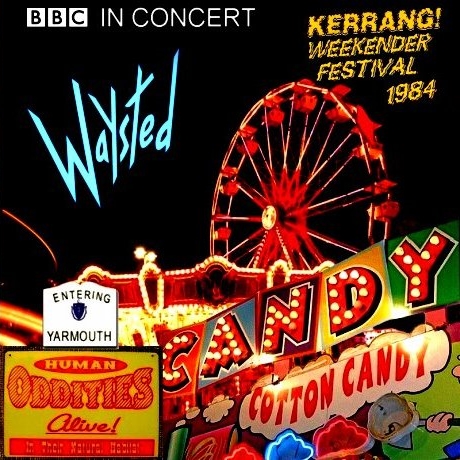 Artist: Waysted
Release: BBC In Concert : Live At The Kerrang Wooargh! Weekender Festival
Genre: Hard Rock
Country: UK
Bitrate: 128 kbps
►
See following posts for a working link!
---------------------------------------------------------------------
WAYSTED - BBC In Concert : Live At The Kerrang Wooargh! Weekender Festival (1984) UK
Recorded At The Kerrang Wooargh! Weekender Festival, Caister, Great Yarmouth, UK October 1984
Ian 'Fin' Muir - Vocals (FLYING SQUAD, FIN & AMERICAN DOG)
Paul 'Tonka' Chapman - Guitar (UNIVERSE, SKID ROW, KIMLA TAZ, LONE STAR, UFO, CIRCUS CIRCUS, D.O.A., GHOST, JACK STARR & THE GUARDIANS OF THE FLAME, GATOR COUNTRY)
Pete Way - Bass (UFO, FASTWAY, OZZY OSBOURNE, MOGG/WAY, THE PLOT, DAMAGE CONTROL)
Andy 'No Neck' Parker - Drums (UFO)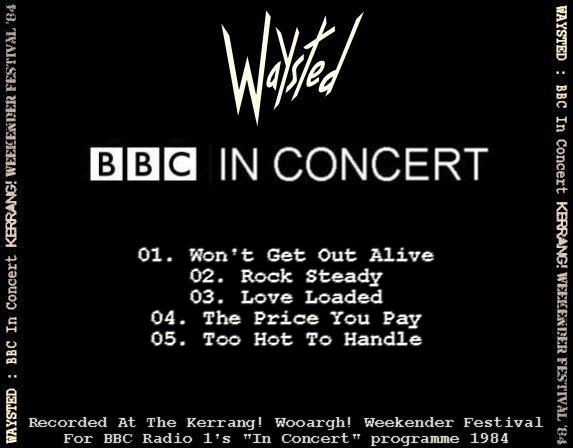 WAYSTED were a Hard Rock band formed in 1982 by ex-UFO bass player Pete Way after he failed to get FASTWAY off the ground with 'Fast' Eddie Clarke.
He subsequently set about putting this band together in America, where he was helping out OZZY OSBOURNE, and soon found Ronnie Kayfield (ex-HEARTBREAKERS), who was teaching guitar at the time.
Returning to the UK, he enlisted Frank Noon (DEF LEPPARD /THE NEXT BAND) on drums, UFO guitarist/keyboard player Paul Raymond and vocalist Ian 'Fin' Muir (ex-FLYING SQUAD).
Chrysalis Records (home to UFO) showed interest and signed them to a one-album contract.
The resulting album 'Vices' featured several excellent compositions including 'Toy With The Passion', 'Love Loaded' and a cover of JEFFERSON AIRPLANE's 'Somebody To Love'.
However, the line-up instabilities that plagued the band began when Raymond was fired on the eve of a UK tour supporting DIO.
Guitarist Barry Benedetta (himself about to audition for UFO) was added before a famously riotous US tour with Osbourne and MOTLEY CRUE, but he, Kayfield and Noon were all sacked afterwards as Waysted and Chrysalis parted company.
Former JESS COX guitarist Neil Shepherd barely lasted beyond the recording of the next record, the Mini LP 'Waysted', before he was replaced by UFO refugee, Paul 'Tonka' Chapman, with another ex-UFO member, drummer Andy 'No Neck' Parker, joining before Waysted set off on tour with IRON MAIDEN.
The album was produced by ex-TEN YEARS AFTER member Leo Lyons and also featured contributions from former ANGELIC UPSTARTS drummer Decca Wade.
On next album, 'The Good, The Bad & The Waysted', Way and Chapman blended perfectly to provide a weightier blues rock sound that suited Fin's smoky vocals, but line-up changes continued with the addition of ex-Fastway drummer Jerry Shirley and keyboard/guitar player Jimmy DiLella, formerly with Chapman's D.O.A. band.
Any hopes of stability vanished when Fin was then replaced by ex-D.O.A. vocalist Danny Vaughn and John DeTiodoro joined on drums.
However, the band gained a new contract with Parlophone Records for the resultant 'Save Your Prayers', which saw Waysted move towards a more commercial style, with Vaughn's vocals smoothing out the rough edges of his predecessor.
The new Waysted line up embarked on a UK and European tour supporting STATUS QUO, following this with a US tour with IRON MAIDEN, but Chapman subsequently departed and was replaced by 17-year-old American Erik Gamans, who displayed a startling talent on his debut live shows.
However, Vaughn also quit, forming TYKETTO, and the clearly declining band returned to the UK.
The remains of the band recorded demos with with guest vocals from THE QUIREBOYS Spike Gray, before recruiting ex-TYGERS OF PAN TANG vocalist Jon Deverill, but the band finally split in late 1987.
Way rejoined a revamped UFO, DeTiodoro joined BRITNY FOX, and Gamans reappeared in COLD SWEAT.
In 2003, Way reformed Waysted with the band's original vocalist Fin.
Initially Paul Chapman was also involved in the reanimated band, recording demos for a new album, but he was shown the door soon after.
His place in the band was taken by former HUMBLE PIE guitarist Chris George with the line up completed by drummer Paul 'RD' Haslin.
Their comeback album, 'Back From The Dead' was released in 2004, and was received warmly by both old fans and press alike.
The resultant tour also produced a 'warts-and-all' live EP, 'Boot From The Dead', which saw the band in fine form.
2007 saw the release of new album 'The Harsh Reality', which was once more greeted as a triumph, being every bit as inspired as it's predecessor.
Guitarist Nacho Jase had been drafted in to the band too, expanding the line up to a quintet
Another live album, 'Organised Chaos - Live' was released, and the band concentrated on live work for the next few years.
Unfortunately Pete Way then suffered health problems which ruled out any further activity from the band until he receives a clean bill of health.
Way recently announced that after intensive radiotherapy and hormone treatments for prostate cancer, the disease is now in remission.
He plans to release a solo album, 'Walking On The Edge', later this year.
art & txt included
---------------------------------------------------------------------
01. You Won't Get Out Alive
02. Rock Steady
03. Love Loaded
03. The Price You Pay
05. Too Hot To Handle
ctWeaselkin1