14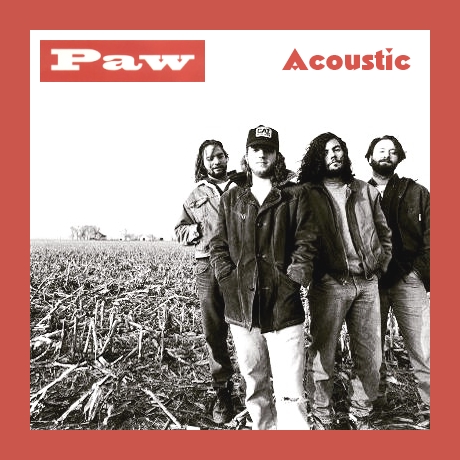 Artist: Paw
Release: Acoustic
Genre: Hard Rock/Classic Rock/Grunge/Acoustic
Country: USA (Lawrence, Kansas)
Bitrate: 128 kbps
►
Hidden Link
---------------------------------------------------------------------
Info
PAW - Acoustic (1993) USA [FM Broadcast]
Acoustic Live session from WERS-FM radio, Boston, 29/11/93
128 kbps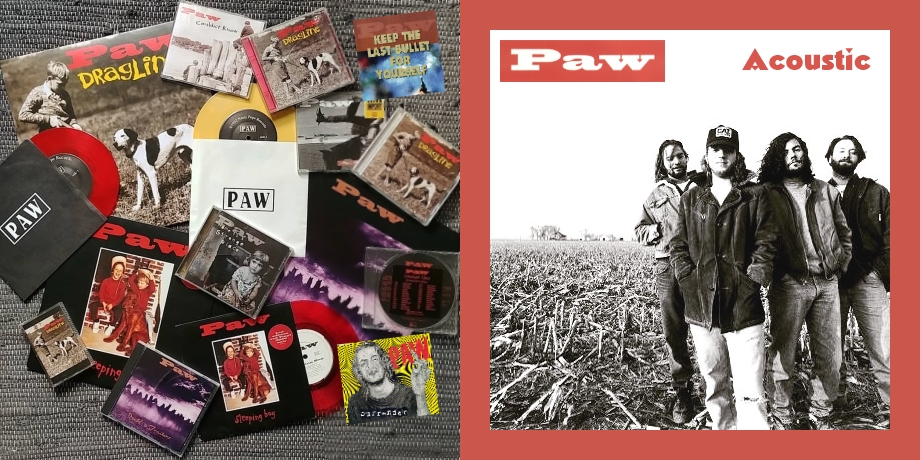 Mark Hennessy – Vocals (THE DIAMOND HEART CLUB, 1950 D.A., GODZILLIONAIRE)
Grant Fitch – Guitar (PALOMAR, NEW FRANKLIN PANTHERS)
Charles Bryan – Bass
Peter Fitch – Drums (PALOMAR)
Paw was an American Rock band from Lawrence, Kansas, that was formed in 1990.
The band's original lineup consisted of vocalist Mark Hennessy, guitarist Grant Fitch, bassist Charles Bryan, and drummer Peter Fitch.
Their work from this era can best be characterized as aggressive Rock with melodic undertones, or "Southern Rock" as Hennessy explained in an MTV interview.
Following the release of two independent 45s in 1992 on the Nasty Pope label, the band were frequently cited by industry insiders as ones to watch and a bidding war erupted to sign them.
The band eventually signed a three album deal with A&M Records during the height of Grunge 'fever', and released their first album, 'Dragline', in 1993.
Their most well-known songs are from this period & received moderate rotation on the radio and on 'Headbanger's Ball', MTV's Hard Rock/Heavy Metal showcase.
Music videos were made for the songs 'Jessie', 'Couldn't Know' and 'Sleeping Bag'.
Paw toured the UK in 1993 supporting TOOL, (with HEADSWIM also on the bill), introducing the band to an audience outside of America.
The band recorded two sessions for BBC Radio 1 in 1993, and played a well received set at the prestigious Reading Festival.
Their songs 'Jessie', 'Pansy' and 'The Bridge' were featured in the popular video game 'Road Rash', and the group toured Europe with labelmates MONSTER MAGNET in the Autumn.
The group then recorded cover versions of CHEAP TRICK's 'Surrender' & TWISTED SISTER's 'Street Justice' for the soundtracks to the films 'S.F.W.' & 'Strangeland' respectively.
Paw then parted company with bassist Charles Bryan in acrimonious circumstances, and he was initially replaced by Jason Magierowski.
In 1995, the band released its second album, 'Death To Traitors', (the title inspired, in part, by former member Bryan), with the bass duties on the record handled by Paul Boblett & John "Speck" Licardello.
During this period, the band's sound had evolved by adding more instrumental and country elements to their established sonic pallette, adding more depth & maturity but also serving to soften their Hard Rock edge somewhat.
The band toured medium sized venues in Europe and the UK as headliners in early 1995, with new permanent bassist Dan Hines, as well as touring Australia in October 1995.
While the album received favourable reviews from the press, sales were disappointing, and Paw was dropped by A&M in 1996 before their contract was fulfilled.
In 1998, Grant Fitch, Peter Fitch and Dan Hines formed the side band PALOMAR releasing the album 'World Without Horses'.
One reviewer described Palomar as having "a gentler and more melodic sound than Paw". The record was re-released in 2012 with a different track order under the revised band name GRANT FITCH & PALOMAR.
Also in 1998 Paw released a full-length compilation of B-sides and rarities entitled 'Keep The Last Bullet For Yourself' on their own label, Outlaw Records.
Paw still played together during this period, and both 'World Without Horses' and 'Keep The Last Bullet For Yourself' were available at these shows.
In 2000 Paw signed with Koch Records and released the mini-album 'Home Is A Strange Place' later that same year.
This new record incorporated a more pronounced Southern Rock sound & incorporated greater acoustic elements, but sadly, the group was to split up soon after the record's release.
Post-Paw, vocalist Mark Hennessey had a book of poetry, 'Cue The Bedlam (More Desperate With Longing Than Want Of Air)', published by Unholy Day Press in 2005.
He then joined the Lawrence, Kansas band THE DIAMOND HEART CLUB. After some personnel changes & a change of name to 1950 D.A. they released a 6 song EP called 'Low Like Planes'.
Former Paw guitarist Grant Fitch formed instrumental band NEW FRANKLIN PANTHERS with friend Jason Jones, releasing their debut album 'Hot Dogs Are Cool: In III Movements' in 2008.
Paw then played its first reunion show in Lawrence, Kansas on October 4, 2008, at The Bottleneck, featuring the full 'Death To Traitors' touring line up.
New Franklin Panthers followed their debut with the 'Circus Act' EP, in 2011, with Fitch & Jones joined on this occassion by former Paw bassist Dan Hines.
A solo Grant Fitch single, 'Gman Rides Again' followed in 2012.
In 2014, Mark Hennessy formed a new band called GODZILLIONAIRE with Michael Dye, Cody Romaine and Benjamin White.
After recording some demos they released the album '$mall ¢hange' in 2016, and followed it up in 2017 with the EP 'the great dEPression'.
In November and December of 2017 they became involved in legal litigation with the lawyers of Godzilla's copyright holders, but in early 2018 the band announced the litigation was over and they were still able to use their band name.
Since then Godzillionaire have expanded to a quintet with the addition of Dan Duncan, and have been playing live shows & recording new material which so far remains unreleased.
art & txt included
---------------------------------------------------------------------
01. Jessie
02. Couldn't Know
03. Cowpoke
04. Sleeping Bag
05. The Bridge
06. Badger
07. Lolita
08. Goodbye Dress
09. Suicide Shift