12
THIS POST HAVE DEAD LINKS
REQUEST A REUPLOAD

HERE



CHECK SUBMITTED REQUESTS
BEFORE POSTING A NEW ONE!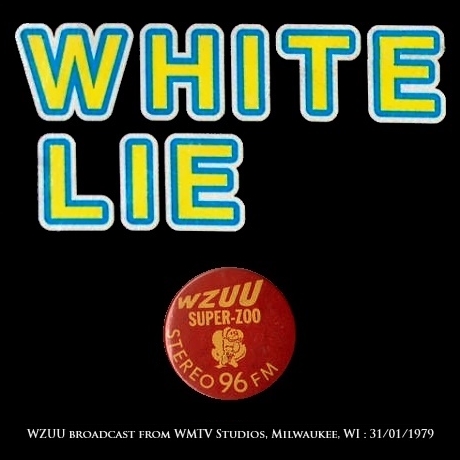 Artist: White Lie
Release: Live On WZUU
Genre: Hard Rock
Country: USA (Milwaukee, Wisconsin)
Bitrate: 256 kbps
►Dead Link
---------------------------------------------------------------------
WHITE LIE - Live On WZUU (1979) USA
WZUU broadcast from WMTV Studios, Milwaukee, WI : 31/01/1979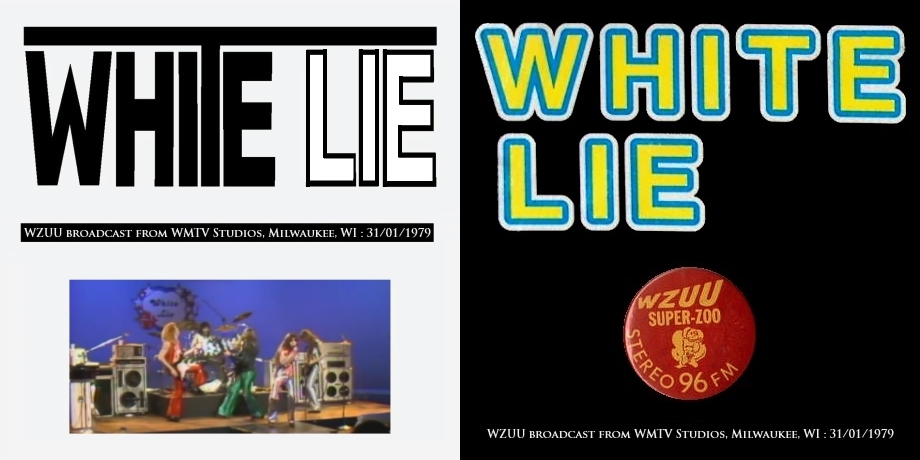 Krystel Love - Lead Vocals & Percussion (CITY BLOCK)
Scott Finch (aka Scott Jaenecke) - Lead & Backing Vocals, Lead Guitar (THE PALMETTOS, A BAND CALLED FINCH, FINCH, BAMBOOZLE, GYPSY, SCOTT FINCH & GYPSY, BONES OF CONTENTION, ILLEGAL SMILE, THE HOT RODS, SCOTT FINCH & BLUES-O-DELICS, BLUEHAND, SCOTT FINCH & BLACKWOLF)
Tom Finch (aka Tom Jaenecke) - Rhythm Guitar & Backing Vocals (THE PALMETTOS, A BAND CALLED FINCH, FINCH, ILLEGAL SMILE)
Ken Shroeder - Bass & Backing Vocals
Gregg Saber (aka Gregg Slavik) - Drums & Backing Vocals (CROSSFIRE, BAD BOY, GYPSY, SCOTT FINCH & GYPSY)
WHITE LIE was a Milwaukee, Wisconsin based Hard Rock band formed in 1977 by guitar hero Scott Finch (aka Scott Jaenecke) & his ryhthm guitarist brother Tom.
Both had been playing in bands since they were in their early teens, beginning with the highly regarded Garage/R & B group THE PALMETTOS in 1964.
By 1967, the Finch brothers were members of a quartet initially named BAMBOOZLE, then A BAND CALLED FINCH, which was ultimately shortened to FINCH.
As Finch, the group released the psychedelic 'Nothing In The Sun' single on the Montage label in early 1968
Off the back of that 45's local success, the band were offered the chance to cut an entire psychedelic album for a major label.
Incredibly, the members of Finch decided they didn't want to be pigeonholed in that style & turned the offer down.
After Finch fizzled out, Scott put together a trio which he called GYPSY which specialized in CREAM & HENDRIX influenced Blues Rock.
Despite becoming a hugely popular live act, this tentative early incarnation of Gypsy were unable to secure a record contract.
Forming White Lie in 1977, the Finch brothers completed the line up with former CROSSFIRE & BAD BOY drummer Gregg Saber (aka Greg Slavik), bassist Ken Shroeder & vocalist Krystel Love.
The new group instantly made a big impression on the local live music circuit, with the guitar pyrotechnics of Finch & the melodic yet raunchy vocals of Love proving a compelling musical partnership.
White Lie's touring schedule began to take them more into the Midwestern United States over the next few years, as they honed their live act in the clubs & bars & won over a whole new audience in the process.
The band issued a self-financed 45 on their own White Lie Records in early 1979, pairing 'Cheap Love, Easy Money' & 'Scott's Boogie'.
This in turn led to the band recording a full length LP, 'True Confessions' for the Streetwise Records label.
However, the full length turned out to be something of a disappointment for the bands fans, as the group had toned down their Hard Rock sound in the studio & adopted a 'New Wave' style on much of the LP.
Tom Finch then bowed out of the band, leaving White Lie to continue as a quartet, with Krystel Love taking on the rhythm guitar duties alongside her singing chores.
The inability of the band to secure a major record deal eventually drained the enthusiasm from the group's members & White Lie called it a day in 1982.
Scott Finch moved on to THE HOT RODS, gigging locally around Milwaukee until 1986 brought White Lie drummer Slavik back into the frame.
With bassist Joe Steil completing the lineup, the outfit was re-christened Gypsy once more.
The new version of Gypsy debuted with a self-titled cassette which was recorded partially at Finch's own Velvet Sky studios & partially in concert.
Much of this cassette was subsequently re-released on their 'The Velvet Groove' CD.
A second self-released tape followed, entitled 'The Goddess', which later appeared in it's entirity on the 'Haze Of Mother Nature' compilation.
Gigging tirelessly, recording ceaselessly, Gypsy then released a third album, 'People From the Darkside' in 1988.
Finally, however, the redundancy of bashing their heads against the walls of record company indifference became too apparent to ignore and Gypsy split in 1991.
Finch promptly formed a new band, ILLEGAL SMILE, with his brother Tom and drummer Bo Conlin.
It was one of several projects which would see him simply "trying to record anything that I thought was cool."
None lasted long and in 1992, Finch set to work on a solo album, 'Pipedreams'.
In just six days, he completed 36 instrumentals, playing drums, bass, guitar, and keyboards himself.
16 of those songs appeared on the finished (and again self-released) album.
That project out of his system, he reunited once again with Slavik/Saber to form THE WALTZING TUNAS with bassist Mike Kashou and vocalist Peter Alt.
When Kashou quit, to be replaced by Mike Haasch, the band changed its name to BLUEHAND.
Scott then also found the time somehow to cut the albums, 'In The Sun' & 'Train of Thought', with a band called BONES OF CONTENTION.
Finch signed up with the enthusiastic Italian Comet Records label in the late '90s & they began finally making Finch's music available to an international marketplace.
Initial releases comprised the aforementioned anthologies & since that time Finch has unleashed a wealth of additional material, including the live set 'Live Groove!', recorded with his latest band, THE BLUES-O-DELICS.
An ambitious studio concept album, 'Revelation', was also recorded by a re-formed Gypsy.
Scott managed to keep himself busy between recording projects by producing other acts including Milwaukee legends Bad Boy, whose 2002 'We Should've Been Dead By Now ' album was recorded by Finch.
He released a new CD entitled 'I Hate Love' in 2015, it's the first album from his new band SCOTT FINCH & BLACKWOLF.
White Lie's former singer, Krystel Love, also remains involved in music, and is currently fronting a band called CITY BLOCK.
art & txt included
---------------------------------------------------------------------
01. WZUU Introduction (Jack Randall)
02. Ravina
03. Don't Tell Me
04. White Hot Coma
05. Cheap Love, Easy Money
06. Band Introductions
07. Scott's Boogie
08. Rock & Roll