68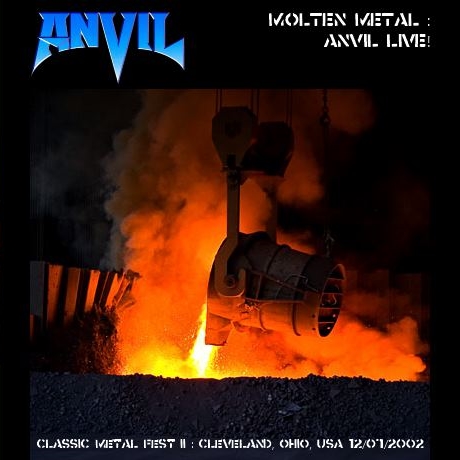 Artist: Anvil
Release: Molten Metal : Anvil Live! (2002)
Genre: Heavy/Power Metal
Country: Canada (Toronto, Ontario)
Bitrate: 320 kbps
►
new link by c6c6s in comment section below
---------------------------------------------------------------------
https://www.metal-archives.com/bands/Anvil/542
https://www.discogs.com/artist/399435-Anvil
ANVIL - Molten Metal : Anvil Live! (2002) Canada (Unreleased Live Album)
Recorded @ Classic Metal Fest II
Phantasy Nite Club, Cleveland, Ohio, USA
12th July 2002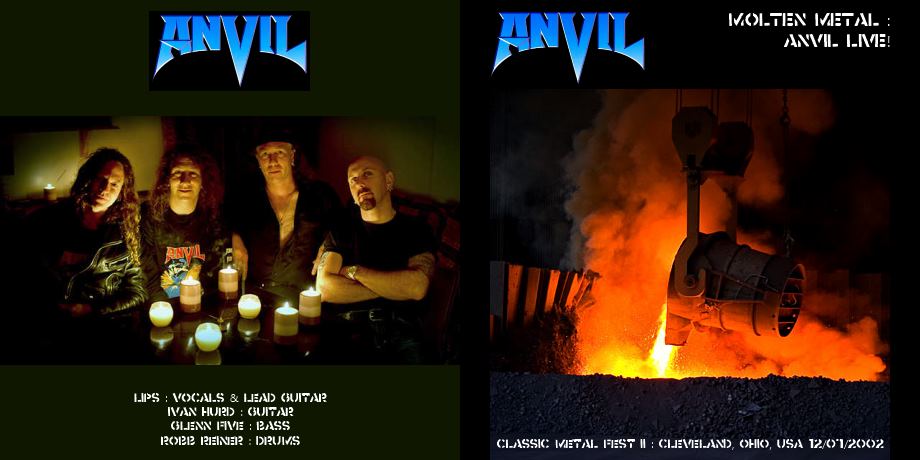 Lips (aka Steven Kudlow) : Vocals & Lead Guitar (LIPS, GRAVESTONE)
Ivan Hurd : Guitar
Glenn Five (aka Glenn Gyorffy aka G5) : Bass (EDGE UNKNOWN, MIDNIGHT MALICE)
Robb Reiner (aka Robbo) : Drums (LIPS, GRAVESTONE)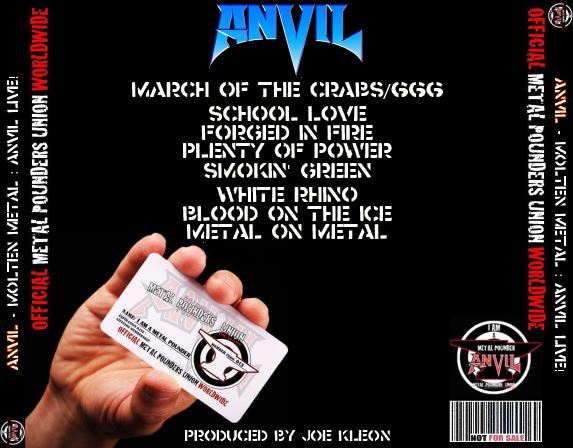 This recording of Anvil's set from the 2nd Classic Metal Fest at Phantasy Nite Club, Cleveland, Ohio, USA on 12th July 2002 was professionally made for a prospective live album which never came to fruition.
The whole set was then mixed & produced by Joe Kleon, who previously worked with PETE WAY & AMERICAN DOG, at G4orce Studios.
After the live album idea was shelved, Kleon briefly made the entire recording available as a free download on his website.
It's a great sounding show too, with a terrific set list & killer performances.
Easily the equal of the band's officially sanctioned live releases.
Brave Words & Bloody Knuckles magazine reviewed the festival & had this to say about Anvil's performance:
"Highlight of the entire festival?
A set by Canuck veterans, ANVIL, who predominately stuck to the hits.
Stepping off the stage and into the crowd, Lips, the mugging singer/guitarist, yelled a greeting into the pickups of his flying V, then launched into the opening 'March Of The Crabs' instrumental.
'666', followed, then a stalwart running order, which included 'School Love', 'Forged In Fire', and the classic 'Metal On Metal'.
'White Rhino', an instrumental and drum solo, from the forthcoming 'Still Going Stron'g was showcased as well.
The set ended as it began, the beloved frontman in with the fans."
From
http://bravewords.com
ANVIL are a Canadian heavy metal band from Toronto, Ontario, initially formed in 1978 under the name of LIPS.
They were a pioneering band that was popular in the early 1980s before fading into obscurity, but they refused to stop playing, recording and gigging.
To date, the band has released fifteen studio albums, and has been cited as having influenced many notable heavy metal groups, including MEGADETH, SLAYER, ANTHRAX and METALLICA.
The band, in particular Steven 'Lips' Kudlow and Robb 'Robbo' Reiner, was the subject of the 2008 documentary film, 'Anvil! The Story of Anvil', directed by the screenwriter and former Anvil roadie, Sacha Gervasi.
Upon its release, the film garnered critical acclaim from many major publications, and has since brought the band renewed recognition, including opening slots with AC/DC and SAXON.
Appearances at major music festivals, including Download, Loud Park, Hellfest, Bumbershoot and SXSW, also followed the release of the film.
Skol Records released the various artists tribute album, "Strong As Steel : A Tribute to Anvil" in 2013.
2016 finds Anvil preparing to tour in support of a brand new album, 'Anvil Is Anvil'.
art & txt included
---------------------------------------------------------------------
01. March Of The Crabs/666
02. School Love
03. Forged In Fire
04. Plenty Of Power
05. Smokin' Green
06. White Rhino
07. Blood On The Ice
08. Metal On Metal