14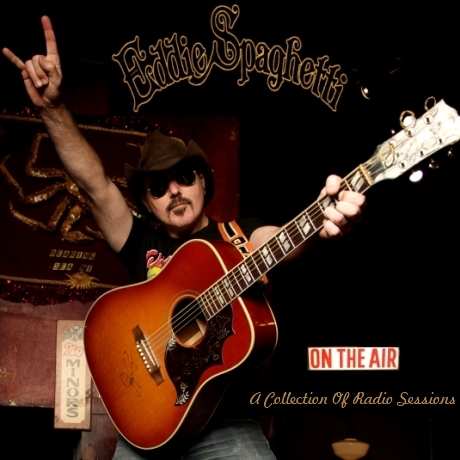 Artist: Eddie Spaghetti
Release: On The Air (A Collection Of Radio Sessions)
Genre: Country/Rock'n'Roll/Rock
Country: USA (Tucson, Arizona/Seattle, Washington)
Bitrate: 320 kbps
►
look in the posts below for a new link
---------------------------------------------------------------------
EDDIE SPAGHETTI - On The Air (2004-2011) USA
A Collection Of Radio Sessions
Airwaves Records GS001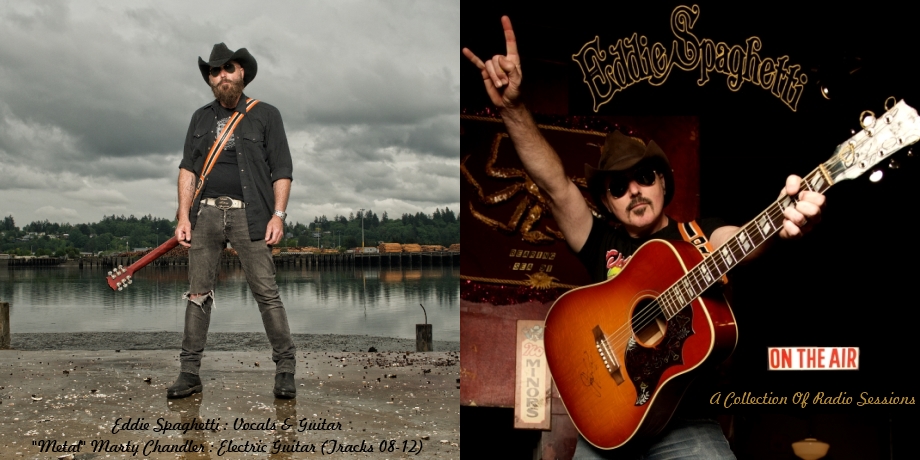 Eddie Spaghetti : Vocals & Guitar (SUPERSUCKERS, BLACK SUPERSUCKERS, JUNKYARD DOGS)
"Metal" Marty Chandler : Electric Guitar (Tracks 08-12) (SUPERSUCKERS, PANIC, STRYCHNINE, COLD STEELE, HOG MOLLY, 50 PACES, CLUSTER FUCK, THE ONES)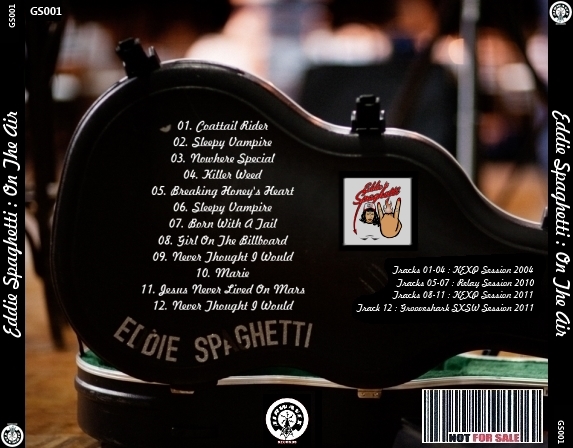 EDDIE SPAGHETTI grew up in Tucson, Arizona trying desperately to ignore the country music that floated all around him.
Seems like every pick-up truck and storefront speaker was cranking out the syrupy wails of some heartbroken hick and he just wasn't having it.
So, as a kid, he turned to Heavy Metal, then Punk Rock, to block out the noise and that's how his band, THE SUPERSUCKERS, was born.
Formed in late '88, The Supersuckers aim was to strip away some of the pretense of late '80's Heavy Metal and put a little showmanship into the Punk scene.
It was a tightrope act few bands could achieve but, by the beginning of '89, not only had the band done it, they were ready to make a move away from the dirt roads, dead ends and dust of their hometown.
Heads was New Orleans, tails Seattle.
Tails.
And, in May of 1989, off they went.
Having no clue that Seattle was about to become "Rock City, U.S.A." for a few great years, Eddie and his grimy gang jumped blindly into a scene that had been thriving unrecognized for years.
It didn't take long however for them to find Seattle to be the perfect place to "not fit in."
"We didn't sound like the bulk of the Seattle bands and we never really felt the need to change, either," says Spaghetti from his hotel room somewhere on the road (the band does over 200 dates a year!)
"It seemed like they needed a band like us.
Sure, maybe we could've fared better financially if we'd tuned our guitars down and I tried to sing like Axl Merman but, check it out - how many bands from back then are still together, still making great, valid rock music?
Very few, my friend, VERY few."
The Supersuckers put out a few singles, then signed to Sub-Pop and began what has been over a decade of ass kicking, ground-pounding hemi-hogging rawk-n-roll.
It didn't take too long, however, for the country music that he tried so hard to avoid in his youth to start surfacing in the music Eddie was making as a young man.
The foray back to the country began in 1993 with the Supersuckers side project, THE JUNKYARD DOGS on the rare, hard to find and out of print recording, "Good Livin' Platter" (Sympathy For The Record Industry).
It wasn't county per-se, but it was close and the seed was planted.
In '95, while working on "Sacrilicious" in Austin, TX the band met and recorded with WILLIE NELSON and a friendship was born.
The experience profoundly affected Spaghetti.
"I had long stopped pretending to hate country music," says Spaghetti, "but hanging with Willie really got me thinking.
Why put an age limit or a time limit on the validity of making music?
Why does this have to be a young man's game?
It doesn't.
Music is music, it's either good or it's bad and rock-n-roll is a very new art form.
It's barely fifty years old!
It's going to be a lot more common, as time goes on, to hear great rock from older guys.
I got plenty of time!"
In 1997 Eddie was balls-deep into country music again and what was initially planned as the first Eddie Spaghetti solo record became The Supersuckers' now-legendary recording, "Must've Been High".
"I had a bunch of these weird songs and I was just gonna do a little country record on the side but, after doing some demos down in Texas, I came back up to Seattle and there we were - The Supersuckers were making a country record!
I had no idea what our fans would think and they did freak out at first.
But now it's our best selling record.
Ha!"
After the success of "Must've Been High" the band tried (and failed) to work their way up the corporate record label ladder.
Spaghetti: "That was a confusing time and it really slowed us down.
I felt like we were making some of our best rock ever," (true enough, 2000's "The Evil Powers Of Rock-N-Roll" is widely considered one of the groups best records) "but the labels just kept jerkin' us around.
I learned a lot about the business and about myself and what truly makes me happy about making music.
And that happiness has nothing to do with what some fat-cat sitting behind a desk spending some young kid's hopes and dreams on a recoupable expense account thinks about my art."
Supersuckers returned with the in concert "Must've Been Live", followed by 2003's "Motherfuckers Be Trippin'" and Eddie's first solo record, "The Sauce".
"The Sauce was such a happy accident".
A stripped down acoustified collection of some of Eddie's favorite covers ("And two originals!"), "The Sauce" has become a fan favorite.
Eddie then released "Old No. 2". Still simple and basic.
"Old No. 2" showcases Spaghetti's original songs as well as his impeccable selection of covers spanning five decades.
It has a bigger, slightly more produced sound that can be largely attributed to the fact that "We spent a whole four days - instead of three - in the studio," claims Eddie.
Supersuckers then released 2008's "Get It Together" album, with a new Spaghetti solo record "Sundowner" following in 2011.
Then came two double CD Supersuckers concert recordings, "XX : The 20th Anniversary Show" and, following a Euro Tour with THIN LIZZY, "Live At The Hammersmith Apollo".
2013 found a new Spaghetti solo album, "The Value Of Nothing" fresh on the shelves, with the first new Supersuckers studio record for 5 years, "Get The Hell", following soon after.
"I don't look at these solo records as something born of 'creative frustrations' or whatever typical reasons singers do these things.
I see them as extensions of the story of the Supersuckers.
I am and always will be a Supersucker, no matter what I do with the rest of my life."
art & txt included
no pw
---------------------------------------------------------------------
01. Coattail Rider
02. Sleepy Vampire
03. Nowhere Special
04. Killer Weed
05. Breaking Honey's Heart
06. Sleepy Vampire
07. Born With A Tail
08. Girl On The Billboard
09. Never Thought I Would
10. Marie
11. Jesus Never Lived On Mars
12. Never Thought I Would
Tracks 01-04 : KEXP Session 2004
Tracks 05-07 : Relay Session 2010
Tracks 08-11 : KEXP Session 2011
Track 12 : Grooveshark SXSW Session 2011