DEATH INVOKER
"Necromancy, damnation, revenge" Tape out now!
Old school black/ death/ thrash from Peru, in the traditional south-american style!
It tastes like a diseased mixture of old Sarcofago, very early Sepultura (Morbid visions), and very early Sodom…
Listen here:
https://youtu.be/0GTa2Gg1AUo
Now morbidly released by NIHILISTIC HOLOCAUST Recs.
This comes as a black tape with sticker and pro cover.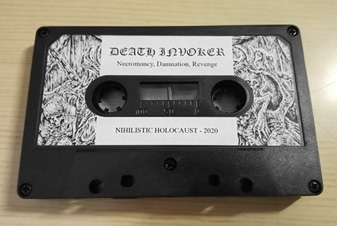 Get it from:
-Nihilistic Distro:
https://nihilistic-webzine-distro.fr/We ... n/81-nihil
-Bandcamp:
https://nihilisticholocaustrecs.bandcamp.com
SUPPORT OLD SCHOOL BESTIALITY!