13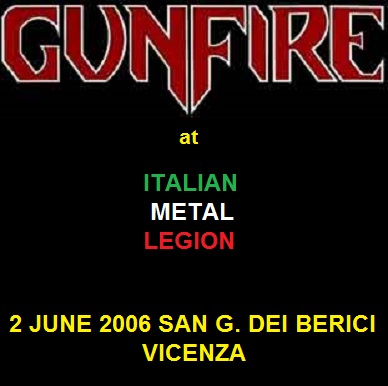 Band: Gunfire
Country: Italy (Ancona)
Genre: Heavy Metal
Release: Soundboard live bootleg
Date: 2006-06-02 (2 June,2006)
City: San Germano Dei Berici(Vicenza,Italy) @Italian Metal Legion III° festival
Bitrate: mp3 - 320 kbps
Many thanx to Gunfire who allowed to tape the show from the mixing desk,
the quality of the recording is so clear and powerful that it easily could
have been used for an official release,enjoy it!!!
Setlist:
01 - Intro + Heavens of Mars + wings of death
02 - The King's Amulet
03 - Deceiver
04 - Gunfire
05 - The Fight for the Truth
06 - Sailing Through the Gates of the World
07 - Livin' in Sin
08 - Twilight for the Gods
09 - Thunder of War
Info:
Fabio Allegretto formed Gunfire in 1981,one of the first italian
metal bands(and best!!!) of the era,after a demo they released a
rare EP in 1984 before disbanding in 1986 but the fire of passion
was still burning and Gunfire reunited in 2001 releasing two new
albums since then,one month ago italian label Jolly Roger Records
reissued the first EP on cd and vinyl adding the first demo tape
songs as bonus tracks; this show was recorded from the mixing desk
during the third edition of the Italian Metal Legion festival in 2006.
PLAY IT LOUD IN MEMORY OF Fabio"Lord BlackCat" Allegretto!!!!
https://www.metal-archives.com/bands/Gunfire/6172
Line up:
Fabio"Lord BlackCat" Allegretto - guitar (R.I.P. 1963 - 2018)
Luca Calò - guitar
Roberto"Robert Drake" Borrelli - vocals
Maurizio Maury Lion" Leone - bass guitar
Marco Bianchella - drums
Hidden Link