17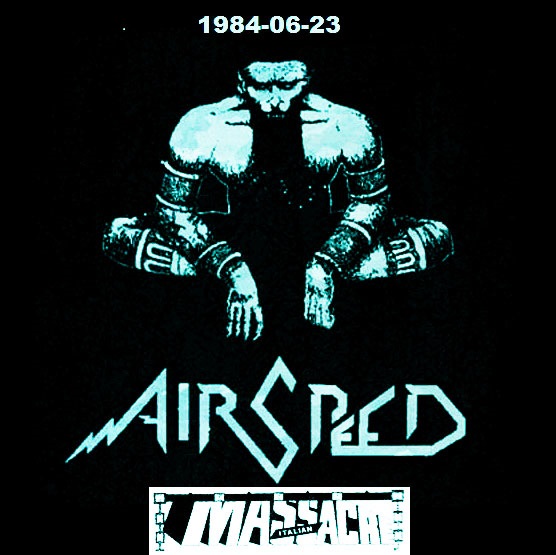 Band: Airspeed
Country: Italy(Siena)
Genre: Heavy Metal (later AOR)
Release: Audience live bootleg
Date: 1984-06-23 (23 June 1984) @ Italian Massacre Festival
City: Gazoldo degli Ippoliti (Mantova,Italy)
Venue: City Stadium
Bitrate: mp3 - 320 kbs
Please note that i did not split the tracks,
it's a single file,enjoy it!!!
Info:
Airspeed hailed from Siena(Tuscany,Italy) and in their
early days played traditional heavy metal.
In 1984 the band was gaining good rewievs and the respect
of the italian metalheads and press when took part
at the Italian Massacre festival together with bands
as Vanexa,Gunfire,Vanadium,Sabotage etc. etc.
Sabotage members were very well impressed by the
vocal performance of the singer Morby at this show
and offered him the role of lead vocalist in the band;
when few weeks later Airspeed changed the guitarist
moving their sound toward AOR he soon accepted the offer
and his first band finally disbanded in 1988.
In 2012 italian label Jolly Roger Records released
an anthological cd that includes some songs taken
from the original demos.
Line up:
Adolfo "Morby" Morviducci (Sabotage,Domine,Labyrinth etc.) - vocals
Fernando Mazzucca - guitar
Andrea Castelli(Shabby Trick,Cappanera,Mantra etc.) - bass
Marco Barbucci - drums
Setlist:
Fire Band
We're here to stay
(Like a) Stone to the glass
Freedom
Rave in the dark
Italian Steel
Hidden Link