6
THIS POST HAVE DEAD LINKS
REQUEST A REUPLOAD

HERE



CHECK SUBMITTED REQUESTS
BEFORE POSTING A NEW ONE!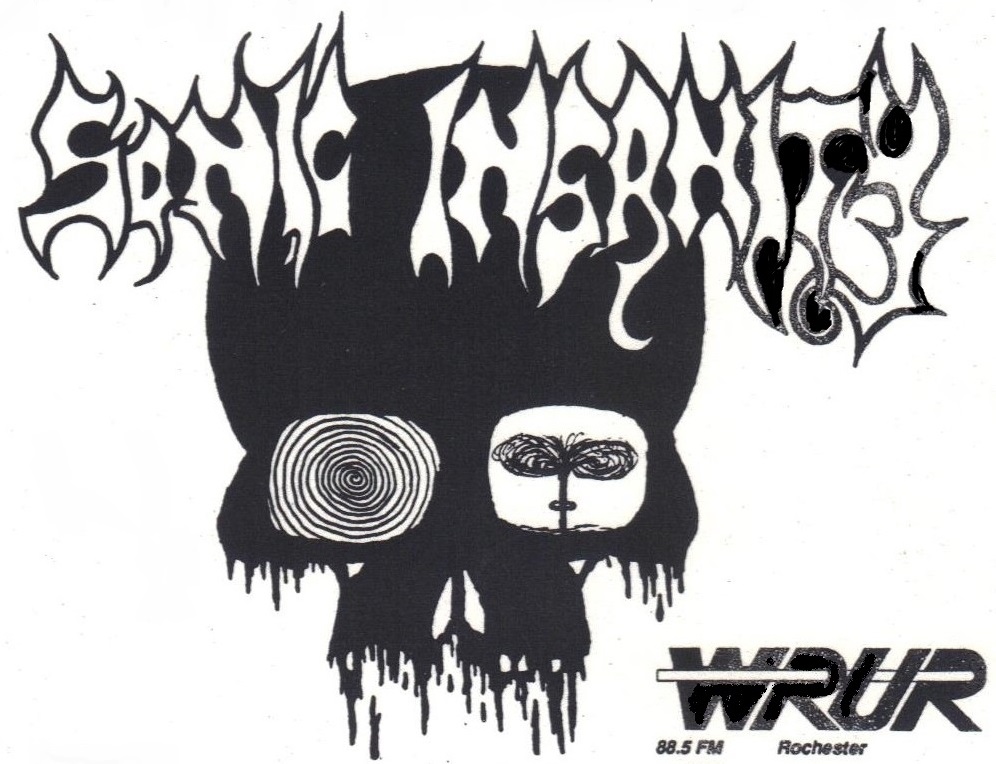 SONIC INSANITY Radio Show
– Tuesday, May 10, 1994
7:00pm – 9:00pm (
last hour only
)
on 88.5 WRUR-FM, Rochester, NY
w/Ron "Evil Eye" & Mike "The Mercyful One"
►
dead link
1. Side A (30:51)
2. Side B (30:50)
During this time in 1994 our show was only 2-hours long, punishment for various "station infractions" LOL. We were late putting the 1st tape in so we missed the first 10 mins of the show (and the 1st tape is missing), and we used 60-min tapes, so this is the 2nd hour of the show that cuts in at 8:10pm. The Playlist Book for 1994 is missing but I deciphered the songs. This particular show was on the day that an Annular Eclipse occurred. I was at Ron's house that afternoon to witness it and he photographed it. Then we did this show that evening. Ron talked about the eclipse, but it would have been during the 1st mic break on the 1st tape (which is missing!). Then at the end of the show as the Obituary song plays off, it cuts into a mic break where we got to play one more song because the next DJ was late and had to set up his turntables. So we play the Dissection song, and since the first tape started 10 mins late, this tape ran 10 mins late and caught our extra song and most of the last mic break.
Tracklisting
:
Side A
:
(
cuts in
) SEPTIC FLESH – Pale Beauty Of The Past
SEPTIC FLESH – The Underwater Garden
(
mic break
)
TORCHURE – Voice Of Power
ANCIENT – Huldradans
CRYPT OF KERBEROS – The Sleeping God
(instrumental)
(
cuts off
)
Side B
:
(
cuts in
) CRYPT OF KERBEROS – The Sleeping God
(instrumental)
(
mic break
)
ROTTING CHRIST – Transform All Suffering Into Plagues
IMMORTAL – Blacker Than Darkness
GOREFEST – Mental Misery
(
mic break
)
GUTTED – Flood Of Blood
(
Outro
) OBITUARY – Til Death
(
cuts off - cuts into mic break, we play 1 more song because next DJ was late
)
DISSECTION – Cold Winds
(
mic break – cuts off
)