7
THIS POST HAVE DEAD LINKS
REQUEST A REUPLOAD

HERE



CHECK SUBMITTED REQUESTS
BEFORE POSTING A NEW ONE!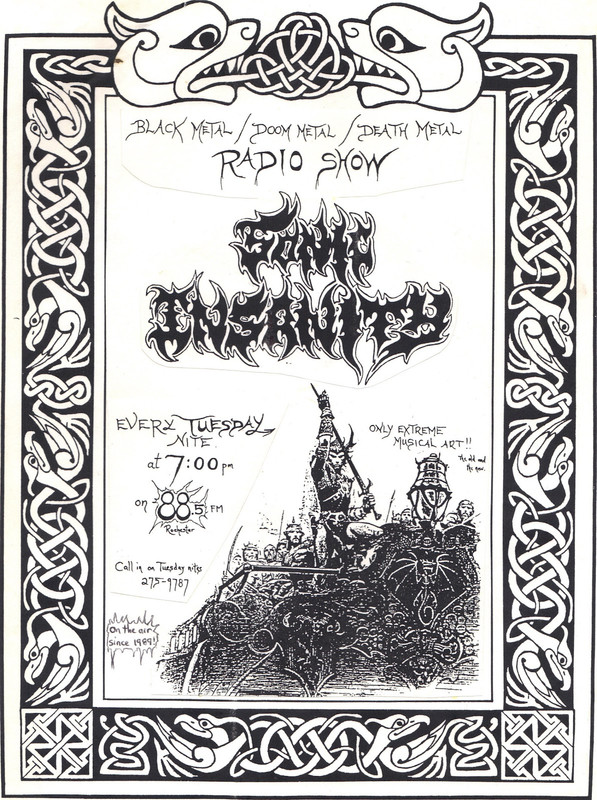 SONIC INSANITY Radio Show
– Tuesday, February 18th, 1997
7pm – 10pm (
2nd half of show
)
on 88.5 WRUR-FM, Rochester, NY
w/Evil Eye & The Mercyful One
►
dead link
This is the 2nd half of the show (
8:30pm – 10pm
) because the 1st tape is gone. Luckily this tape survived because it has the
"Piss On Campfire" routine
, which I wrote on the tape and did not remember until I listened back to it when ripping it. It's a funny thing I said over a PSA in the closing mic break. We debuted the 'new' Absu CD "The Third Storm Of Cythraul" and also CD advance tracks of Night Conquers Day.
1. Side A (46:25)
2. Side B (46:17)
Ripped at 320 kbps
Tracklisting
:
Side A
:
(
cuts in
) DECEMBER WOLVES – Whence The Clouds Cry
(
Sonic Insanity I.D. - Spanish PSA
)
BRUTAL TRUTH – I Killed My Family
NIGHT CONQUERS DAY – What Was And Never Shall be Again
ENOCHIAN – Fucked Holy Truth
CANNIBAL CORPSE – Scattered Remains, Splattered Brains
FLEDGLING DEATH – Shut Your Pie Hole
OLD MAN'S CHILD – The Old Man's Child
INQUISITION – Chant Of The Unholy Victory / Whispering In Tears Of Blood
(
cuts off
)
Side B
:
(
cuts in
) INQUISITION – Whispering In Tears Of Blood
ABSU – The Winter Zephyr (…Within Kingdoms of Mist)
CRADLE OF FILTH – Malice Through The Looking Glass
NAGLFAR – Enslave The Astral Fortress
NIGHT CONQUERS DAY – The Storm Before The Calm
(
Sonic Insanity I.D.
)
OPETH – Nectar
(
Campfire PSA – I pretend to piss on it, very funny
)
(
Outro
) EMPEROR – Towards The Pantheon
(
cuts off – end of show
)