37
THIS POST HAVE DEAD LINKS
REQUEST A REUPLOAD

HERE



CHECK EXISTING REQUESTS
BEFORE MAKING A NEW ONE!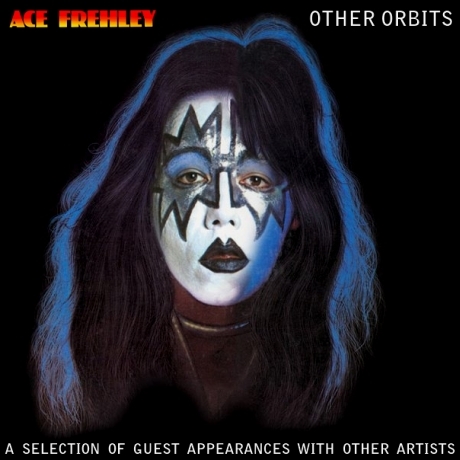 Artist: Ace Frehley
Release: Other Orbits
Genre: Hard Rock
Country: USA (Brooklyn, New York)
Bitrate: 320 kbps
►Link
---------------------------------------------------------------------
Info
ACE FREHLEY : Other Orbits (1984-2013) USA
A Selection Of Guest Appearances With Other Artists
Goat Sound Records
Tracks 01 & 15 from the RICHIE SCARLET album "Insanity Of Life" (2000)
Tracks 02, 08 & 14 from the CRISS album "Cat #1" (1994)
Track 03 from the ANTON FIG album "Figments" (2002)
Track 4 from the WENDY O. WILLIAMS album "W.O.W." (1984)
Track 5 from the ESP album "ESP" (1999)
Tracks 06, 11 & 16 from the VENUS ENVY album "Venus Envy" (2004)
Track 07 from the JAM PAIN SOCIETY album "Black Light Messiah" (2008)
Track 09 from the KATHY VALENTINE album "Light Years" (2005)
Track 10 from the BRET MICHAELS album "Jammin' With Friends" (2013)
Track 12 from the FOR LOVE NOT LISA EP "Softhand" (1993)
Track 13 from the VOODOOLAND album "Give Me Air" (2004)
Track 17 from the STILL WICKED album "Something Wicked This Way Comes" (1998)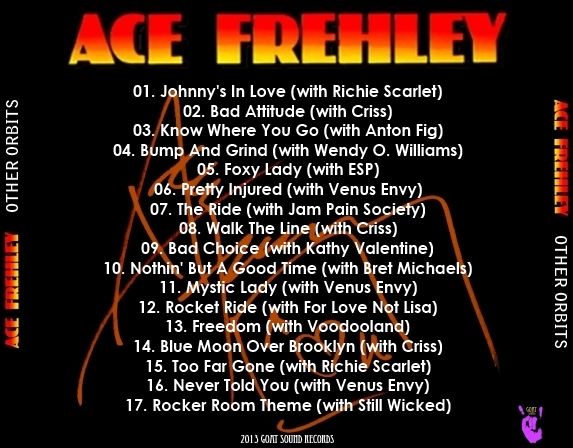 For a detailed Discography of all Ace Frehley's post-KISS recordings see:
http://www.kissfaq.com/krr/ace_frehley.html
Paul Daniel "Ace" Frehley is an American musician, best known as former lead guitarist and founding member of the rock band KISS.
He took on the persona of the "Spaceman" or "Space Ace", and played with the group from its inception in 1973 until his departure in 1982.
After leaving Kiss, Frehley embarked on a solo career, which was put on hold when he rejoined Kiss in 1996 for a highly successful reunion tour.
His second tenure with Kiss lasted until 2002, when he left at the conclusion of what was purported to be the band's Farewell Tour.
His latest solo album "Space Invader", was released in September 2014, immediately entering the Top 10 in the US Billboard album charts.
In 2009 Guitar World magazine ranked him 14th Greatest Guitarist of All Time.
"I'm an Anomaly. I'm an un-schooled musician. I don't know how to read music, but I'm one of the most famous guitar players in the world. Go figure."
art & txt included
---------------------------------------------------------------------
01. Johnny's In Love (with RICHIE SCARLET)
02. Bad Attitude (with CRISS)
03. Know Where You Go (with ANTON FIG)
04. Bump And Grind (with WENDY O. WILLIAMS)
05. Foxy Lady (with ESP)
06. Pretty Injured (with VENUS ENVY)
07. The Ride (with JAM PAIN SOCIETY)
08. Walk The Line (with CRISS)
09. Bad Choice (with KATHY VALENTINE)
10. Nothin' But A Good Time (with BRET MICHAELS)
11. Mystic Lady (with VENUS ENVY)
12. Rocket Ride (with FOR LOVE NOT LISA)
13. Freedom (with VOODOOLAND)
14. Blue Moon Over Brooklyn (with CRISS)
15. Too Far Gone (with RICHIE SCARLET)
16. Never Told You (with VENUS ENVY)
17. Rocker Room Theme (with STILL WICKED)