13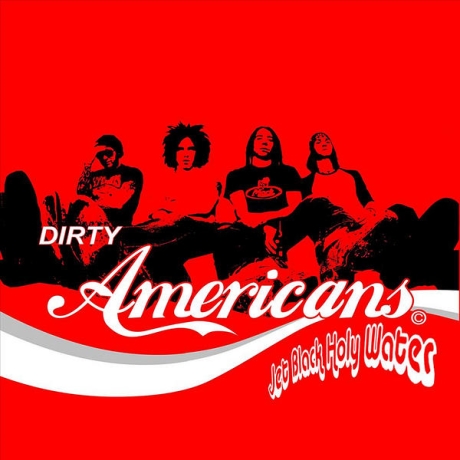 Artist: Dirty Americans
Release: Jet Black Holy Water EP
Genre: Hard Rock
Country: USA (Detroit, Michigan)
Bitrate: 192 kbps
►Dead Link
---------------------------------------------------------------------
DIRTY AMERICANS - Jet Black Holy Water EP (2006) USA
Dirty Americans 885767736993
* Tracks 6-8 are bonus tracks previously only available as free downloads on the band's now-defunct website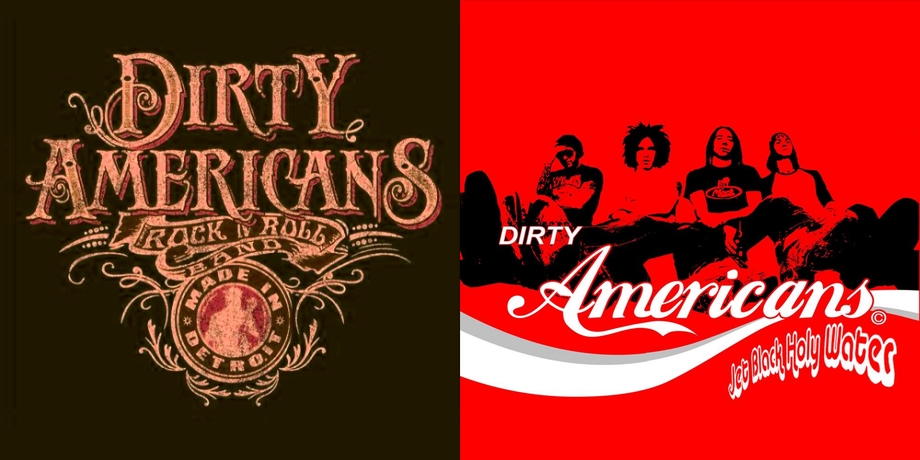 Matt "Myron" Kozuch-Rea - Vocals (THE WORKHORSE MOVEMENT)
Jeff "Freedom" Piper - Guitar (THE WORKHORSE MOVEMENT, LOVE SICK LOVE)
Patrick "Pete" Bever - Bass (THE WORKHORSE MOVEMENT)
Jeremiah Pilbeam - Drums (LOVE SICK LOVE)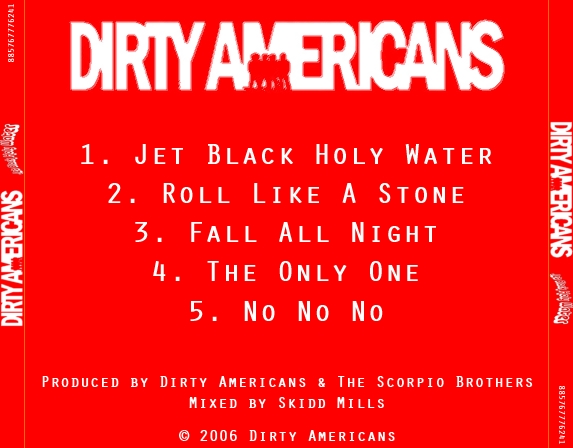 DIRTY AMERICANS were a Detroit, Michigan based 4 piece American Hard Rock band.
The band was formed out of the ashes of THE WORKHORSE MOVEMENT, a heavy quintet who released 2 albums which had some success in the UK & Europe.
The Workhorse Movement had been formed on the Mount Pleasant campus of Central Michigan University in 1994 by singer "Myron" (Matt Kozuch-Rea), guitarist "Freedom" (Jeff Piper), bassist Jay, and drummer Joe Mackie.
After honing their sound at local clubs and parties the group self-released their debut effort 'Dopamine' in 1995, relocating to Detroit two years later and signing to the local Overcore label to issue a self-titled EP.
When Jay left the Workhorse Movement to return to school, new bassist "Grady" (Jeff Wright) was recruited, as was second vocalist "Cornbread" (Chris Sparks).
Bassist Patrick "Pete" Bever replaced Grady for the band's 2000 Roadrunner label album 'Sons Of The Pioneers'.
They then toured the U.S. extensively on the multi artist 'Tattoo The Earth' package bill with the likes of SLAYER, SEPULTURA & SLIPKNOT.
Myron, Freedom and Pete formed Dirty Americans when The Workhorse Movement split up in December of 2000.
They then chose Jeremiah Pilbeam, a Dundee, Michigan native, as the man for the drum stool.
When asked what type of band he'd like to be in on their first meeting, Jeremiah had responded, "dirty American rock", and so the band was named.
With Myron, Freedom and Pete already signed to Roadrunner Records from their time in The Workhorse Movement, the company requested demos of the new band immediately.
A three track demo was produced and one track, "Nuclear Bomb", aired on Total Rock Radio.
The band then recorded a full album's worth of material in December 2001 with Paul Ebersold producing, but Roadrunner Records delayed the release of the material.
A 5 song EP, '...Kiss 'Em All Goodbye', was finally released in the US in August 2003 containing 3 of those studio songs and 2 tracks from the earlier demo session.
The album, 'Strange Generation', was finally released in Europe, Japan and Australia in March 2004, and tours of Japan and Europe then followed.
The US release of the album was cancelled however, and the band was then released from their contract with Roadrunner Records.
Signing with Liquor & Poker Music in 2005, 'Strange Generation' was finally released in the US.
Dirty Americans have since toured across the US and UK, and have appeared at some of the most prestigious European music festivals, such as Download, Rock Am Ring and Rock Im Park.
They've also supported artists as diverse as ALICE COOPER, KID ROCK and THE STOOGES.
Since the release of their debut album, they've released two further 5 song EPs; 2006's 'Jet Black Holy Water' & 2008's 'Detroit S.O.B.'.
2011 saw a brand new 10 song album, 'Black Feather', released.
Later that year they also recorded a version of QUEEN's 'Another One Bites The Dust' for the Detroit Tigers baseball team.
Sadly, in late 2012 the band announced that Dirty Americans were to go on hiatus, in a statement which read;
"After much soul searching, we have decided to take a break from the world of Dirty Americans.
It's been a lot of years and a lot of crazy fun, but we feel now is the time to reflect on what we've done and possibly pursue some other interests, music or otherwise.
Huge thanks to all of our fans and friends, as well as the bands we've shared the stage with, for all the support over the last many years.
Perhaps after we recoup and reenergize we'll have more to give in the future."
In early 2015 Jeremiah Pilbeam & Jeff Piper announced that they had formed a new band called LOVE SICK LOVE.
The band began gigging locally & released 2 singles on iTunes soon after, but when Pilbeam was injured in a motorcycle accident their progress was halted whilst he recuperated.
New material is expected later in 2016 with more live work to follow.
art & txt included
---------------------------------------------------------------------
01. Jet Black Holy Water
02. Roll Like A Stone
03. Fall All Night
04. The Only One
05. No No No
06. Ghost Above My Bed*
07. Ohio*
08. Another One Bites The Dust*
* Tracks 6-8 are bonus tracks previously only available as free downloads on the band's now-defunct website