41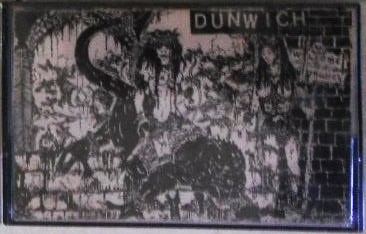 Band: Dunwich
Country: Italy
Genre: Heavy/doom
Release: demo tape
Title: The Dunwich Horror
Year: 1987
Bitrate: mp3 - 320 kbps
Info:
Band formed in 1985 by Claudio Nigris,
after some line up changes they finally
released The Dunwich Horror as their first
demo tape in 1987; a second demo followed
in 1988 (Horror at red hook).
By this time Dunwich music was influenced
by horror/gothic literature and doom metal
but during the 90's changed towards a more
symphonic/gothic metal style in albums as
"Sul Monte è il tuono"(1994) and "Il chiarore
sorge due volte"(1995).
Other two albums and some demos follwed and
currently the band is on hold with only Nigris
as a stable member.
Line up:
Claudio Nigris - keyboards
Enzo Tasca - guitar
Max - lead vocals (female vocals)
Paolo Di Virgilio - bass
Fabiana Del vico - drums
Tracklist on the tape inlay is mislabeled,this
is the correct order:
Tracklist:
1 - The bridge is falling down
2 - Intro/Dark Ice
3 - On My Skin
4 - Wicked
Hidden Link