5
THIS POST HAVE DEAD LINKS
REQUEST A REUPLOAD

HERE



CHECK EXISTING REQUESTS
BEFORE MAKING A NEW ONE!

https://www.myspace.com/hedoncries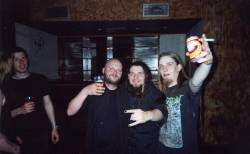 Greece (Árgos, Peloponnese)

Atmospheric Doom / Death Metal

Line Up:

Fotis : Guitar Low Stone Nothing, Utmost Contempt, ex-Simulacra
Cristopher Boufas : Guitar ex-Lachrymal Gland
Efthimis : Drums ex-Emptiness (GRC), ex-Soul Fracture
Christos : Vocals Guinea Pig
Stathis : Bass Cruentus (GRC)
Sakis : Keyboard

Former/Past members

Prokopis : Vocals
Andreas "Kafros" : Vocals, Keyboard [2001-2005], Guinea Pig, Project Havok, Utmost Contempt, ex-Path, ex-Revolting Breed, ex-Soul Fracture
George : Guitar
Gregory : Bass [2001-2007]

Discography:

Hate Into Grief (CD - 2003)
Affliction's Fiction (CD - 2007)
The End of the Path Is Night (CD - 2011)

Biography:

Hedon Cries was born in 2001 in Argos, Greece. Inspired by bands like Dark Tranquility and My Dying Bride they created their personal atmospheric style combining Swedish death metal sounds with doom metal melodies and lyrics drawn from personal experiences. After several line up changes and a couple of live shows the band entered Praxis Studios (Septic Flesh, Horrified, Rotting Christ, etc) to record their first album. The album was released by Sleaszy Rider Records in the spring of 2003. The response for "Hate Into Grief" was more than satisfying, and this led to several live performances around Greece. In the end of 2004, the band entered Praxis Studios once again to record their sophomore album. It is titled "Affliction's Fiction" and contains 12 songs with a duration near 70 minutes. What's most important for Hedon Cries is to manage to emit their feelings through their music. They intend to nothing else. This is the main reason they exist.


Hedon Cries - Hate Into Grief (2003)




Year : 2003
Style : Atmospheric Doom / Death Metal
Country : Greece
Audio : 320 kbps + all scans
Size : 102 mb




Tracklist:



1. ...Grief 03:00
2. To Heaven I Send My Feelings 03:22
3. Until the Sun Goes Up 05:29
4. My Hedon Cries 07:59
5. The Pleasure of the Melancholy Art 03:48
6. I Feel Through Pain 05:52
7. The Tragic Light of a Crying Sunset 05:27
8. A Different Psychedelic Flower 05:05
Total time: 40:02

Please my link you can spread further, but do not upload to other hostings!!!

How to download from Ifolder:

1. Copy link and run
2. In Link.Safe click on

Open Link


3. On Ifolder click on сюда ... (or when my file not long download is moved to the archive,then You must click on cкачать under

Бесплатно

)
4. On next screen click on any advertising
5. Above in right side 30-second countdown begins
6. At end countdown click above in left on нажмите сюда
7. On next screen write Your 4-digit code and click on

Potverdit

under this 4-digit
8. On last screen You click only on cкачать and start downloading

Heslo / Password: horex


Remember! If you like the release, buy the original CD. Support the artists!