11
THIS POST HAVE DEAD LINKS
REQUEST A REUPLOAD

HERE



CHECK SUBMITTED REQUESTS
BEFORE POSTING A NEW ONE!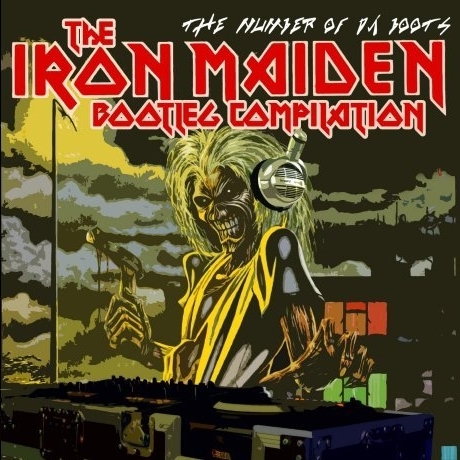 Artist: V/A
Release: The Number Of Da Boots : A Mash-Up Bootleg Tribute To IRON MAIDEN (2007)
Genres: NWoBHM/Heavy Metal/Electronic/Hip-Hop/Reggae/New Wave/EDM
Country: Various
Bitrate: 320 kbps
►
dead link
---------------------------------------------------------------------
Info
VARIOUS - The Number Of Da Boots : A Mash-Up Bootleg Tribute To IRON MAIDEN (2007) Various
Digital Album d/l from Mashuptown.com (circa 2007)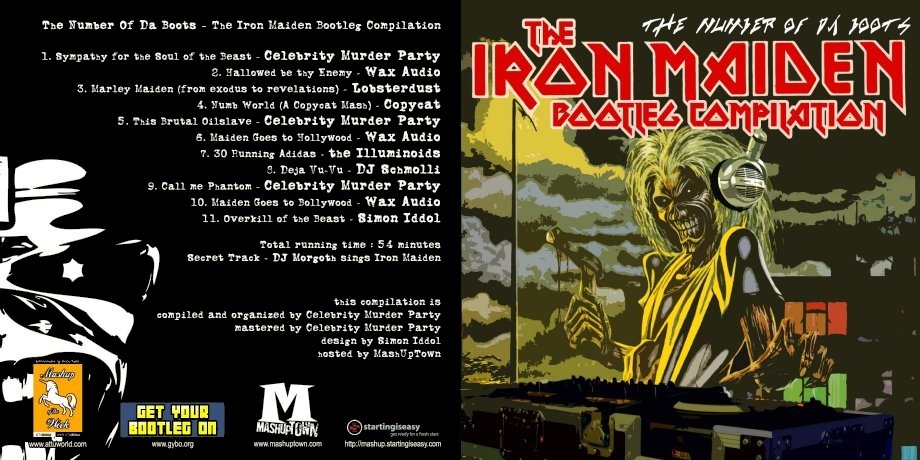 'The Number Of Da Boots', has just been ok'd for release by the blokes at Celebrity Murder Party who organized it.
We caught rumor of this album a few weeks ago when news of it was leaked.
Compilation albums are nothing new but this one is special on a few fronts.
Jez from CMP discusses below:
Iron Maiden are a British Metal institution - the archetypal 80's Metal band.
Epic guitar solos, operatic vocals, they turn it all the way up to 11.
Iron Maiden were never the coolest band to admit to liking, but there is always a guilty little place inside for rocking out, one foot on the monitors... hands gripped in the Devil's sign.
That Iron Maiden are one of the least mashed bands in history is undeniable.
It certainly proved a challenge.
Having spent the last 3 months trying to fit artists as diverse as the Pet Shop Boys, Blondie & Bob Marley over Nicko McBrain, it's easy to see why.
On this compilation, however, we have 6 mashers willing to do just that and hopefully you'll agree, succeeding with flying colours.
This is a great album that you must grab.
Several top producers contributed to this album including DJ Lobsterdust, Copycat, Wax Audio, Simon Idoll, DJ Schmolli, DJ Morgoth and Celebrity Murder Party.
Blurb from MashUpTown.com circa 2007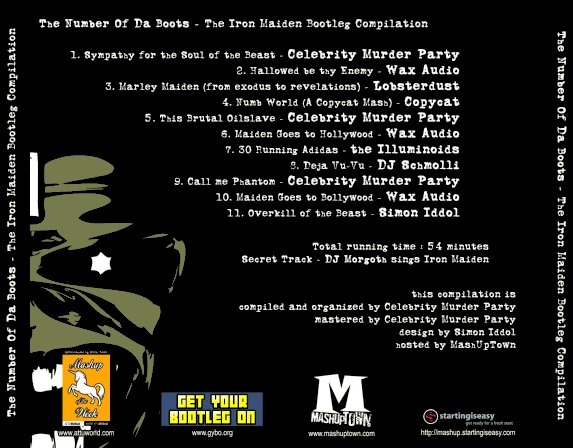 An open mind and a sense of humour are definitely neccessary to appreciate this album.
If you are a poe-faced dyed-in-the-wool Maiden die-hard with absolutely no interest in any other form of music outside of Metal you'd best leave it be.
For the rest of us however, this is a clever, often funny, surprising, and occasionally baffling listen designed to confound expectations.
You never know, you might just enjoy it.
art & txt included
---------------------------------------------------------------------
01. Celebrity Murder Party (feat. Joanne Lunan) - Sympathy For The Soul Of The Beast
(Iron Maiden vs George Michael vs The Soupdragons vs The Rolling Stones vs King Curtis)
02. Wax Audio - Hallowed Be Thy Enemy
(Iron Maiden vs Public Enemy)
03. Lobsterdust - Marley Maiden (From Exodus To Revelations)
(Iron Maiden vs Bob Marley)
04. Copycat - Numb World (A Copycat Mash)
(Iron Maiden vs Pet Shop Boys)
05. Celebrity Murder Party - This Brutal Oilslave (Mayday Mix)
(Iron Maiden vs Future Sound Of London vs Nitro Deluxe vs Muslim Gauze vs Brian Eno & David Byrne vs Midnight Oil)
06. Wax Audio - Maiden Goes To Hollywood
(Iron Maiden vs Frankie Goes To Hollywood)
07. The Illuminoids - 30 Running Adidas
(Iron Maiden vs Run DMC vs Bow Wow Wow)
08. DJ Schmolli - Deja Vu Vu
(Iron Maiden vs Beyonce)
09. Celebrity Murder Party - Call Me Phantom
(Iron Maiden vs Blondie vs Scissor Sisters)
10. Wax Audio - Maiden Goes To Bollywood
(Iron Maiden vs Sunidhi Chauhan)
11. Simon Iddol - Overkill Of The Beast
(Scott Lavender vs Kosheen)
12. DJ Morgoth - Iron Maiden (Hidden Bonus Track)
(DJ Morgoth vs Bad News)