2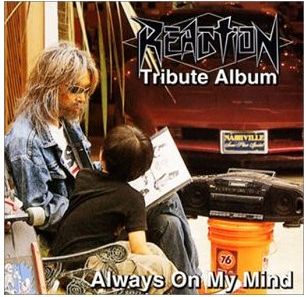 This is probably the greatest tribute for a Japanese band ever made, the caliber of musicians involved in this project is quite simply insane and shows how important this band was to the scene. Also, I'm just going to list off the tracklist and notable musicians in red below, because I'm honestly and truly stunned. Would anyone be willing to share this by any chance?
01: Opening
02: Joy Ride
Vocals - Nixx (Jacks 'n' Joker), Guitar - Taiji Fujimoto (Dancer, Dirty Trashroad, Jill's Project), Bass - Jun Hasegawa (Gerard), Drums - Jun "S.A.B." Saburi (Aion, Lizer, Virus)
03: Insane
Vocals - Akira Fujimoto (X-Ray, Ebony Eyes), Guitar - Izumi Ochiai (Aion, Mein Kampf), Bass - Shinji Matsumoto (Night Hawks), Drums - Soul Toul
04: Follow the Shadow
Vocals - Hikage (The Star Club), Guitar - Ree (Rapes), Bass - Hiroki (Media Youth), Drums - Maya (Luna Sea)
05: Cool it Down
Vocals - Yasu (Zillion Sonic), Guitar - Hiroshi (Zillion Sonic), Bass - Toshi (Gargoyle), Drums - Katsuji (Gargoyle)
06: Hot Rod Gig Tonight the Outsiders
07: I'm So Excited
Vocals - Yasuo Sasaki (Shy Blue), Guitar - You Adachi (Dead End), Bass - Marry (Color, Gdflickers), Drums - Miki Tsunoda (Show-Ya)
08: Everybody's Crazy
Vocals - Takeshi "American Cherry" Sakakibara (Tilt), Guitar - Yoshinori "Kelly" Kokune (Crowley), Bass - Kouichi Terasawa (Blizard, Sly), Drums - Shinki Kitaoka (Grand Slam)
09: Green Tambourine
Vocals - Mitsuo Takeuchi (Dirty Trashroad), Guitar - Kazuhide Shirota (Presence, Grand Slam, Rajas) , Bass - "Crazy" Cool-Joe (Dead End), Drums - Atsushi Itakura (Marino)
10: Left Behind Banzai!
11: Hammer on the Beat
Vocals - Mizuno Matsuya (Blizard), Guitar - Masanori "Burny" Kusakabe (Sniper, Burny Project, Asian Black), Bass - Takayuki Kai (Earthshaker), Drums - Yoshihiro Kudo (Earthshaker)
12: Lonesome Knight
Vocals - Max (Juni Hitoe, Asian Black), Guitar - Hiroya Fukuda (Anthem), Bass - Masaki (Animetal, Liv Moon, Zigoku Quintet, Shy Blue, Jacks 'n' Joker), Drums - Kouzou Suganuma (Ded Chaplin, Liv Moon)
13: Always on My Mind
Vocals - Shigeru Nishikawa (Presence), Guitar - Makoto Kagawa (Rogue), Bass - Kaihito Onda (Jacks 'n' Joker, Judy and Mary), Drums - Hisanori Oishi (Justy Nasty)