55
THIS POST HAVE DEAD LINKS
REQUEST A REUPLOAD

HERE



CHECK SUBMITTED REQUESTS
BEFORE POSTING A NEW ONE!
riptorn wrote:To the people who have recently PMed me & asked me to re-up this one, i cannot do so as the EP is now available from the band once more & as a result reposting would be in contravention of forum rules.

If you want to purchase the EP go to the Scarab bandcamp page here:

https://scarab.bandcamp.com/album/soul-for-a-soul-ep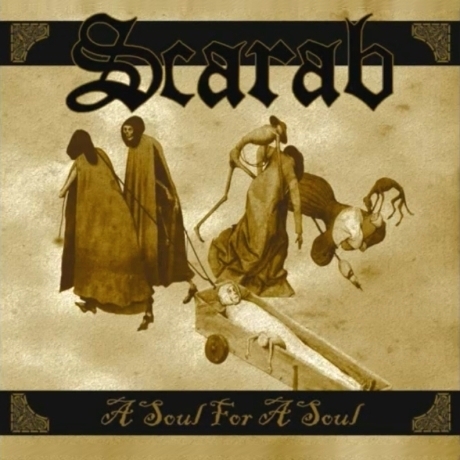 Artist: Scarab
Release: A Soul For A Soul EP (Limited Edition 10" - Only 500 Copies Made)
Label: The Miskatonic Foundation (REH 006)
Genre: NWOBHM
Country: UK
Bitrate: 128kbps
►REJECTED
---------------------------------------------------------------------
Info
Among NWoBHM collectors, Scarab's one and only 7" single "Poltergeist", (Pharaoh Records, 1984), is a highly regarded item.
However, there is a bit of confusion all around as there was another band called Scarab, (also stemming from the Midlands region), who released the "Rock Night" 7" single in 1981.
Like every upcoming band Scarab was looking for a proper record deal but luck was not on their side:
"Every label knew about us in the end, but no one wanted us. We had a few offers in the later days, but we owed so much money by then we really need to get a 'good' offer … When the band split, I owed thousands of Pounds."
In 1984, Scarab took luck into their own hands and issued the legendary "Poltergeist" single on Pharaoh Records.
A second 7" single was never to be, as Scarab only lasted a couple of years.
Paul Britton: "We split up for good in 1986. I walked away from the last show and knew it was the end.
Dave and I, (along with drummer Chris McHale and Garry Wain of CHEMIKILL), recorded the three song EP 'A Soul For A Soul" in 2009 which went out on Miskatonic Foundation Records.
I'm very proud of that EP, I consider it the only time I have ever liked how I sounded on a Scarab track."
In 2011 High Roller Records released "Rolling Like Thunder", a 2-CD compilation of Scarab's 80's recordings to widespread acclaim.
Scarab are to record a new 5 track EP in October 2013.
---------------------------------------------------------------------
01. A Soul For A Soul
02. The Plague
03. For Whom The Bells Toll