77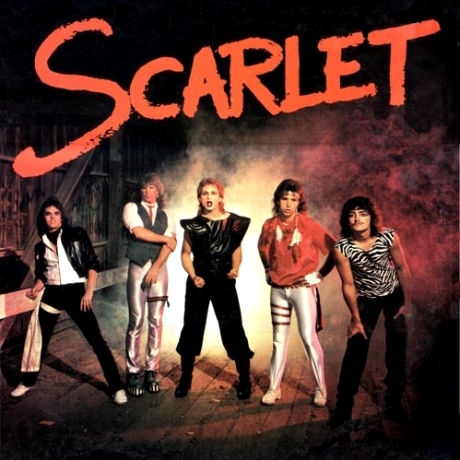 Artist: Scarlet
Release: Scarlet
Genre: Hard Rock/Melodic Heavy Metal
Country: USA (Columbus, Ohio)
Bitrate: 192 kbps
►REJECTED
---------------------------------------------------------------------
https://www.metal-archives.com/bands/Scarlet/3540432544
SCARLET - Scarlet (1983) USA
Bazer Records BR-4891-S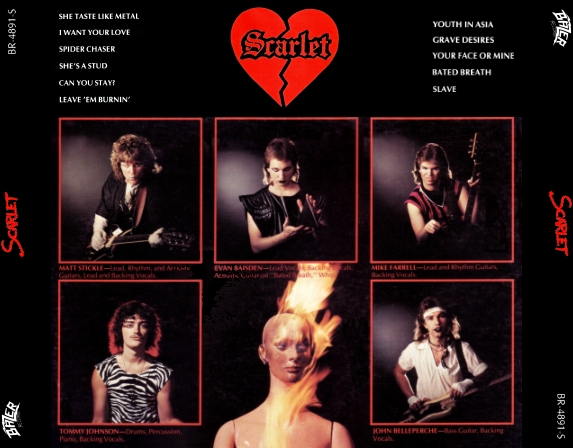 Lead & Backing Vocals, Whip – Evan Baisden (THE BRITISH INVASION)
Lead Guitar, Rhythm Guitar, Acoustic Guitar, Lead & Backing Vocals – Matt Stickle (aka 'Matt Avery') (TIFFANY, THE TOUCH, MATT AVERY'S FIRE)
Lead Guitar, Rhythm Guitar, Backing Vocals – Mike Farrell
Bass Guitar, Backing Vocals – John Belleperche
Drums, Percussion, Piano, Backing Vocals – Tommy Johnson
SCARLET were an American melodic Heavy Metal/Hard Rock band formed in 1981 in Columbus Ohio.
The quintet quickly established a reputation as a strong live act with a striking image and a wild stage show which featured pyro & props galore.
This brought audiences flocking to see them in the clubs around Ohio and they were soon one of the biggest concert draws on the local circuit.
In 1982 the band recorded a four song EP called 'No Intimidation' which was mainly sold at the band's gigs and is now very hard to find.
Guitarist Jerry Pierce was then replaced by Mike Farrell and drummer Paul Minsterman made way for Tommy Johnson.
Encouraged by their growing fan base and sales of the EP, the band then recorded their debut full length album in 1983, released on the Bazer label.
A modestly budgeted video for the song, 'She Taste Like Metal', was also made to help promote the album.
However, soon after the release of the album, Evan Baisden, Mike Farrell & John Belleperche left the band.
The two remaining members, Matt Stickle & Tommy Johnson, recruited Bassist/Vocalist Dave Hill & Guitarist/Vocalist Dave "Ziggy" Dush, and continued as a quartet.
A second Scarlet album, the far more commercial sounding 'Phantasm' was then released by Bazer in 1985.
This new version of Scarlet fizzled out soon after however, with the members going their separate ways.
Two of Scarlet's members, Mike Farrell & Matt Stickle later found themselves in L.A. playing in the backing band for 80's teen idol TIFFANY just as she broke big.
Off the back of the success of the 'I Think We're Alone Now' single & the 'Tiffany' album, they got to tour extensively performing countless live shows & appearing on many TV programmes.
Throughout the 90's and noughties Scarlet would sporadically get back together to play the odd reunion show for their loyal hometown fans every few years.
This eventually led to the band going back in to the studio to record a very belated 3rd album in 2005.
The album, 'Looks Like We Made It…What Happened To You?', features all of the former members of the band and was made up of newly written material alongside vintage songs which were performed live but never recorded back in the day.
A fourth Scarlet album is apparently a genuine possibility.
This Scarlet is no relation to the band of the same name who had a self-titled compilation of their vintage 80's material issued by FNA Records in 2010.
That band were from Tampa, Florida and were more in the mould of glam rock bands like Poison.
art & txt included
---------------------------------------------------------------------
01. She Taste Like Metal
02. I Want Your Love
03. Spider Chaser
04. She's A Stud
05. Can You Stay?
06. Leave 'em Burnin'
07. Youth In Asia
08. Grave Desires
09. Your Face Or Mine?
10. Bated Breath
11. Slave
The 2nd Scarlet album, 'Phantasm' is posted here:
http://heavymetalrarities.com/forum/vie ... 46&t=16243