22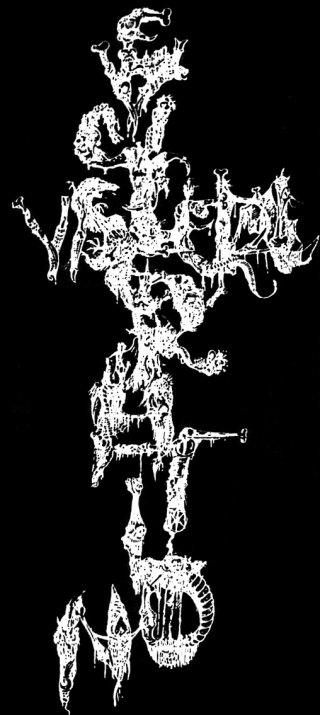 Artist: Visceral Evisceration
Release: Savour of the Seething Meat + Rehearsal 1994
Genre: Symphonic Doom-Death
Country: Austria (Vienna)
Bitrate: 320 kbps + 128 kbps
►
rejected
---------------------------------------------------------------------
https://www.metal-archives.com/bands/Vi ... ation/3026
One of the BEST Symphonic Doom-Death bands there was in the 90's. They only released this KILLER demo and a CD. But I also have a Rehearsal from 1994 that I am sharing here as well. The songs are mostly long epics that flow and change with a lot of great riffing and styles interwoven to create their unique flavor. The vocals are deep but vicious sounding....a bit like Crematory (ger). The lyrics are all like something Carcass would write, but with a twisted sense of humor to it. And I cannot believe they got the trained operatic female singer to sing the lyrics she does. I would love to have seen footage of her doing it live in the studio. The demo booklet is also like none other I have seen....it's like a little mini-book where you turn the pages. I have fully scanned the whole booklet. In 1994 I interviewed these guys and they were in the only issue of my Zine "
Praise Eternal Night
". They're like a mix of Phlebotomized, The Gathering and Amorphis. HIGHLY RECOMMENDED!
---------------------------------------------------------------------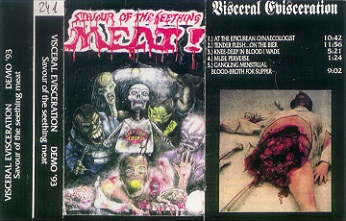 1993 demo

"

Savour of the Seething Meat

"
1. At the Epicurean Gynaecologist
2. Tender Flesh... On the Bier
3. Knee Deep in Blood I Wade
4. Muse Perverse
5. Gangling Menstrual Blood-Broth for Supper
1994 Rehearsal
1 - Unreleased Rehearsal Track
2 - Butchered Magnificence
3 - Impassioned Arousal (Jam Session)
4 - Chewing Female Genital Parts (Stoned Accoustic Reh.)
5 - I Am Enamoured (Of Dead Bodies) (Reh.)
6 - Chewing Female Genital Parts (Reh.)
7 - Tender Flesh... on the Bier (Reh.)