56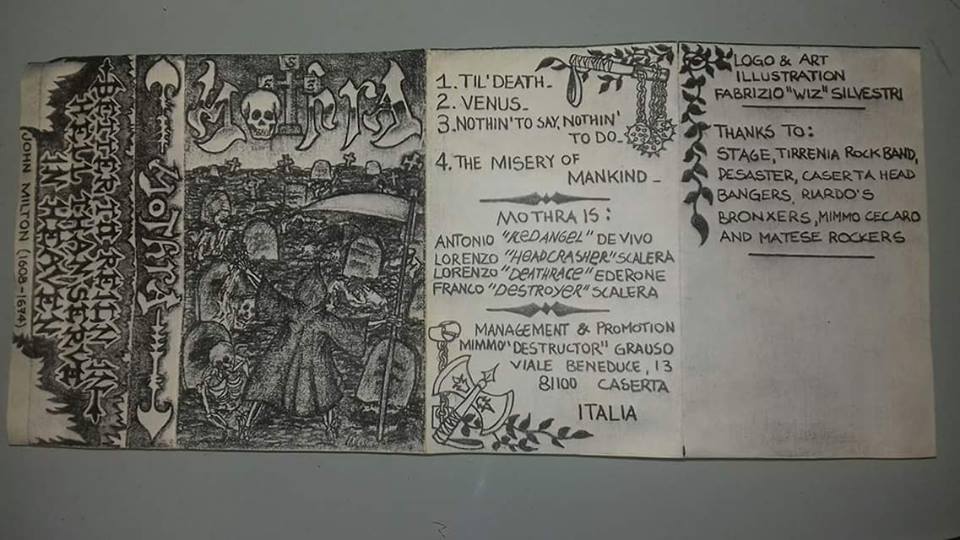 Band: Mothra
Country: Italy (Caserta)
Genre: Heavy/Speed Metal
Release: Demo Tape
Title: Better to reign in hell than serve in heaven
Year: recorded in November 1985 - released in 1986
Bitrate: mp3 - 320 kbps
Info:
An early incarnation of the band used to play instrumental jazz/blues rock
(line up had two guitars,keyboards,bass and drums)in 1982/83,then one of the
guitarist left after few months and the singer Antonio De Vivo
(who was a metal dj in a local radio) joined and they changed sound and renamed as
Metal Dust (that is also the name of one of the two songs recorded as a demo
that year,the other was called Metal Power);soon they changed name to Mothra
releasing in 1984 a second untitled demo (songs included were Live From
The Space,Plays Of The Absurd,Till Death,Fuckin' Song and a new version of
Metal Power); in November 1985 Mothra recorded this third and final demo
that includes a new version of Till Death and three new songs releasing it
in early 1986, it's not clear of when Mothra disbanded but rumors says about
no later than 1987/1988. (the info in the band page on Metal Archives are incomplete
and wrong
https://www.metal-archives.com/bands/Mothra/111398
)
P.S. some of the former members some years ago reformed Mothra but only as a live
rock/metal cover band.
You can hear one song of this demo on my yt channel:
https://youtu.be/Sz_Y2WtcSj0
Line up:
Antonio "Red Angel" De Vivo - lead vocals
Lorenzo "Headcrasher" Scalera - guitar
Lorenzo "Deathrace" Ederone - bass
Francesco "Destroyer" Scalera - drums
Tracklist:
1 - Til' Death
2 - Venus
3 - Nothin' to say,nothin' to do
4 - The misery of mankind
Hidden Link