48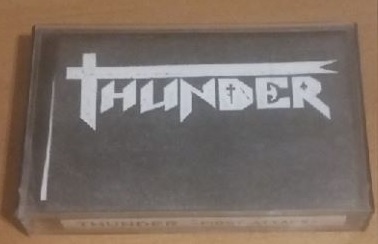 Band - Thunder
Country: Italy (Roma)
Genre: Heavy Metal
Release: Demo Tape
Title: First Attack (aka demo 1)
Year: 1983
Bitrate: mp3 - 320 kbps
Info:
Formed in 1983 they soon released this demo the same year
gaining good reviews and playing in various gigs and italian
metal festivals as Italian Massacre (1984) and the Heavy Mas festival
(21/12/985) in Pistoia and opening for Saxon in Rome in 1985 after a
second demo entitled Kids Power Invasion.
Some line up changes undermined the band and in 1987 Schwartz bros.
formed their own homonym band.
The drummer later played with Line Out and Donna? (yes,Donna?) as the lead vocalist
relocating in the 90's in the USA singing for a hair metal band called No Alibi
and then having a succesful career as a song writer for italian popstar
as Patty Pravo,Dhamm etc.
Daniele Macchi played with The Raff and with a short lived band called
Mrs. Ingrid appearing with the song The Poison Tree in the 1987 compilation
Metal Attack.
Tracklist:
1 - On and On
2 - More Hell Than Hell
Line up:
Max Evangelista - vocals
Joe Schwartz - guitar
Daniele "Mavrock" Macchi - guitar
Ingo Schwartz - bass
David Scarnicchia (aka Charbit,aka David Gionfriddo) - drums
Hidden Link