47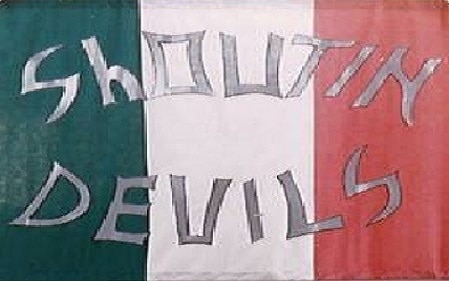 Band: Shoutin' Devils
Country: Italy (Modena)
Genre: Heavy Metal(earlier) - Melodic Hard/AOR (later)
Release: Demo tape
Title: Shouting Devils
Year: 1987
Bitrate: mp3 - 320 kbps
Recorded at TMB Rock Studio in Modena in 1987.
Info:
Shouting Devils were formed in 1982 when the average age of the players
was 13,they started playing heavy metal until 1986 when a keyboards
player was added changing sound to Hard/AOR; after the release of this demo it
seemed they were running fast on the road of success,signed a deal with
the italian major label CGD for the debut album and Daniele Iotti was
chosen among many others and played guitar for the italian pop superstar
Adriano Celentano both live and in RAI (italian national television)during
"Fantastico" (the Saturday prime time tv show) but on the night of 20 August 1988
while coming home from a gig he and two of his friends tragically perished
in a car crash.
A couple of charity concerts were held in his hometown to celebrate
his memory by the surviving members that then separated their ways,
actually some of them kept on playing by shortening the band's name
to Shoutin' but that's another story...
Line up:
Daniele Iotti - guitar,lead vocals R.I.P. (26-09-1968 - 20-08-1988)
Roberto "Tone" Montorsi - drums
Andrea "Human" Bassoli - bass,backing vocals
Massimiliano Silvestri - keyboards
Tracklist:
01 - All night long (1987)
02 - Back for more (1987)
03 - Dance the nite (1987)
04 - Ever since you left (1987)
05 - Everybody wants to rock (2nd version - 1987)
06 - Getting ready for paradise (1987)
07 - We are the life (1987)
Bonus tracks:
08 - Everybody wants to rock (1st version - demo 1984)
09 - Prisoner to your love (demo 1984)
Hidden Link