52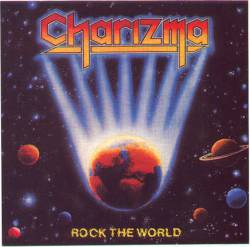 Charizma - Rock The World (Vinyl Rip) (1985)
Style
: Hard Rock
Country
: Sweden
Audio
: 320 kbps + front, back
Size
: 105 mb
new link look BELOW in comment section
====================================================================
https://www.spirit-of-metal.com/en/band/CHARIZMA_(SWE
)
https://www.discogs.com/artist/489775-Charizma-2
====================================================================
1. The Knights
2. Turn Me On
3. Free From The World
4. Make Up Your Mind
5. Rock The World
6. God Bless Rock'n'Roll
7. Try It (Feel The Love)
8. On Your Own
9. The Light
10. Where Do You Stand
Remember! if You like the release, buy the original CD. Support the artists!

http://www.charizma.com/
Sweden (Oskarshamn, Kalmar)
Bio:
Charizma is a rock band formed in Oskarshamn, Sweden, where they are still based. Founded by the three brothers Bo, Jan and Göran Nikolausson, the band now also includes Johan Mauritzson and Thomas Karlsson.
Starting out as a hard rock trio, Charizma is now a radio-friendly rock band focusing on melodies and strong vocal elements.The band is primarily known for its songs "Waiting (Here for you)"and "Run to God".
The band also performed in the pre-selections for Eurovision Song Contest in 2004 in Estonia (Eurolaul)[2] and in 2007 in Poland (Piosenka dla Europy 2007).Charizma has toured all over the world including USA, UK, Germany, Australia, Switzerland, Austria, Liechtenstein, Estonia, Poland, Sweden, Finland, Norway, Denmark, The Netherlands and Faroe Islands.
Line Up:
Bo Nikolausson : Bass, Back Vocals
Jan Nikolausson : Drums
Göran Nikolausson : Guitar
Discography:
Common Creed
(Track on "Life is precious") 2006
I give you a mountain 2004
Where do you go?
[Radio Remix] (CD-Single) 2004
Waiting [Here for you]
(CD-Single) 2003
Life in 3D 2003
The Basics Of Life 1999
Run to God (CD-single) 1999
Round and Round (CD-single) 1998
Higher Than The Heavens 1997
To Be Continued… 1997
The Ultimate Call 1993
Rockin' The World Together 1991
Join Hands (Maxi-Single) 1990
Rock The World (Polish Release) 1987
Turn Me On (EP) 1986
Rock The World 1985