14
THIS POST HAVE DEAD LINKS
REQUEST A REUPLOAD

HERE



CHECK SUBMITTED REQUESTS
BEFORE POSTING A NEW ONE!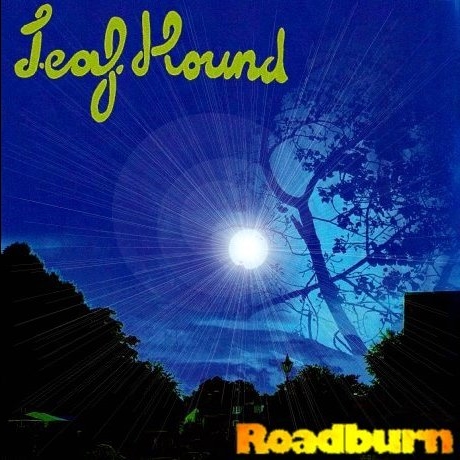 Artist: Leaf Hound
Release: Roadburn Live
Genre: Proto-Metal/Hard Rock
Country: UK
Bitrate: 256 kbps
►Link
dead link
---------------------------------------------------------------------
Info
LEAF HOUND - Roadburn Live (2006) UK
FM Recording From The Roadburn Festival
Tillburg, Holland 22/04/2006
256 kbps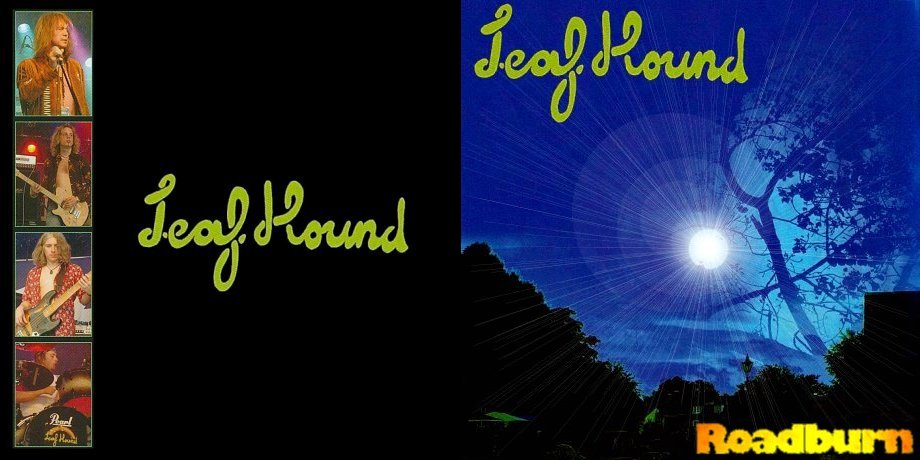 Pete French - Vocals (BRUNNING SUNFLOWER BLUES BAND, BLACK CAT BONES, BIG BERTHA, ATOMIC ROOSTER, CACTUS, RANDY PIE, THE HEADBANGERS)
Luke Rayner - Guitar
Ed Pearson - Bass
Jimmy Rowland - Drums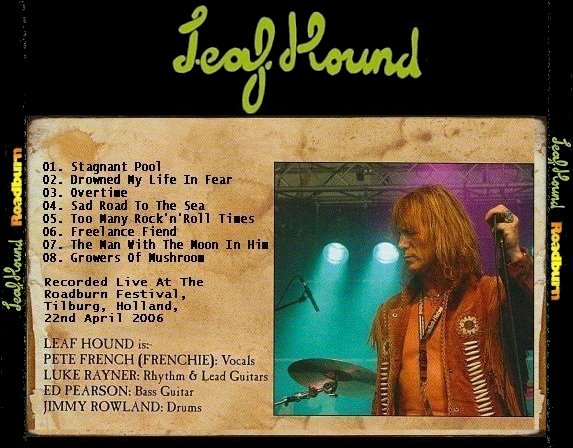 LEAF HOUND's 'Growers Of Mushroom' album, originally released on Decca in 1971, has over the years become a bona fide cult classic of the Hard Rock genre, discovered by each new generation of rock fans.
Musically in the LED ZEPPELIN/FREE mould, it has been cited as a hugely important album in the evolution of both the Heavy Metal and Stoner Rock genres.
Collectors can expect to pay in excess of £1000 for a mint copy of the original 'Growers Of Mushroom' LP.
It was recorded and mixed in one brief 11-hour session in 1970, but by the time it was released by Decca in 1971, the original incarnation of Leaf Hound, created by Peter French together with cousin Mick Halls, had already broken up.
The band was founded in London during 1969 under their original title of BLACK CAT BONES.
Vocalist Peter French had previously been with the BRUNNING SUNFLOWER BLUES BAND, recording the 'Bullen St. Blues' album and had been enlisted after Black Cat Bones' album was recorded, replacing original singer Brian Short.
In the band's earliest incarnation were guitarist Paul Kossof and drummer Simon Kirke; although both were to leave to form Free before the recording of the album took place.
As Black Cat Bones the band issued just one album for Decca Records titled 'Barbed Wire Sandwich'.
The line-up for this record was Short, guitarists Rod Price, Derek Brooks and Bob Weston, former CHAMPION JACK DUPREE bassist Stuart Brooks and drummer Phil Lenoir.
Following the album release Price departed to form the successful FOGHAT in America, and French pulled in his cousin and ex-SWITCH member Mick Halls.
Black Cat Bones evolved into Leaf Hound, comprising of French, Halls, the Brooks brothers and drummer Keith Young.
The band toured Europe and Scandinavia, prompting the release of the German issued 'Drowned My Life In Fear' single, prior to the release of the 'Growers Of Mushroom' album.
Following Leaf Hound's split, frontman French joined up with Cozy Powell to briefly play with Birmingham based group BIG BERTHA, but a short time afterwards was invited by Vincent Crane to join ATOMIC ROOSTER as their lead vocalist in that same year, and recorded the 'In Hearing Of' album with the band.
It was during Atomic Rooster's successful tour of America and Canada that Carmine Appice and Tim Bogert invited French to join the American Rock group CACTUS on Atlantic Records; he accepted and left Atomic Rooster to go to the States to tour and record with Cactus for the 'Ot 'n' Sweaty' album.
Around this time former Leaf Hound bassist Stuart Brooks re-emerged as a member of THE PRETTY THINGS.
He played on 1972's 'Freeway Madness' album on Warner Brothers, and it's follow up 'Silk Torpedo', released by Swan Song Records in 1974.
Upon returning to Britain, Peter French unsuccessfully auditioned for both URIAH HEEP and DEEP PURPLE, before joining the German based band RANDY PIE, recording the album 'Fast Forward` for Polydor in Los Angeles, before bizarrely, performing in the role of Jospeh Goebbels in the Rock Opera 'Der Fuhrer'.
A few years later he would record his acclaimed solo album for Polydor, 'Ducks In Flight', which featured Brian Robertson, Kenny Jones, Mickey Moody, and Mick Halls amongst others.
French later mimicked STATUS QUO's Francis Rossi on the 1981 spoof single 'Status Rock' by THE HEADBANGERS, which became a minor hit.
In 1993 Record Collector Magazine contacted Peter French to do an extensive interview, which became a seven page article about Leaf Hound's 'Growers Of Mushroom', an almost forgotten album that had become a favourite of tape traders and bootleggers for many years.
It finally received an official re-release on CD in 1994 on the See For Miles label, and it was at this point that a whole new generation of rock fans worldwide discovered its delights.
In 1997 original Leaf Hound bassist Stuart Brooks returned to the scene, putting together a band titled WISHING WELL with ex-QUIET RIOT, RATT, DOKKEN and GREG LEON INVASION guitarist Greg Leon and former SURVIVOR drummer Mark Droubay.
They recorded an album together which was eventually released later in the year as a Greg Leon solo record, entitled 'Wishing Well'.
As Leaf Hound's reputation and popularity spread, French was eventually persuaded to put a new version of the band together in 2004, recruiting guitarist Luke Rayner, drummer Jimmy Rowland and bassist Ed Pearson.
After releasing a live 7" single, (Freelance Fiend/Too Many Rock 'n' Roll Times), on the Rise Above label in 2006, this new incarnation of the band released a highly acclaimed new album, 'Unleashed', in 2007, on RARE/Repertoire which received excellent reviews.
Having gained a reputation as a formidable live act, Leaf Hound appeared at several festivals in Sweden including Sweden Rock in 2006 and Mellotronen, alongside OPETH and COMUS.
Leaf Hound also made a high profile appearance at Holland's Roadburn Festival, supplemented by numerous club gigs with acts such as NAZARETH, MOUNTAIN, ORANGE GOBLIN and WITCHCRAFT.
More recently, with Pete Herbert replacing Ed Pearson on bass, the band made an acclaimed appearance at the inaugural Desertfest in London and returned to the Roadburn Festival in Holland to perform 'Growers Of Mushroom' in its entirety to mark the album's 40th anniversary.
The band also played the Serie Z festival in Spain alongside WISHBONE ASH and Y&T.
It was during the sweltering hot Japanese summer of 2012, that Leaf Hound were invited to make their first ever appearance in Tokyo, Japan.
These shows were recorded and filmed for a limited release in Japan as a live album and DVD package by Captain Trip records in 2013.
Leaf Hound then teamed up with American label Ripple Music, who released the Leaf Hound 'Live In Japan' Vinyl album and DVD/CD set worldwide in 2014.
The band continue to gig, making a return visit to the Serie Z Festival in Spain in November 2014 and have recently played UK shows with STARZ & TROUBLE.
A new studio album is rumoured to be in the pipeline for release in 2015.
art & txt included
---------------------------------------------------------------------
01. Stagnant Pool
02. Drowned My Life In Fear
03. Overtime
04. Sad Road To The Sea
05. Too Many Rock'n'Roll Times
06. Freelance Fiend
07. The Man With The Moon In Him
08. Growers Of Mushroom