50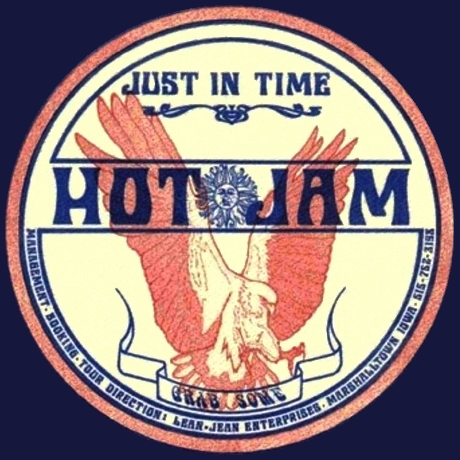 Artist: Hot Jam
Release: Hot Jam (1975-1979)
Genre: Heavy Rock/Hard Rock/Proto-Metal/Southern Rock/Boogie Rock/AOR/Psych Rock
Country: USA (Marshalltown, Iowa)
Bitrate: 320 kbps
► ►►
Hidden Link
---------------------------------------------------------------------
01. You Can't Do That (To Me)
02. I Love To Boogie
03. Just In Time
04. Tobacco Road
05. Stormy Monday
06. Get Yourself Up
07. Changes
08. I Don't Have To Sing The Blues
09. Merridee
10. I Wanna Take You Home
11. Inside Your Head
12. Next To You
13. Don't Hold Back
14. Tobacco Road '79
---------------------------------------------------------------------
Out Of Print Compilation Album : Digital Only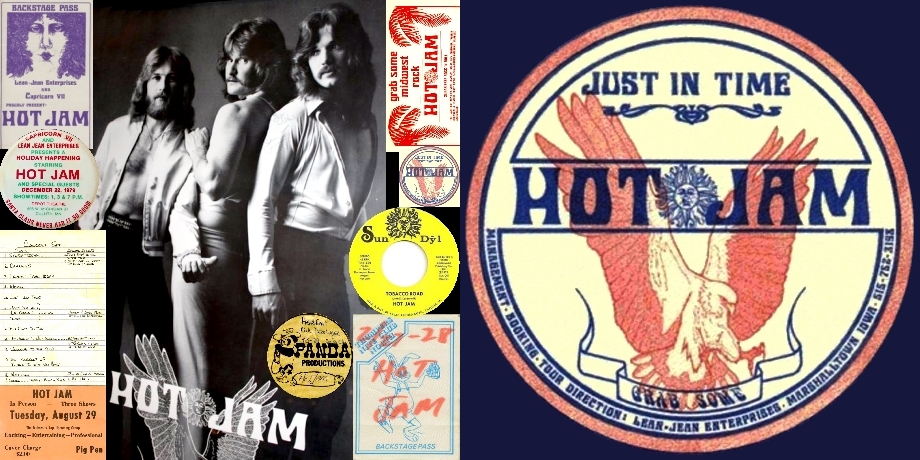 HOT JAM 1974-1977:
Roger Mathies - Guitar & Vocals
Dave Hofer - Bass & Vocals
Alan Lund - Drums
HOT JAM 1977-1980:
Jerry Carberry - Guitar & Vocals
Dave Hofer - Bass & Vocals
Alan Lund - Drums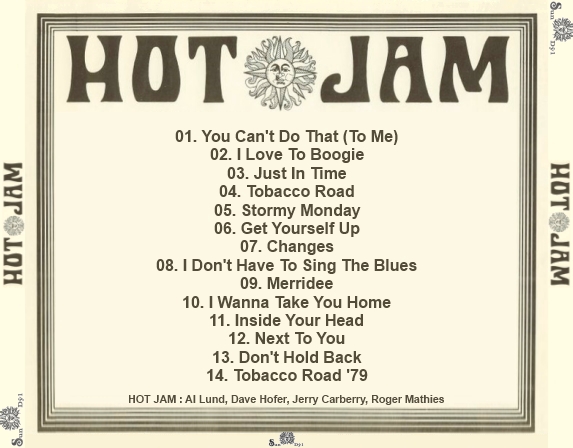 HOT JAM were an American Hard Rock trio formed in Marshalltown, Iowa, in 1974.
The band began playing out almost immediately, building up a large repertoire of original songs which they tested out on club audiences across the Midwest alongside a choice selection of crowd pleasing cover versions.
Despite the group's growing catalogue of original songs it was decided to record a pair of cover versions for their debut single release.
The 45, which paired 'Tobacco Road' & 'Stormy Monday', was released in 1975 on the Sun Dyl label.
The single picked up local airplay which helped the band gather an ever growing army of fans who packed out the clubs every time they played.
The band also began to pick up support slots with national touring acts such as HEAD EAST, CHICAGO & BROWNSVILLE STATION and got a real feel for these bigger stages.
A 2nd 7" single was recorded & issued on Sun Dyl in 1976, pairing their original track, 'I Love To Boogie' with a version of GRAND FUNK RAILROAD's 'I Don't Have To Sing The Blues' on the B-Side.
The heavy Hot Jam touring schedule by now had begun to take it's toll on Guitarist/Vocalist Roger Mathies and he decided to bow out of the group in Summer of 1977.
Deciding to continue with the band, the rhythm section of Dave Hofer & Alan Lund recruited Jerry Carberry to replace Mathies and Hot Jam Mk II was soon in business.
Whilst road testing this new line up, the band scored successful support slots with the likes of HEART, TROOPER & STARCASTLE, increasing the band's profile even further.
Hot Jam returned to the studio in 1978 to record a new single which coupled 2 band originals, 'Just In Time' & 'You Can't Do That (To Me)'.
Issued by Ovation/Tail Spin Records in a snazzy picture sleeve, the 45 sold well & the band decided their next move should be to record & release a full length album of their material.
Demos were recorded in various studios in the hope of securing a record deal with one of the major labels, but the companys didn't bite.
Streamlining their sound to fall more in line with the radio friendly rock of the times, further recordings were made, but these too failed to secure the band that major label deal.
The live shows throughout 1979 remined ferocious, but the club scene had been negatively impacted by this time by the twin evils of Disco & Punk, with the audiences & circuit much diminished as a result.
Hot Jam were still picking up supporting slots with national touring acts like RICK DERRINGER, BACHMAN TURNER OVERDRIVE & STARBUCK, but they were becoming tired & disillusioned with their lot by this time.
In mid 1980, and still without that elusive major label record deal, the group took the difficult decision to call it a day & go their seperate ways.
Three decades later, with the band's former members & fans reconnecting via the internet, a collection of the band's vintage recordings was made available online in 2010 for a limited time.
The 11 song 'Hot Jam' album contained all 3 of the bands singles and various unheard demo recordings, spanning the group's career and tracing their journey from Boogie loving Hard Rockers to more sophistcated purveyors of AOR.
This expanded version of that archival release adds a further three songs to that original compilation.
The Mk II incarnation of the band now has a facebook page which is maintained by guitarist Jerry Carberry:
https://www.facebook.com/HotJam1977
art & txt included