64
THIS POST HAVE DEAD LINKS
REQUEST A REUPLOAD

HERE



CHECK SUBMITTED REQUESTS
BEFORE POSTING A NEW ONE!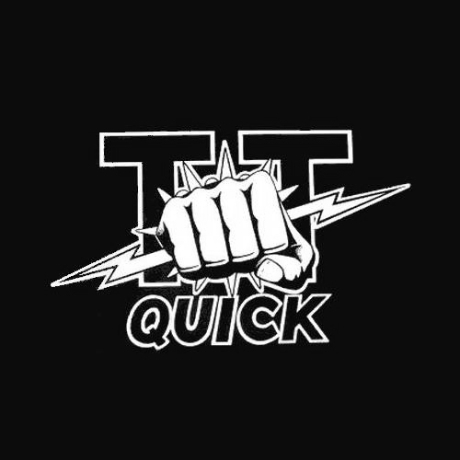 Artist: T.T. Quick
Release: T.T. Quick
Genre: Traditional Heavy Metal
Country: USA (Osbornsville, New Jersey)
Bitrate: 192 kbps
►Dead Link
---------------------------------------------------------------------
TT QUICK - TT Quick Mini LP (1984) USA
Avalanche/Megaforce Records MARZ-2002
192 kbps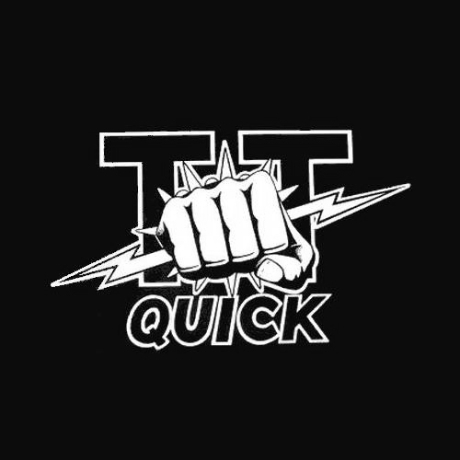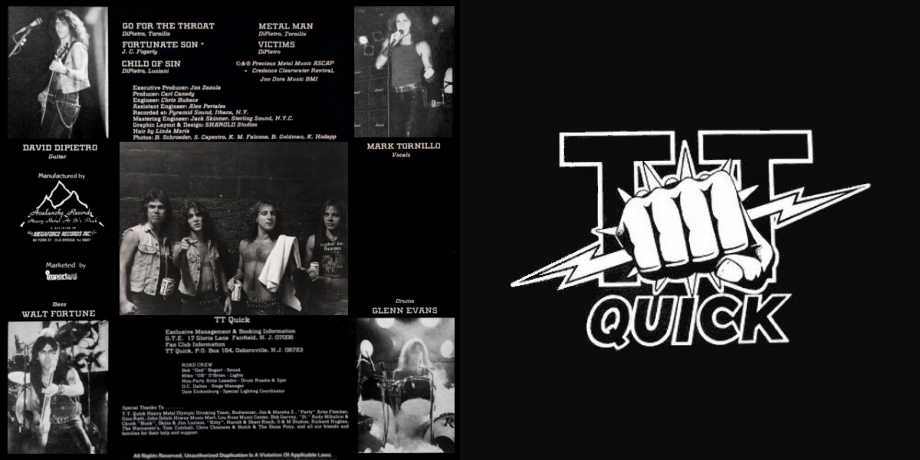 Mark Tornillo – Vocals (RIFF RAFF, ACCEPT)
David DiPietro – Guitar (PROPHET, C.I.A., NUCLEAR ASSAULT)
Walt Fortune – Bass
Glenn Evans – Drums (STRIKER, HARTER ATTACK, NUCLEAR ASSAULT, C.I.A.)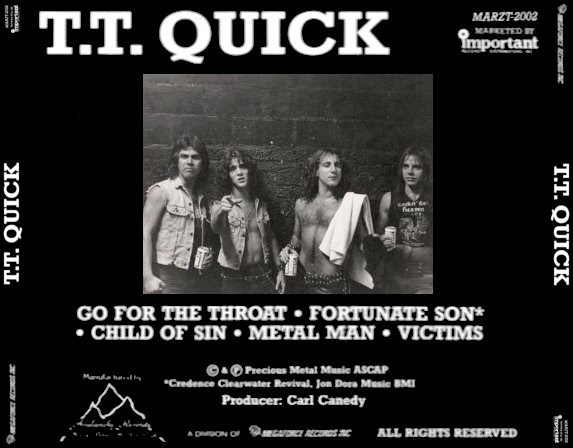 TT Quick was an American Heavy Metal quartet from Osbornsville, New Jersey that formed in 1980, initially playing on the highly competitive New Jersey bar band cover circuit.
In 1983 Jon Zazula began the iconic Megaforce Records, signing TT Quick, and the likes of METALLICA, ANTHRAX and OVERKILL.
The band would release their self titled five song debut Mini LP on the Megaforce subsidiary Avalanche Records in 1984.
The record was produced by Carl Canedy, drummer of THE RODS.
Following the record's release drummer Glenn Evans left the band to join his former STRIKER bandmate Richard Harter in his new band HARTER ATTACK.
Evans later went on to join NUCLEAR ASSAULT, playing on all their recordings and touring all over the world.
Former HELLCATS drummer Erik Ferro replaced Evans before the recording of the highly regarded full length 'Metal Of Honor' album in 1986.
The album received very positive reviews, media coverage and healthy sales, and touring saw TT QUICK open for such major acts MEGADETH, MOTÖRHEAD and IRON MAIDEN.
TT Quick were recognized as outstanding musicians, with Dave DiPietro in particular standing out & acting as a mentor to younger guitarists Zakk Wylde and Dave 'Snake' Sabo, who would later star with OZZY OSBOURNE and SKID ROW respectively.
The band disbanded around 1987, when drummer Erik Ferro was forced to quit due to health problems.
In 1989 the band reunited and recorded a second album 'Sloppy Seconds' which was issued by the Halycon label, after which the band split up again.
This was followed by the in concert 'Thrown Together : Live' album, which was recorded in 1990 but not issued until 1992.
After a spell with Melodic Rock band PROPHET during which he recorded the 'Recycled' album with them, Dave Dipietro teamed up with Glenn Evans again in the former TT Quick drummer's C.I.A. project which yielded two albums.
Dipietro took his collaboration with Evans even further by joining his main band NUCLEAR ASSAULT in 1992.
The following year saw the release of Nuclear Assault's 'Something Wicked' album, and DiPietro stayed with the band until 1995.
TT Quick then re-united for the tattoo themed 'Ink' album on the Ocean label in 2000, before again going on hiatus when lead singer Mark Tornillo decided to focus on his other band, RIFF RAFF.
In 2009, Tornillo joined the legendary German Heavy Metal group ACCEPT, making his recording debut with the band on 2010's well received 'Blood Of Nations' album.
He remains the band's frontman today, and deserves a lot of credit for helping to restore Accept's reputation with his contributions to two further superior albums, and his live prowess.
TT Quick continue to reunite for the occassional live show, and released 2 albums of archival rarities in 2012, 'Go For The Throat' & 'Go For The Throat II'.
art & txt included
---------------------------------------------------------------------
01. Go For The Throat
02. Fortunate Son
03. Child Of Sin
04. Metal Man
05. Victims