47
THIS POST HAVE DEAD LINKS
REQUEST A REUPLOAD

HERE



CHECK SUBMITTED REQUESTS
BEFORE POSTING A NEW ONE!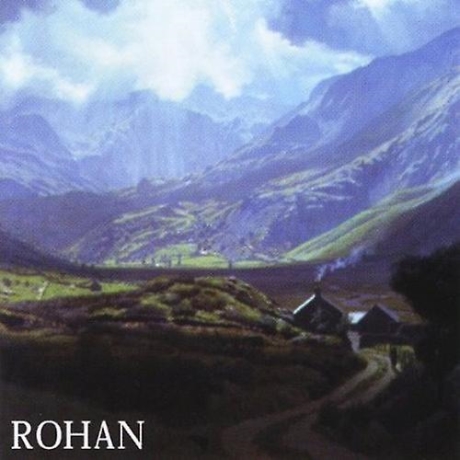 Artist: Rohan
Release: Rohan
Genre: NWOBHM/Neo-Prog
Country: UK (Bangor, Wales)
Bitrate: 256kbps
►
dead link
---------------------------------------------------------------------
Info
ROHAN - Rohan (1996) UK
Recordiau Awen Records ROHANCD196
256 kbps
Charlie Goodall - Vocals & Guitars (CHILDREN, PERERIN, COAST)
Bev Jones - Bass (CHILDREN, SEVENTY PER CENT WATER)
Dave Evans - Keyboards (CHILDREN, Y CYFFRO, NIWED)
Graham 'La' Land - Drums
ROHAN were formed in the early '80's by 3 of the original members of the 1970's Welsh Prog Rock band CHILDREN; Charlie Goodall, Bev Jones and Dave Evans.
Goodall had also been a member of the Psychedelic Folk-Rock band PERERIN, recording two albums with them; 1980's 'Haul Ar Yr Eira' and 'Teithgan' in 1981.
Based in the Bangor area, when that initial trio of Rohan members were joined by Francis 'Fran' Lock on rhythm guitar & drummer Owen Hughes, they began establishing themselves as a must see live band on the local gig circuit.
Musically they operated in the same kind of waters as Neo-Prog styled NWoBHMers like TAMARISK, DAGABAND etc.
The band made their recording debut in 1983, when their song 'Celtica' appeared on the 2-cassette Various Artists compilation 'Just When You Though We Were Dead'.
In 1984 they recorded the 'Mil O Fastiau' 7" single for the Sain Records label, with the instrumental flipside, 'Rasus T.T.'.
The band went their separate ways sometime in the middle of the decade & it seemed that that was the end of the Rohan story.
However, Rohan reformed in 1995/96 & recorded a self titled album for Recordiau Awen Records, which included a re-worked version of "Mil O Fastiau', with the following line up:
Charlie Goodall on vocals & guitars, bass guitarist Bev Jones, Dave Evans on keyboards & Graham 'La' Land on drums.
In recent years Goodall worked with the well respected Celtic Rock band COAST on their self-titled 2009 album & on the 2008 'The Great Crowd' EP , before recording 'Seascapes', a collaborative EP with Danish vocalist Therese Harris Buus Nielsen in 2015.
Keyboard player Dave Evans resurfaced in the band Y CYFFRO on their 2001 'Dechrau O'r Diwedd' album, before then joining NIWED, who released a self titled EP in 2002.
Bev Jones & his former Rohan bandmate Fran Lock both still make music together in a band called SEVENTY PER CENT WATER.
Bonus 45:
ROHAN - Mil O Fastiau 7" (1984) UK
Sain Records SAIN 106S
160kbps VBR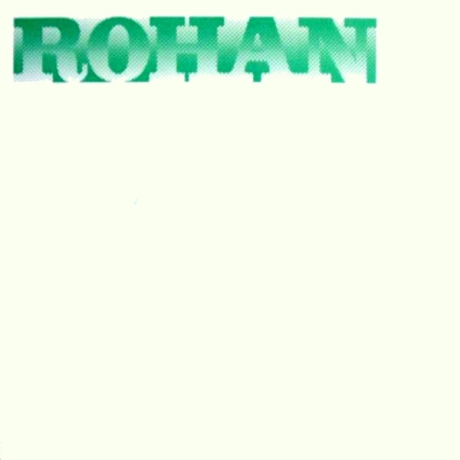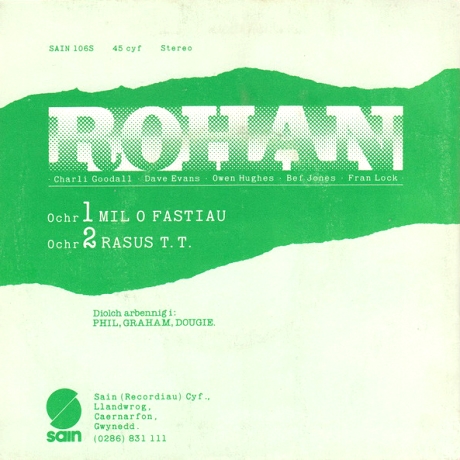 Charlie Goodall - Vocals & Guitars (CHILDREN, PERERIN, COAST)
Bev Jones - Bass (CHILDREN, SEVENTY PER CENT WATER)
Dave Evans - Keyboards (CHILDREN, Y CYFFRO, NIWED)
Fran Lock - Rhythm Guitar (SEVENTY PER CENT WATER)
Owen Hughes - Drums
Operating in a musical style closer to Progressive Rock, but with some epic concotions more attuned to Heavy Metal, Rohan released a 7'' single in 1984, which fits in to the NWoBHM timeline and qualifies them to be included on the ever-increasing frontiers of the genre.
This piece of vinyl, containing "Mil O Fastiau" and "Rasus T.T.", has a very generic sleeve, and it probably took a long while until the first NWoBHM collector actually give it a try and found it to be a pretty decent record.
Whatever the story, the band disappeared for the world outside of Wales until at least 1996, when an unexpected self-titled CD came out.
Consisting on six very long tracks (most of the compositions inspired by Tolkien's writings), the music contained on this CD explores a lot of folk influences from the area, but still sounds heavy and strong enough to please not-so-radical NWoBHM aficionados.
The CD even includes a re-working of "Mil O Fastiau".
There's no info on further activities of the band, but it would be great to know they are somehow still active, keeping alive their small but respectable legacy.
Paragraph from an article on Welsh NWoBHM @
http://nwobhmlives.blogspot.com
art & txt included
---------------------------------------------------------------------
01. Mil O Fastiau Dau
02. Cymylau'n Hedfan
03. Wyt T'In Barod
04. Atgofion
05. Lleisiau'n Y Gwynt
06. Brwydr Helm's Deep
Bonus 7"
01. Mil O Fastiau
02. Rasus T.T.