89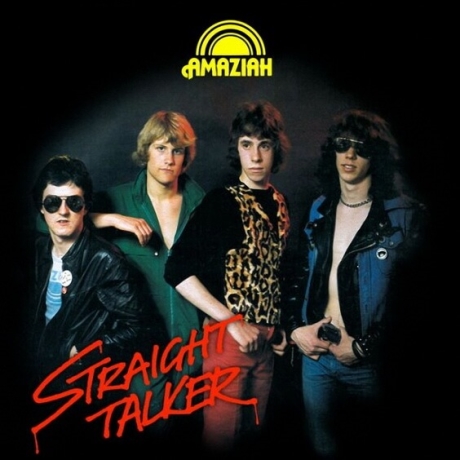 Artist: Amaziah
Release: Straight Talker
Genre: NWOBHM/Hard Rock/Christian
Country: UK (Bristol, England)
Bitrate: 256 kbps
►Link
Hidden Link
---------------------------------------------------------------------
Info
AMAZIAH - Straight Talker (1979) UK
Tunesmith Records TS 6002
256 kbps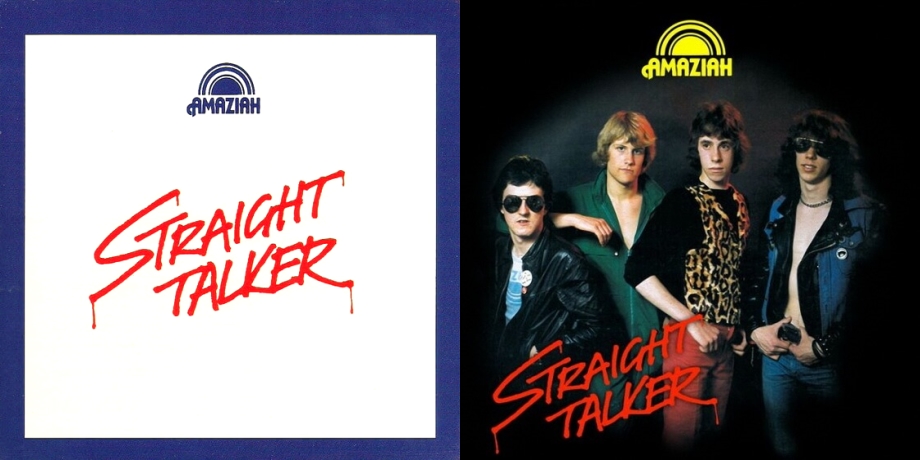 Derek Elliot - Lead Vocals
Jeremy 'Jez' Coad - Guitars
Richard Grinter - Rhythm Guitar & Vocals
Paul Loader - Bass
Dave Steel - Keyboards
Phil Williams - Drums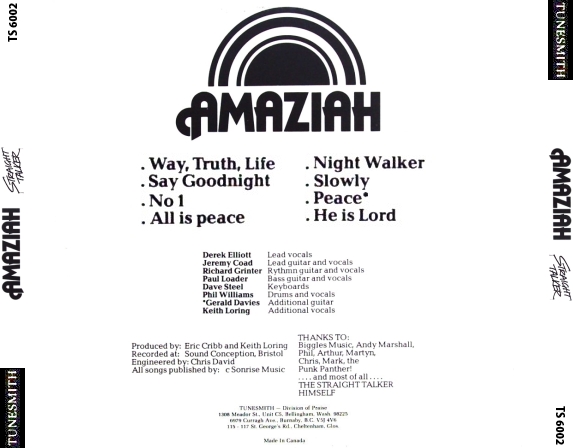 The AMAZIAH story can be traced all the way back to the early seventies when it arose out of British Youth For Christ as a thirteen piece choir with a seven member backing band.
As the years passed, the group toured extensively - and experienced significant turnover in its line-up in the process - while playing a blend of Gospel and Progressive Rock.
By 1978 Amaziah had reduced its roster to a more manageable six members prior to entering the studio to start work on the 'Straight Talker' LP.
The album was initially a custom 1979 release in the UK with a plain, off-white cover featuring the bands logo; it was later picked up by the Canadian label Tunesmith and released on red vinyl with a band photo on the cover instead.
The UK pressing has been a hard to find collectible for years, (copies have been known to sell for up to $1000), while the band photo on the Tunesmith cover is of a different line-up than the one that actually recorded 'Straight Talker'.
The best way to describe Amaziah would be, "loud cranking Hard Rock with aggressive guitars coupled with power synths and organ", (as taken from Ken Scott's Archivist 4th Edition).
Yes, the group brings a heavy seventies Hard Rock influence but also mix in some Classic Rock and Progressive Rock leanings and the occasional mellower moment.
'Straight Talker' is based upon a foundation of up-tempo rockers in "Say Goodnight", (showcasing a high energy boogie rock feel), "Night Walker" and "He Is Lord", (aggressive hard rock direction taken on both).
When Amaziah stretches, it reflects those progressive elements in question, as can be found on "Way, Truth, Life", (actually two songs - one heavier and the other slower - joined together), and "Slowly", (with its instrumental emphasis).
The group can also deliver a groove driven number, "Peace", or lighten the mood for the bluesy ballad, "No. 1", or the keyboard based, "All Is Peace".
No, 'Straight Talker' does not present anything mind blowing or groundbreaking but nothing skip-button worthy either.
In other words, the album proves above average to very good with 8 well constructed and ably performed songs but otherwise might not make anybodies end of the year top ten lists.
One of the problems is that its material comes across somewhat dated.
But this is also part of the albums charm in that it is not often we hear the heavily seventies influenced sound that Amaziah brings to the table which is by no means stagnant or contrived.
You will not find any sloppiness in band performance in that all the Amaziah members are solid musicians.
Consider vocalist Derek Elliot, who brings a smooth, mid-ranged style that, while not exhibiting the greatest range, proves a more than adequate fit for the music at hand.
Guitarist Jez Coad and keyboardist Dave Steel must also be noted in that the two help take the band through its numerous tastefully done instrumental excursions, as aptly demonstrated on "Night Walker" and "Slowly".
Lead guitar has a bluesy touch, although you will find some faster and radiant soloing as well.
Production is not bad when considering that Straight Walker was recorded on a limited budged using late seventies technology- so we will cut the band some slack in this area as a result.
Yes, there is some thinness to be found but the overall feel is very listenable at the same time.
If you are "old school" like me or enjoy Hard Rock with a seventies feel then do yourself a favour by checking out 'Straight Talker'.
Review from
http://www.angelicwarlord.com
art & txt included
---------------------------------------------------------------------
01. Way, Truth, Life
02. Say Goodnight
03. No. 1
04. All Is Peace
05. Night Walker
06. Slowly
07. Peace
08. He Is Lord