33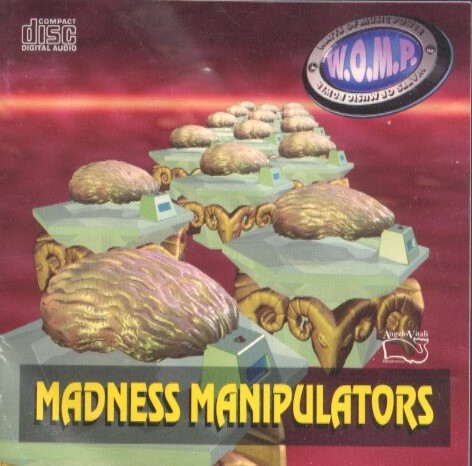 Band: W.O.M.P. (aka Watts of Music Power)
Country: Italy (Montegabbione,Terni)
Genre: Thrash Metal
Release: CD
Title: Madness Manipulator
Year: 1994
Label: Supporto Italiano - #09
Bitrate: mp3 - 320 kbps
Info:
Thank to the commitment and the will of the females guitar player Lory Bruno and singer Norma
Evangelista W.O.M.P. project was born in 1990 with the main intent of mix in an original
Thrash-Tribal-Noise-Metal.
W.O.M.P. line-up was completed with the entrance of the guitar player Zendo Melo (from Brazil)
and with that of the missing musicians.
The monicker of the band had been choosen for its onomatopeical sound; later on the name W.O.M.P.
turned into the acronym for "Watts Of Music Power". The band took part in some compilations as
Italy 92, Nightpieces 2 , Rock in Umbria, etc and released the demo "Can you hear me ?" in 1993;
the demo gained good reviews and a year later this cd was officially published.
In 1998 WOMP selfproduced the mini cd (4 songs) "Espirito de porco", last mini cd(5 songs) simply entitled
W.O.M.P. came out in 2003 (Toast Records) before disbanding soon after.
W.O.M.P. is not included in Metal Archives yet.
Line up:
Lory Bruno - guitar,backing vocals
Zendo Melo - guitar,birimbau,backing vocals
Norma Evangelista - lead Vocals
Tomas Tomaselli - bass,backing vocals
Roberto Forlini drums
Tracklist:
1 - Madness Manipulators
2 - Shit
3 - Lilith
4 - Walloping
5 - Under Control
https://youtu.be/WzMmVlXhRFw
6 - Puppets
7 - Mr. Tv
Hidden Link