8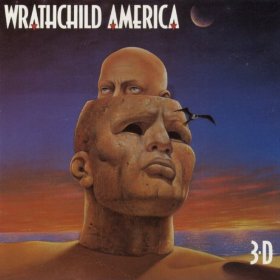 Artist: WrathChild America
Release: 3 - D-1991
Genre: Trash,Heavy Metal
Country: Baltimore , Maryland , USA
Bitrate: 320 KbPs
►
Hidden Link
---------------------------------------------------------------------
Wrathchild America (later known as Souls At Zero) were formed in Martinsburg, West Virginia in early 80's. The thrash metal outfit was formed by bassist Brad Divens with guitarists Jay Abbene and Terry Carter, and drummer Shannon Larkin. Wrathchild America released two albums for Atlantic Records; Climbin' the Walls (1989) and 3-D (1991). Despite the bands' success, with the onset of grunge in the early 1990s, mainstream interest in metal was on the decline. Inevitably, Wrathchild America became a casualty of the grunge-era, being dropped from Atlantic Records. Changing their look and style, they became Souls at Zero, and moved to Energy Records where they recorded Souls At Zero (1993), Six-T-Six EP (1994). Shannon Larkin left the band in 1994 to fill the drum seat in Ugly Kid Joe; and some time later in Godsmack as well. Jamie Miller replaced Larkin, and played on A Taste for the Perverse (1995) - what would became the bands' last album. After touring in support of A Taste for the Perverse, the band broke up. As of 2017, Wrathchild America has reformed.
As of 2020, the band has not done any reunion shows nor made any statements since rehearsing together in 2017. Whether they are actually still "active" or have broken up again is unclear.
The songs on their MySpace page except for "Climbin' The Walls", "3-D Man" and two covers tunes ("Time" and "I Ain't Drunk...") are by Souls At Zero, not Wrathchild America.
https://www.discogs.com/artist/1359235- ... ld-America
https://www.metal-archives.com/albums/W ... a/3-D/1363
https://www.discogs.com/Wrathchild-Amer ... ter/376922
---------------------------------------------------------------------
1. 3-D Man
2 Spy
3. Gentleman Death
4. Forever Alone
5. Draintime
6. Surrounded by Idiots
7. Desert Grins
8. What's Your Pleasure?
9. Prego ( instrumental )
10. Another Nameless Face
11. //
12. I Ain't Drunk, I'm Just Drinkin' (Albert Collins cover)