98
Artist: Death Angel (US)
Release: Heavy Metal Insanity (1983 Demo) & Kill as One (1985 Demo)
Genre: Thrash Metal
Country: USA (San Francisco, California)
Bitrate: 192-320
► [Heavy Metal Insanity (192) & Kill as One (245 & 192)]
for 192 for both demos, look in post below for new link by OldNecromancer
►Link 2 DEAD LINK [Heavy Metal Insanity (320) - from 'The Ultra-Violence' Reissue]
(Requested by Vaalkoth
HERE
) (Demo covers Included)
---------------------------------------------------------------------
http://demoarchives.com/Bands/Death%20A ... &cntry=Usa
http://www.metal-archives.com/bands/Death_Angel/179
---------------------------------------------------------------------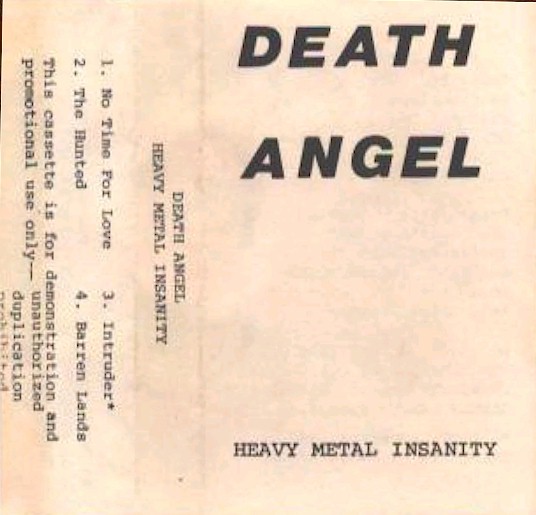 Death Angel (US) - Heavy Metal Insanity (1983 Demo)
1. No Time for Love 05:20
2. The Hunted 03:01
3. Intruder 04:32
4. Barren Lands 06:30
The first Death Angel demo. Mark Osegueda was not yet a member of the band: Gus and Rob handled the vocals.
Lineup:
Rob Cavestany Guitars, Vocals
Gus Pepa Guitars, Vocals
Dennis Pepa Bass
Andy Galeon Drums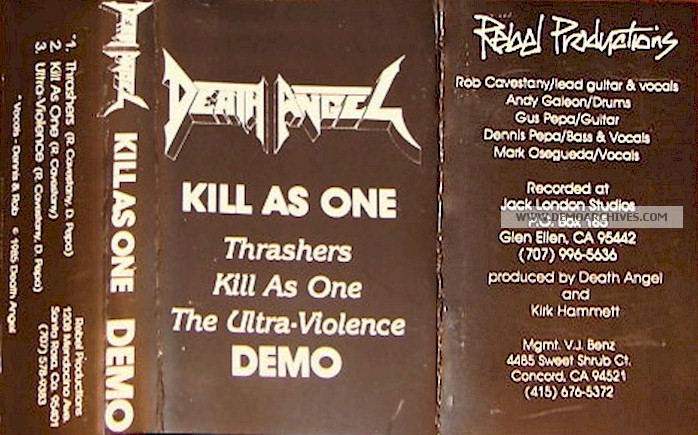 Death Angel (US) - Kill as One (1985 Demo)
1. Thrashers 07:16
2. Kill as One 05:24
3. The Ultra-Violence 11:25
The second Death Angel demo, featuring the same lineup as "The Ultra-Violence".
Produced by Metallica guitarist Kirk Hammett.
Lineup:
Mark Osegueda Vocals
Rob Cavestany Guitars, Vocals
Gus Pepa Guitars
Dennis Pepa Bass
Andy Galeon Drums