66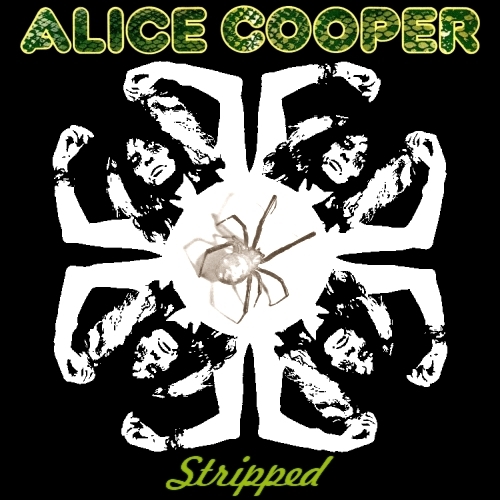 Artist: Alice Cooper
Release: Stripped
Genre: Hard Rock
Country: USA (Detroit, MI)
Year: 1971-1989
Bitrate: 320 kbps
►
See following posts for a working link!
---------------------------------------------------------------------
ALICE COOPER - Stripped (1971-1989) USA
Stripped Records STRIP-001
320 kbps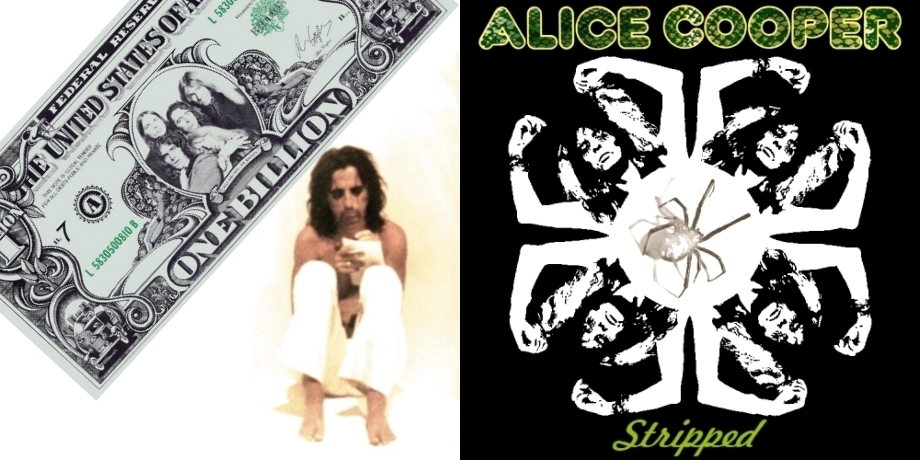 Just when you think you've heard it all, the 'Stripped' phenomenon comes along and provides an interesting twist to the listening experience.
For the uninitiated; unlike the phenomenon of re-mixing records where new parts were usually added to pre-existing recordings and songs made 'dance-able' to some degree, 'stripping' sees enthusiasts returning to the original master recordings of classic records and taking certain elements out of the mix.
Peeling back the layers of the multi-tracks has the interesting effect of refocussing the listeners attention on aspects of the recording which may not be immediately apparent when hearing the completed version.
Take for instance, the raw stripped rendition of Alice Cooper's 'Generation Landslide', which dispenses almost completely with the signature guitar tracks and drums.
It retains it's manic energy, but Alice's idiot genius lyrics get the room to shine which they so richly deserve, and Dennis Dunaway's extraordinarily full and funky bass lines get to carry the tune unimpeded by those meddling six stringers.
It's precise, rhythmic and soulful, still packs a lively punch, and shows ole Vince Furnier was a far better vocalist than even the staunchest supporter may have suspected.
I confess, even as a long-time fan, i always thought that Alice was more of a 'character' vocalist than a 'real' singer, but these 'stripped' versions shed fresh light on his vocal talents.
Whilst it may be limited, his voice has a surprisingly rich and unique tonality to it, and his delivery and phrasing are absolutely spot-on.
He also makes it sound almost effortless, which is no mean feat, especially on these demanding selections, mainly drawn from his classic era.
Other versions are designed to focus your attention on the underappreciated talents of guitarists Michael Bruce and Glen Buxton, or spotlight Neal Smith's uniquely manic and often hypnotic drum patterns.
Meet Alice Cooper.
Familiar yet perplexingly different.
Good to see you again.
From
http://www.BlackWidowWeb.com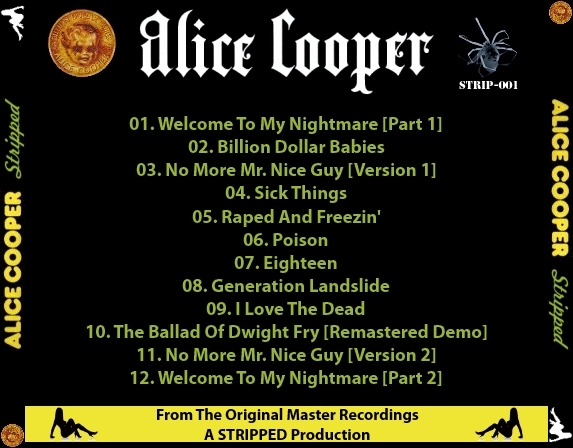 art & txt included
---------------------------------------------------------------------
01. Welcome To My Nightmare (Part 1)
02. Billion Dollar Babies
03. No More Mr. Nice Guy (Version 1)
04. Sick Things
05. Raped And Freezin'
06. Poison
07. Eighteen
08. Generation Landslide
09. I Love The Dead
10. The Ballad Of Dwight Fry (Remastered Demo)
11. No More Mr. Nice Guy (Version 2)
12. Welcome To My Nightmare (Part 2)