27
THIS POST HAVE DEAD LINKS
REQUEST A REUPLOAD

HERE



CHECK SUBMITTED REQUESTS
BEFORE POSTING A NEW ONE!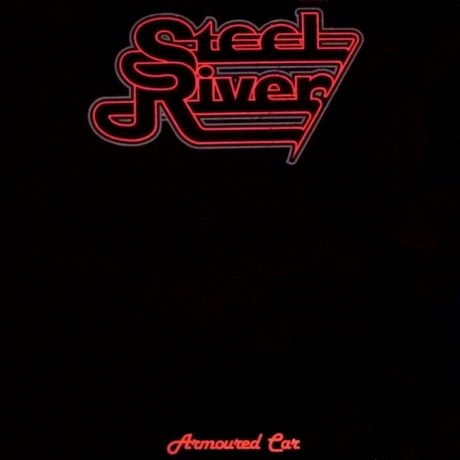 Artist: Steel River
Release: Armoured Car
Genre: Hard Rock
Country: Canada (Toronto)
Bitrate: VBR
►
---------------------------------------------------------------------
STEEL RIVER - Armoured Car (1980) Canada
Axe Records AXM 1001
VBR
John Dudgeon: Lead Vocals & Guitars (THE TORONTO SHOTGUN, MOJO GRANDE)
Tony Dunning : Guitar (THE TORONTO SHOTGUN)
Rob Cockell : Bass (THE TORONTO SHOTGUN)
Bob Forrester : Keyboards (THE TORONTO SHOTGUN)
Dennis Watson : Drums (THE TORONTO SHOTGUN)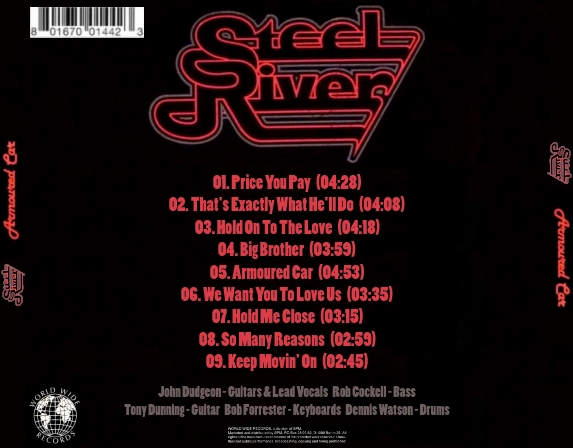 STEEL RIVER was a Canadian Hard Rock group formed in Toronto which performed primarily during the 1970s.
Starting in 1965 as a part-time Toronto R&B club band called THE TORONTO SHOTGUN, the five-piece group gradually changed their style of music and adopted the name Steel River to reflect it's harder sound.
1969 saw the group signed to the Tuesday Records label on the strength of a demo which they recorded with producer Greg Hambleton.
Their first single release for the label was a version of the Jay Telfer song 'Ten Pound Note', which went on to be a top 10 hit in Canada.
A ten song album entitled 'Weighin' Heavy' followed later in the year, which garnered positive reviews & decent sales off the back of the single's success.
The band were picked up by Evolution/Stereo Dimension Records for the U.S., with the LP also released in Germany by Philips Records and Festival Records in Australia.
A second single 'Walk By The River' failed to trouble the charts, but a 3rd 45, 'Southbound Train (Stand Up)', released in early 1971, did hit the Canadian top 30.
The band's second LP, 'A Better Road', was released later in the year, but it failed to sell as well as their debut domestically.
The album was also issued in the U.S., & Germany, (and saw a belated release in 1973 in Venezuela of all places).
A non-Lp 1971 single, 'Mexican Lady', then failed to sell well, and Tuesday Records dropped the band.
Still much in demand as a live act, the band spent much of 1972 concentrating on gigging & trying to secure a new record deal, which finally came their way courtesy of Axe Records.
Between 1973 & 1974, Steel River released 3 singles on the Axe label, 'Just Remember', 'Armoured Car' & 'We Want You To Love Us'.
After signing on with the prestigous William Morris Agency, four years of heavy touring followed, with Steel River sharing stages with the likes of STEPPENWOLF, BLACK SABBATH, HUMBLE PIE, EDGAR WINTER, MOUNTAIN and THE JAMES GANG.
Despite all of their touring, the band failed to release any new product during this time.
In 1979, burned out from their years of exhaustive road work, the group officially parted ways but the split would only last for four months.
After this short hiatus all five members of the band reunited and continued to play together.
1980 then saw the release of the band's 3rd and final album, 'Armoured Car'.
Produced by Greg Hambleton, the album was recorded at Kensington Sound in Toronto and mixed at Nimbus 9 by Jim Frank.
Whilst the record saw the band predict the direction Hard Rock would take in the early 80's with a selection of exemplary arena-ready songs, poor sales of the record, disillusionment & burn-out finally saw Steel River fold in 1981.
Vocalist John Dudgeon went on to release a solo single in 1983 called 'Put My Arms Around You'.
Having been away from the musical arena for a few years, Dudgeon returned in 2004 with MOJO GRANDE, a Funk/Blues band based in Ontario.
In 2013 & 2014, Steel River's 'A Better Road' and a re-mixed 'Weighin' Heavy' were re-issued on CD by producer Greg Hambleton's revived Axe Records label.
art & txt included
---------------------------------------------------------------------
01. Price You Pay
02. That's Exactly What He'll Do
03. Hold On To The Love
04. Big Brother
05. Armoured Car
06. We Want You To Love Us
07. Hold Me Close
08. So Many Reasons
09. Keep Movin' On