29
THIS POST HAVE DEAD LINKS
REQUEST A REUPLOAD

HERE



CHECK SUBMITTED REQUESTS
BEFORE POSTING A NEW ONE!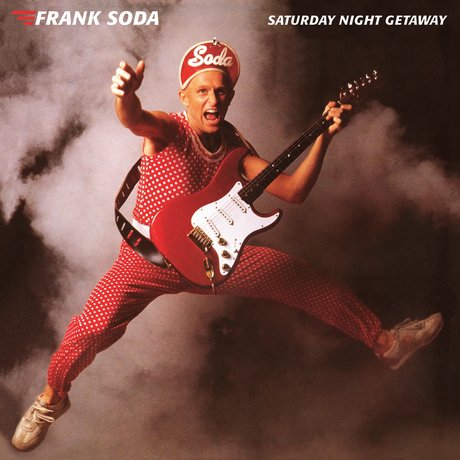 Artist: Frank Soda
Release: Saturday Night Getaway
Genre: Hard Rock/Heavy Metal/Classic Rock
Country: Canada
Bitrate: 320 kbps
►Dead Link
---------------------------------------------------------------------
Info
FRANK SODA - Saturday Night Getaway (1981) Canada
Quality Records SV-2093
320 kbps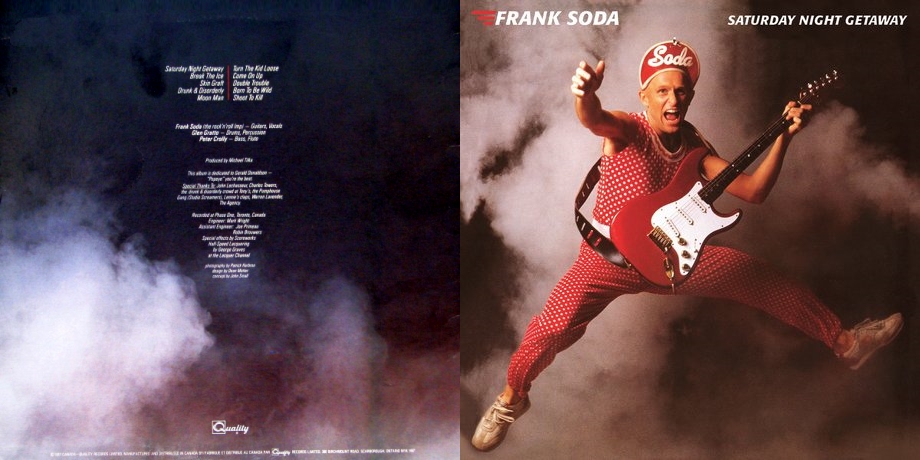 Frank Soda - Vocals & Guitar (THOR & THE IMPS, FRANK SODA & THE IMPS, CLASSIC SODA, THOR)
Peter Crolly - Bass & Flute (PLATEAU, INSTRUCTIONS, THE PAPE GANG, GROOVE CORPORATION, SYLUM, MONDO LOCO, STRAToS, POWERHOUSE)
Glen Gratto - Drums (BULLRUSH, MADCATS, THE PAPE GANG, GLEN GRATTO BAND)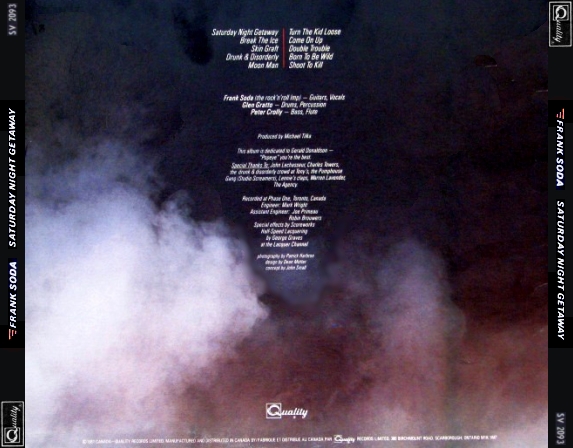 Originally from Italy & christened Francesco Soda, FRANK SODA grew up in Kitimat, BC., Canada.
In the mid 1960s he started playing guitar, inspired by British Invasion groups like THE BEATLES, THE ROLLING STONES, and THE ANIMALS, before falling in love with the raw energy of the blues & being influenced by Clapton, Beck, Page, Hendrix, etc.
After high school Soda played in bands throughout British Columbia, with a variety of musicians.
In 1973, Frank met up with THOR, who needed a band to tour and record.
Frank, drummer John Lechesseur and bassist Charles Towers became that band.
Because of the band's diminutive size, Thor eventually dubbed them THE IMPS.
Thor did a wild stage show which included having bricks broken on his chest with a sledgehammer, blowing up hot water bottles 'til they burst, with lots of pyro and special effects.
Between 1975 & 1976 the Imps parted company with Thor & began to gather a cult following as a band in their own right.
Frank began writing songs, and 'TV People' soon became an anthem in the local Toronto clubs, spawning Soda's fascination with exploding headgear props.
Since the song was about getting "screwed up" or brainwashed by watching too much television, Frank decided to illustrate this by exploding a TV on his head.
In Detroit they got the same pyro equipment that KISS and TRIUMPH were using, and The Imps live shows became known for high energy & outrageous explosive antics.
Soda soon added other exploding headwear such as the Moon Man & The Smoking Pig, taking the audiences photograph with a gigantic camera on his head during the song, 'Take My Picture Please'.
In 1979, The Imps recorded their first album live, entitled 'In The Tube'.
After touring throughout Canada, the group came back to Toronto and signed a record deal with Quality Records.
'Soda Pop', was released in 1980, and although done on a shoestring budget, it enabled the band to play to larger audiences whilst sharing the stage with such bands as TRIUMPH, MAX WEBSTER, DEEP PURPLE, SAVOY BROWN and GODDO.
In 1981 the original Imps disbanded, and thus began a list of "honorary Imps" that played with Frank thereafter.
To record 1981's 'Saturday Night Getaway' LP, Soda teamed up with drummer Glen Gratto who had been with MADCATS, and bassist Peter Crolly who had played with INSTRUCTIONS.
During this time Frank kept adding to his live show, introducing two large video screens to the stage.
At one point in the show Soda would do a guitar battle with himself on the huge screens, before running around the audience drinking beer and playing guitar with one hand.
He also added his infamous electric suit, which was covered in hundreds of light bulbs.
It was around this time that the Moon Man prop almost proved to be fatal when it backfired at the Gasworks in Toronto, burning Frank's hair and skin, prompting the rest of the band to shave their heads in a show of solidarity with Soda.
The experience inspired the song 'Skin Graft'.
In 1982 Frank became involved in the recording of LEE AARON's debut album, 'Lee Aaron Project', alongside the likes of Triumph's Rik Emmet, Buzz Sherman of MOXY and Rick Santers of SANTERS.
Frank wrote and played on the song, 'I Like My Rock Hard', which, in addition to appearing on the album, became the flipside of her 'Under Your Spell' 45.
Frank then recorded 'The Adventures Of Sodaman' between 1982 and 1983, a picture disc EP recorded in his basement and featuring a duet with Lee Aaron.
Around 1984, Frank teamed up with Brian Gagnon, formerly of BULLRUSH & THE HUNT, who joined the band for a tour.
Due to the touring shedule and budget of trying to keep their expensive show on the road, it became hard to find time to write new material.
Brian eventually left to pursue a career in production with Doug Raymond replacing him on bass, a very energetic performer whose party piece was to play the bass with his teeth.
In 1986 Soda decided to take time off from touring as he had a young family at home, and formed a duo with Terry Watkinson of MAX WEBSTER, who programmed the drums, played keyboards & bass.
The duo played Max Webster songs which Terry had written and sung, as well as Frank's songs and some fun cover tunes.
Frank had to put everything on hold in 1987 when his father became ill, and he decided to move back to Vancouver to help his family out.
By 1989, he had put together a new band and this new line-up played festivals with Goddo and FROZEN GHOST.
Back in Vancouver they played local clubs and opened for such acts as BACHMAN TURNER OVERDRIVE & GLASS TIGER.
CLASSIC SODA was formed in 1992, a duo with Frank's wife Joyce on vocals, keyboards & harmonica, and Frank handling guitar and vocals, covering classic rock, blues & country from the 50's to the 90's.
In 1993, Pacemaker Records began talking to Frank about releasing some of his material on CD.
He recorded 2 new songs to include on this new compilation, 'High Times', which was released in 1995.
Since 1996, Frank has divided his time between Classic Soda and his original band, playing festivals and special events across the country.
He has also recently returned to the ranks of his old friend Thor's band.
Soda is still writing and recording original music, and remains one of the most unique and entertaining acts to ever come out of Canada.
The rest of Frank Soda's album discography can be found here:
FRANK SODA & THE IMPS : Soda Pop (1980)
viewtopic.php?f=46&t=30408
& here:
THE IMPS : In The Tube (1979)
viewtopic.php?f=46&t=30406
art & txt included
---------------------------------------------------------------------
01. Saturday Night Getaway
02. Break The Ice
03. Skin Graft
04. Drunk & Disorderly
05. Moon Man
06. Turn The Kid Loose
07. Come On Up
08. Double Trouble
09. Born To Be Wild
10. Shoot To Kill