70
THIS POST HAVE DEAD LINKS
REQUEST A REUPLOAD

HERE



CHECK SUBMITTED REQUESTS
BEFORE POSTING A NEW ONE!
Artist: Gillan/Dean
Release: Rocks On! (1984)
Genre: Hard Rock
Country: UK
Bitrate: 320 kbps
►Dead Link
---------------------------------------------------------------------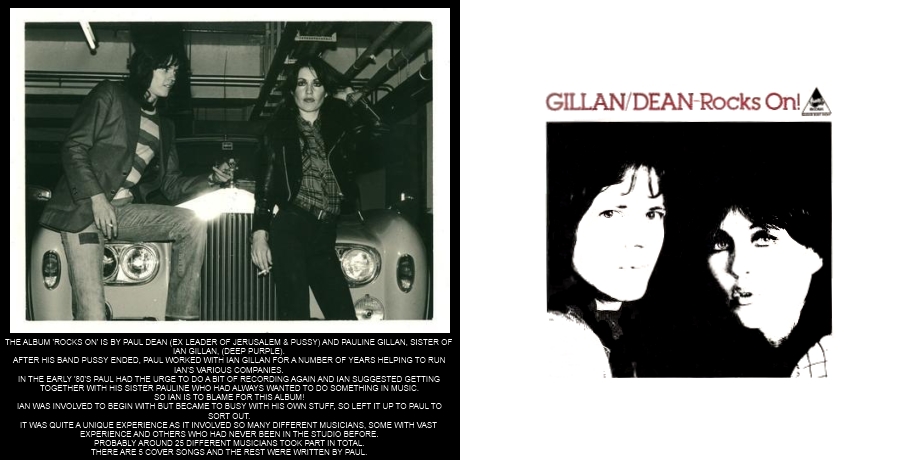 Pauline Gillan - Vocals (PAULINE GILLAN BAND, PAULINE GILLAN'S NORTHERN DANCER)
Paul Dean - Vocals & Bass (JERUSALEM, PUSSY)
Ian Hall - Guitar (KARRIER)
Colin Towns - Keyboards (GILLAN, MCCOY, SPLIT KNEE LOONS)
Paul Hale - Keyboards
John "Gus" Gustafson - Bass & Vocals (ABLUTION, IAN GILLAN, QUATERMASS, IAN GILLAN BAND, HARD STUFF, DAEMON, THE BIG THREE)
Tony White - Bass
Kim Brodie - Drums
Clive Deamer - Drums
Pauline Gillan, the younger sister of DEEP PURPLE & GILLAN frontman Ian Gillan, formed the GILLAN/DEAN project with former JERUSALEM and PUSSY singer/bassist Paul Dean in 1983.
Signing to Thunderbolt Records, the duo recorded the "Rocks On!" album in a variety of studios including Ian Gillan's own Kingsway Studios, Bath and London, with additional sessions taking place in Mallorca.
Recording musicians included KARRIER guitarist Ian 'Wes' Hall, bassist Tony White, keyboard player Paul Hale, drummers Clive Deamer and Kim Brodie plus GILLAN musicians John "Gus" Gustafson and Colin Towns.
A live band intended to support the album with gigging featured Dean, Gillan, bassist Robbie Vincent and ex-AVENUE drummer Keeth Naylor.
An odd album, "Rocks On!" whilst well played and sung, seems to suffer from a bit of an identity crisis, with many of the more straight forward Hard Rock songs buried beneath an '80's production sheen more suited to New Wave.
The variety of musicians employed also doesn't help the fledgling act, as they struggle to nail down their sound.
There are also an over abundance of cover versions, which sometimes work well, ("Sunshine Of Your Love", has a clever arrangement featuring some very very nifty slide guitar), and other times fall flat, ("Light My Fire" is a gloomy synth-heavy dirge).
There's also a cheeky romp through Purple's "Black Night", which whilst fun, hardly helped Pauline's chances of stepping out from beneath her older brother's long shadow.
The reviewers of the time seemed similarly mystified by the LP, and this combined with Thunderbolt Records poor distribution and promotion to scupper the fledgling act who folded soon after the record's release.
So whilst an interesting listen, this is probably only for Deep Purple & Gillan completists who absolutely have to hear everything connected to those bands, however tenuous the associations.
Paul Dean gave up being a jobbing musician after GILLAN/DEAN, but kept himself involved in music in a production capacity.
In addition to his production duties, he went on to become a professional golfer for a time, and then a golf coach.
The albums he recorded in the early '70's with Jerusalem & Pussy, (both produced by Ian Gillan), have recently been remastered and re-released by Rockadrome Records.
Now living in Asia, Dean is not a part of the newly reconvened version of Jerusalem who recorded 2009's "Escalator" album.
After the Gillan/Dean project bit the dust, Pauline Gillan subsequently created PAULINE GILLAN'S NORTHERN DANCER, with ex-AVENUE guitarist Dave Bell, ex AXIS guitarist Dave Little, ex-GLACIER bassist Chris Wing and former AVENUE drummer Keeth Naylor.
The band debuted with the "One More Time" EP on the Stoke based indie label Bullet Record before the years end.
This group eventually became the PAULINE GILLAN BAND, signing to the Powerstation label for the release of a full blown album, "Hearts Of Fire", in 1985.
After long months spent touring the record in the UK & Europe where they built up a reputation as a fine live act, the band finally took time off to write the follow up album.
The new material was much darker than the debut and far harder hitting.
The record company, who had been pushing for a softer pop-rock sound, (and less clothing for Pauline), were anything but pleased.
Following a set of even heavier, far darker demos recorded at Fairview Studios with producer John Spence, Powerstation finally dropped the band.
By 1990 Pauline Gillan decided that she'd had enough and exited the group.
The remaining band members persevered as a unit, working with MEAT LOAF vocalist Lorraine Crosby as their new vocalist.
Crosby then departed to join her boyfriend's band EMERSON and was replaced by Jackie Fox.
This line-up recorded an album, but were forced to scrap it because Fox was unwilling to commit to long term touring, and was thus shown the door.
The vocal tracks were then re-recorded by new member Gail Hunter, but the LP still didn't see release as the group eventually fell apart.
Dave Little returned to his native North East but did not pursue music again for many years.
He finally returned to the scene recently with LIES OF SMILES, an excellent new project also featuring his former Pauline Gillan Band band-mate, Keeth Naylor on drums.
art & txt included
---------------------------------------------------------------------
01. Riders In The Night
02. Sunshine Of Your Love
03. Love Sting
04. Black Night
05. On The Road Again
06. Light My Fire
07. Rocks On!
08. The Hole
09. Running Wild
10. If You Gotta Make A Fool Of Somebody
11. Rush Of Love
12. Angel Lover