21
THIS POST HAVE DEAD LINKS
REQUEST A REUPLOAD

HERE



CHECK SUBMITTED REQUESTS
BEFORE POSTING A NEW ONE!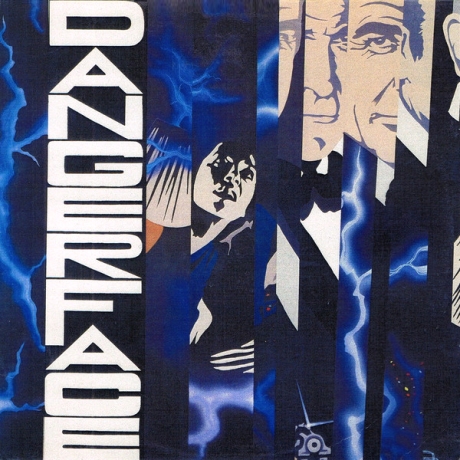 Artist: Dangerface
Release: Dangerface 12" EP (1983)
Genre: Hard Rock/AOR/Powerpop
Country: USA (Los Angeles, CA)
Bitrate: 320 kbps
►Dead Link
---------------------------------------------------------------------
DANGERFACE - Dangerface 12" EP (1983) USA
Sexual Records #1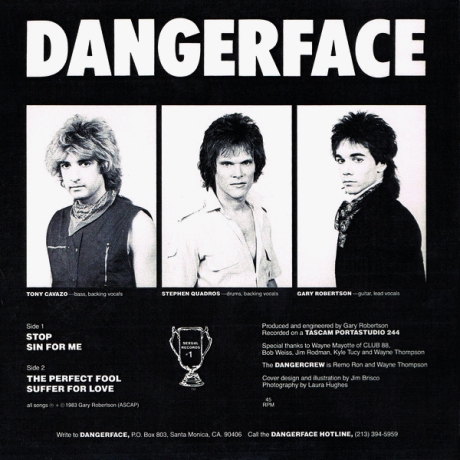 Gary Robertson : Lead Vocals & Guitars
Tony Cavazo : Bass & Backing Vocals (SNOW, HURRICANE, SPEED OF LIGHT, LONDON, WALT WHITMAN & THE NEW MONSTERS, AEROMYTH)
Stephen "The Fight Professor" Quadros : Drums (SNOW, ORANGE, 7th SUN, SACRED COWBOYS, MIKE PINERA, WHIPPED CREAM)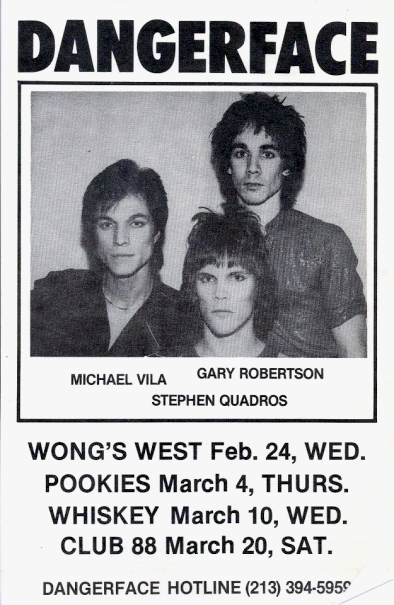 DANGERFACE were a short lived US Hard Rock trio formed in Los Angeles in 1982 when singer/guitarist Gary Robertson hooked up with bassist Tony Cavazo & drummer Stephen Quadros.
The rhythm section had previously played together in the cult L.A. Hard Rock band SNOW who had formed back in 1978 after Cavazo's prior band SPEED OF LIGHT had split up.
Having built up a loyal following on the club circuit, and after making some demo recordings , Snow self-financed a 5 song self titled 10" EP in 1980.
Released on the group's own Dynamic Records label, the EP has since become something of a cult collectors item.
The record sold well locally & was repressed the following year by the Sass Records label who had nationwide distribution, the exposure leading Snow to play larger gigs supporting the likes of IRON BUTTERFLY, SPIRIT and JOHNNY WINTER.
However, despite the success of the EP and the high profile non-stop gigging, the group were dismayed to be rejected by every major label.
In 1982 Snow's guitarist Carlos Cavazo, (brother of Tony), decided to accept the offer to replace Randy Rhoads in the new QUIET RIOT line up, bringing Snow's career to an end.
Quiet Riot would release 'Metal Health' in 1983, which became the first heavy metal album to top the U.S. Billboard album chart, eventually going platinum 6 times over in America & triple platinum in Canada.
Carlos remained with the band for the majority of their rollercoaster career, eventually departing from the group in 2003.
Following Snow's demise Tony Cavazo & Stephen Quadros opted to continue playing together, and meeting Gary Robertson, formed a new group called Dangerface with him.
Dangerface's only record release was a four song self-titled 12" EP released in 1983 on their own Sexual Records label, which came housed in an eye catching picture sleeve illustrated by Jim Brisco.
The music within was more cultured & varied than Snow's all-out attack had been, retaining some Hard Rock elements but combining that style with an almost New Wave sound at times, reminding this listener of THE POLICE, MISSING PERSONS & X in places, but the delivery always rocks somehow.
It was an intriguing mix and if the band had had the right breaks it would have been fascinating to see how their sound developed, but it wasn't to be.
Tony Cavazo left the band in late 1983, with Michael Vila coming in as his replacement, but soon after, drummer Stephen Quadros developed tendonitis, & because of the condition he was forced to give up his musical endeavours in order to allow the damage to heal.
This blow ultimately led to Dangerface calling it quits in mid-1984.
Quadros would eventually transition into a career in acting, appearing in more than 75 films and TV shows, and, drawing on his background in Tae Kwon Do, Shotokan, WingTsun, boxing & kickboxing, Quadros also became a Hollywood fight choreographer.
Nowadays better known to fans of M.M.A. as "The Fight Professor", Quadros has become a renowned fight commentator, radio DJ, & journalist.
He was also able to return to music eventually, forming SACRED COWBOYS in 2004.
He is also a member of 7th SUN who released their debut album "From The Beginning" in 2008, 7th Sun also sometimes play gigs as WHIPPED CREAM, a CREAM covers band.
Post-Dangerface, bassist Tony Cavazo formed a new Hard Rock band with guitarist Robert Sarzo, (brother of Quiet Riot bassist Rudy Sarzo).
Calling themselves HURRICANE, Cavazo & Sarzo recruited singer Kelly Hansen, drummer Jay Schellen and guitarist Michael Guy.
With little initial label interest, the band decided to release an album themselves, 1985's "Take What You Want", which was eventually picked up for distribution by Enigma Records.
The success of the album and constant touring with the likes of STRYPER led to Hurricane signing a major label deal with Capitol Records.
Cavazo stayed with Hurricane for 3 albums, until the group's split in 1991.
Nothing is known about what became of Gary Robertson or Michael Vila post-Dangerface.
Tony Cavazo & Stephen Quadros reunited with Carlos Cavazo, (now playing with RATT), & future LAST IN LINE vocalist Andrew Freeman for a one off Snow gig in 2011.
This activity led to further gigs in the following years & ultimately, the release of a double album of their vintage recordings this year (2017) on Escape Records.
Entitled 'At Last', the album features the group's demo recordings & the entire 'Snow' EP on the first disc, with a 1981 live recording from the Starwood Club appearing on the second disc.
The band played select shows in support of the album's release & recording a brand new Snow album is now apparently under serious consideration.
art & txt included
---------------------------------------------------------------------
01. Stop
02. Sin For Me
03. The Perfect Fool
04. Suffer For Love