10
THIS POST HAVE DEAD LINKS
REQUEST A REUPLOAD

HERE



CHECK SUBMITTED REQUESTS
BEFORE POSTING A NEW ONE!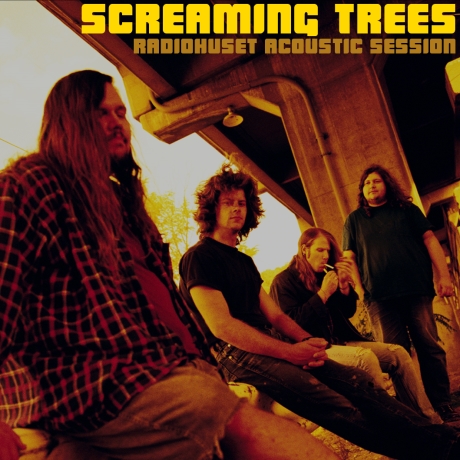 Artist: Screaming Trees
Release: Radiohuset Acoustic Session (1992)
Genre: Hard Rock/Classic Rock/Grunge/Psychedelia/Americana/Roots/Acoustic
Country: USA (Ellensburg, Washington)
Bitrate: 256 kbps
►Dead Link
---------------------------------------------------------------------
SCREAMING TREES - Radiohuset Acoustic Session (1992) USA
Recorded @ Studio 4, Radiohuset, Stockholm, Sweden 08/02/1993
256 kbps
Mark Lanegan - lead vocals, guitar (MAD SEASON, THE DESERT SESSIONS, QUEENS OF THE STONE AGE, SOULSAVERS, THE GUTTER TWINS)
Gary Lee Conner - guitar, backing vocals (THE PURPLE OUTSIDE, MICRODOT GNOME)
Van Conner - bass, backing vocals (SOLOMON GRUNDY, DINOSAUR Jr, GARDENER, WORM WOOD, VALIS, MUSK OX)
Barrett Martin - drums, percussion, backing vocals (THIN MEN, SKIN YARD, MAD SEASON, R.E.M., TUATARA, THE DESERT SESSIONS, BARRETT MARTIN GROUP, NANDO REIS, THE MINUS 5, WALKING PAPERS, LEVEE WALKERS)
SCREAMING TREES was an American rock band formed in Ellensburg, Washington in 1985 by vocalist Mark Lanegan, guitarist Gary Lee Conner, bass player Van Conner and drummer Mark Pickerel.
Pickerel had been replaced by Barrett Martin by the time the band reached its most successful period.
Although widely associated with Grunge, the band's sound incorporated Hard Rock and Psychedelic elements.
Their early independent records forged a psychedlic indie sound, but by the time the band were signed by Epic Records in 1990 they had found their own distinct style which owed more to the classic Rock of the '70's and the emerging 'Grunge' sound.
In 1991, the band released their fifth album, 'Uncle Anesthesia', which was produced by SOUNDGARDEN vocalist Chris Cornell.
The album's first single, 'Bed Of Roses', went on to be modrately popular on college radio, and introduced the band to a whole new audience.
Barrett Martin replaced drummer Pickerel and this new line up recorded 'Sweet Oblivion' in 1992.
The song "Nearly Lost You", became a successful single, thanks partly to its inclusion in the soundtrack for the film 'Singles', and a video which was played constantly on MTV.
'Sweet Oblivion' became the band's breakout album, eventually going on to sell nearly half a million copies in the U.S. alone, and the band toured globally for the first time, including a European tour supporting ALICE IN CHAINS.
The band went on hiatus at the tour's completion, with disagreementss about musical direction & substance abuse problems in the ranks cited as reasons in press speculation.
Whilst the Trees were on this break, Lanegan recorded his second solo album, 1994's 'Whiskey For The Holy Ghost'.
Lanegan & Barrett were then involved in MAD SEASON, a band that included PEARL JAM guitarist Mike McCready & Alice In Chains vocalist Layne Staley, releasing a lone album, 'Above', in 1995.
Later that year Screaming Trees began work on their follow-up to 'Sweet Oblivion'.
Following one stillborn attempt at the album, the band started all over again from scratch.
The resulting album, 'Dust', was released in 1996, nearly four years after its predecessor.
'Dust' became the first Screaming Trees album to chart outside of the United States, cracking the top 40 in the UK & Canada, but it fared less well at home where, despite favorable reviews, the album did not match the sales of 'Sweet Oblivion'.
After the release of the album, Josh Homme, formerly of KYUSS, joined the band as rhythm guitarist.
The band toured Europe as headliners for the first time, with SEAWEED supporting, before undertaking domestic dates.
At the tour's end Epic dropped the band, who went on hiatus yet again.
In 2000, after a concert to celebrate the opening of Seattle's Experience Music Project, the band announced their official breakup.
During Screaming Trees' existence the band released seven studio albums, five EPs, and three compilation albums.
An unreleased album that the band recorded in 1998 and 1999 finally saw the light of day in 2011, entitled, 'Last Words : The Final Recordings'.
Singer Mark Lanegan went on to collaborate with QUEENS OF THE STONE AGE, SOULSAVERS, THE GUTTER TWINS & ISOBEL CAMPBELL, as well as having a successful solo career.
Bassist Van Conner went on to play with GARDENER, WORM WOOD & his main band VALIS, who have released four full length albums since their formation.
Barrett Martin went on to be a successful session drummer, toured with R.E.M., and has played in a variety of bands including BARRETT MARTIN GROUP, LEVEE WALKERS, THE MINUS 5 & WALKING PAPERS.
Guitarist Gary Lee Conner had been the least musically acttive of the four since the Screaming Trees split, but now has a new band called MICRODOT GNOME who have released two albums since 2010, and he released a solo album, 'Ether Trippers' in 2016.
art & txt included
---------------------------------------------------------------------
01. Nearly Lost You
02. Winter Song
03. No One Knows
04. Dollar Bill