38
THIS POST HAVE DEAD LINKS
REQUEST A REUPLOAD

HERE



CHECK SUBMITTED REQUESTS
BEFORE POSTING A NEW ONE!
Artist: Steve Jones
Release: Live Promo EP (1990) UK
Genre: Hard Rock
Country: UK (London, England)
Bitrate: 320 kbp
►
dead link
---------------------------------------------------------------------
Info
STEVE JONES - Live Promo EP (1990) UK
MCA Records L33-18174 (Promo Only)
Recorded by Westwood One Radio Networks at Concrete
Foundations Forum, Hollywood, 23rd September 1989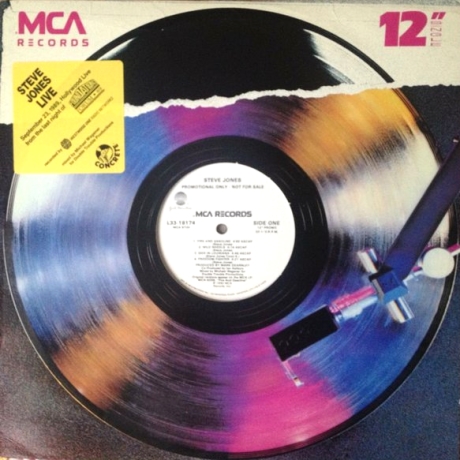 Steve Jones - Guitar & Vocals (THE STRAND, THE SWANKERS, SEX PISTOLS, THE GEEDIES, THE SHAM PISTOLS, THE PROFESSIONALS, THE LOOTERS, CHEQUERED PAST, FANTASY 7, NEUROTIC OUTSIDERS)
Kirk Hellie - Guitar (PURR MACHINE. MEOW MEOW, TAPE, KAMHOUT PROJECT, DISKONEKT THE HIFI, 12 ROUNDS, PINK NOISE TEST, CAVEAT EMPTOR)
Mike Dimkitch - Guitar (CHANNEL 3, SUCKERPUNCH, THE CULT, BAD RELIGION)
Terry Nails - Bass (KILLERWATT, TOMMY TUTONE, JOHNNY CRASH, OZZY OSBOURNE, BILL WARD, BONE ANGELS)
Pete Kelly - Drums (FANTASY 7, THE CULT, IGGY POP, PINK NOISE TEST, THE MISSIONARYS)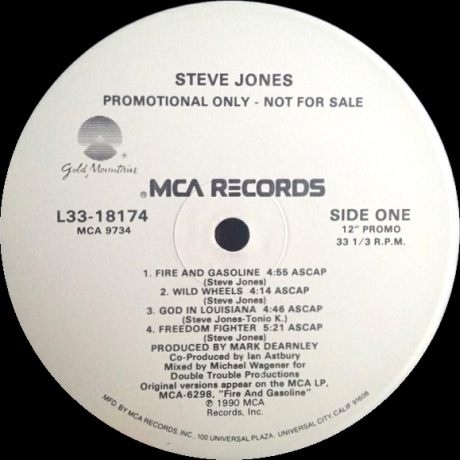 Steve Jones is an English rock guitarist, singer and actor, best known as guitarist and founding member of punk rock band the SEX PISTOLS.
Jones co-founded THE STRAND (named after a ROXY MUSIC song) with drummer Paul Cook and bassist Wally Nightingale in the early 1970s.
The Strand were a precursor to the Sex Pistols, and is where Jones first learned to play guitar.
After dropping Wally Nightingale in the mid 1970s, the band was known as THE SWANKERS.
In 1975, Jones went on to co-found the Sex Pistols with Cook, Glen Matlock, and later, John Lydon.
Bill Price, the engineer on 'Never Mind The Bollocks, Here's The Sex Pistols', called Jones one of the tightest guitar players he has ever worked with.
Due to the inability of Sid Vicious to perform to a satisfactory standard in the studio, Jones also played the bass guitar parts on 'Never Mind The Bollocks', the sole exception being 'Anarchy In The UK', recorded whilst Glen Matlock was still in the band.
After the Sex Pistols broke up in 1978, Jones and drummer Paul Cook co-founded THE PROFESSIONALS.
They released two albums, a self-titled debut and 'I Didn't See It Coming', but disbanded after a serious car crash while on tour in the US in 1981.
Jones was also a member of CHEQUERED PAST, (led by Michael Des Barres of SILVERHEAD & DETECTIVE), from 1982 to 1985, who released a lone self-titled album in 1984.
Jones has also played with THE GREEDIES, JOHNNY THUNDERS, BILLY IDOL, THE LIGHTNING RAIDERS, JOAN JETT, ADAM ANT, IGGY POP, ANDY TAYLOR and MEGADETH.
Jones also had a solo career in the late 1980s and early 1990s, releasing two albums, 'Mercy' and ' Fire & Gasoline'.
The sound of 'Mercy' was much more in the Hard Rock mould than his previous efforts, with comparisons drawn between his output and that of THE CULT & GUNS'n'ROSES
These comparisons were even more justified on the 'Fire & Gasoline' album, which was produced by The Cult's Ian Astbury, and featured that band's guitarist Billy Duffy too.
Guns 'n' Roses vocalist Axl Rose also appeared, singing on a re-recording of the Sex Pistols 'Did You No Wrong'.
Songwriting on the album was also bolstered by outside contributions from the likes of MOTLEY CRUE's Nikki Sixx, Ian Astbury, and the inclusion of an unrecorded ROSE TATTOO song.
The album failed to set the world on fire however, and this solo project eventually fizzled out.
In 1992 Steve formed a new band called FANTASY 7 (aka F7), with drummer Pete Kelly from his solo band, Todd Hoffman on Bass and vocalist Marc McCoy.
An eleven song album was recorded, but it remains unreleased.
In 1995, Jones played guitar on the self-titled lone album by P, a band featuring Gibby Haynes of THE BUTTHOLE SURFERS and actor Johnny Depp.
He then formed NEUROTIC OUTSIDERS, a new group which featuring Jones on guitar and vocals, former GUNS 'n' ROSES members Duff McKagan and Matt Sorum on rhythm guitar and drums, and John Taylor from DURAN DURAN on bass.
They released a self-titled album in 1996.
In 1996, Rotten, Jones, Cook and Matlock reunited for the Sex Pistols hugely successful six month 'Filthy Lucre' World Tour.
This tour was commemorated by the release of the 'Filthy Lucre - Live' album, recorded at London's Finsbury Park, with subsequent Pistols reunions taking place in 2002, 2006 & 2007.
Jones went on to produce the self-titled debut albums of the Los Angeles based Hard Rock bands BUCKCHERRY and AMERICAN PEARL, released in 1999 and 2000.
In February 2004, Jones began hosting a daily radio program in Los Angeles, called 'Jonesy's Jukebox', on Indie 103.1 FM, where he could do whatever he wanted without any interference from station management.
Jones mixed an eclectic playlist with rambling humorous interviews with guests from the entertainment industry.
He kept an acoustic guitar in the studio and frequently performed stream of consciousness songs about the current topic of discussion.
Notable guests have included Johnny Ramone, Brian Wilson, Pete Townshend, Iggy Pop, Robert Plant, Gary Oldman and Johnny Rotten.
Jones was picked up by the LA radio Station KROQ in October 2010 where he continues his Jonesy's Jukebox show.
On 24 February 2006, the Sex Pistols, (the four original members plus Vicious), were inducted into the Rock And Roll Hall Of Fame, but refused to attend the ceremony, calling the museum "a piss stain".
art & txt included
---------------------------------------------------------------------
01. Fire And Gasoline (4:49)
02. Wild Wheels (4:08)
03. God In Louisiana (6:05)
04. Freedom Fighter (5:15)