26
Artist: Blackfoot
Release: Bummed Out 7"
Genre: Hard Rock/Southern Rock
Country: USA (Little Rock, Arkansas)
Bitrate: 320 kbps
►Link
Hidden Link
---------------------------------------------------------------------
Info
BLACKFOOT - Bummed Out 7" (1970) USA
San American Records #951 - SA 503
320 kbps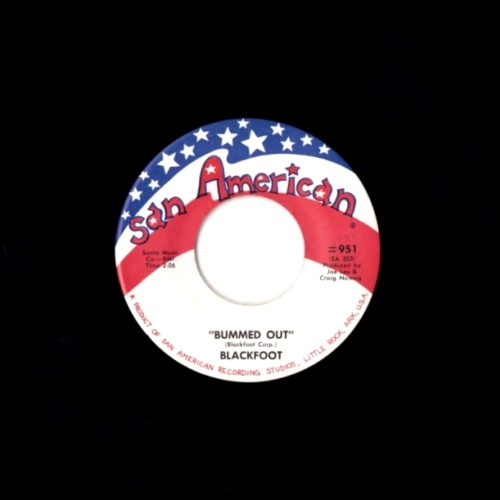 Lemmie Ogles - Vocals
Gil Colaianni - Lead Guitar/Vocals (GIBRALTAR, GIO BRUNO)
John Walthall - Rhythm Guitar/Vocals (LARRY LEE CHESHIER BAND)
Stuart Holt - Bass/Vocals (HIGH ROAD, TATTOOED KITTY, SISTER ROCK)
Joe Marchese - Hammond B3/Vocals (THE SOLE SOCIETY/SOUL SOCIETY, YAK ZEBU, CANDLE, ROCK CREEK, TOMMY RIGGS & SHOWTIME, ZOOM, SPARE TIME, THE COMMON GOOD, THE GROANUPS, SOUTHBOUND, THE ROCKETS, THE MARCHESE HENDRICKS PROJECT)
Chris Marchese - Drums/Vocals (THE SOLE SOCIETY/SOUL SOCIETY, YAK ZEBU, CANDLE, THE COMMON GOOD)
'Bummed Out' is a 7'' single which was recorded in 1970 by the U.S. Hard Rock band BLACKFOOT, a six piece group from Little Rock, Arkansas formed by brothers Joe & Chris Marchese, (on Drums/Vocals and Hammond Organ/Vocals respectively).
The Marchese brothers were at the time, although still young, already veterans of several '60's garage bands such as THE SOLE SOCIETY/SOUL SOCIETY, YAK ZEBU & CANDLE.
The other musicians involved were Lemmie Ogles (Vocals), Gil Colaianni (Lead Guitar/Vocals), John Walthall (Rhythm Guitar/Vocals) and Stuart Holt (Bass/Vocals).
Blackfoot, (also sometime's known as 'Blackfoot Corp.'), were at the time the in-house session band for the fledgling San American record label & recording studio, and in exchange for their session work the band got to rehearse and record their own songs in the studio's down-time.
Unfortunately the band manged to release just this lone 45, and whilst working on what was to be their debut album the group split, early in 1971.
In 2007 their song 'Bummed Out' was featured on the 'Lost Souls Volume 1' Various Artists compilation album on the Psych Of The South label, with this volume in the ongoing series exclusively featuring late '60s and early 70's bands from the state of Arkansas.
The same compilation also featured the Marchese brothers earlier band The Sole Society, utilising the A-Side of their lone 45, 'Psychedelic Cycle'.
This Blackfoot were nothing whatsoever to do with the better known LYNYRD SKYNYRD related band of the same name who hailed from Jacksonville, Florida, however, confusion over their names later led to the two songs from the Arkansas group's 45 ending up as bonus tracks on a 2006 bootleg CD release of the Jacksonville band's debut album, "No Reservations" by Rock Fever Records.
art & txt included
---------------------------------------------------------------------
01. Bummed Out
02. Huntin' For Yourself