23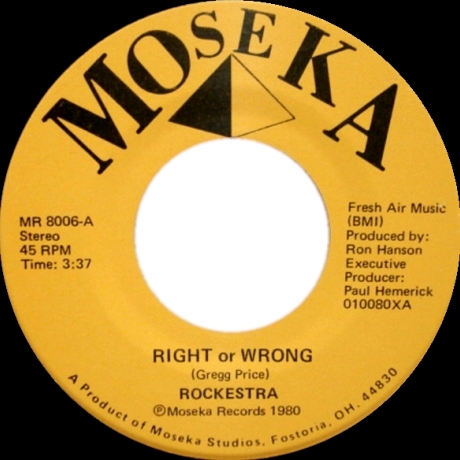 Artist: Rockestra
Release: Right Or Wrong 7"
Genre: Hard Rock/Classic Rock
Country: USA (Toledo, Ohio)
Bitrate: 256 kbps
►Link
Hidden Link
---------------------------------------------------------------------
Info
ROCKESTRA - Right Or Wrong 7" (1980) USA
Moseka Records MR 8006
256 kbps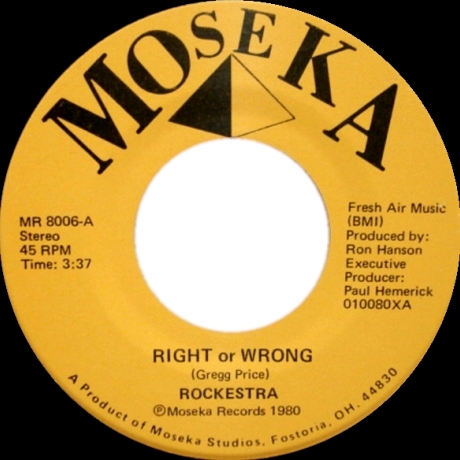 Gregg Price : Vocals & Percussion (EAST RIVER DRIVE)
Larry Shelton : Bass & Vocals (JAX, RUBY DEE)
Don West : Guitar & Vocals
Tom Sutphen : Keyboards
Dave Wilcox : Drums (THE ENTERTAINER)
ROCKESTRA was an American Hard Rock band formed in 1974 in Toledo, Ohio.
The band underwent many line up changes throughout their early years, with only drummer Dave Wilcox remaining a constant fixture from the beginning.
Keyboard player Chuck Rowe left the band in 1978, and went on to join up with GRAND FUNK RAILROAD's former rhythm section in their new group FLINT, just in time to tour in support of 'The Flint Album'.
Rowe then played on the band's second album, 1979's 'Layin' It On The Line', but the group's label, CBS, shelved the record & it was never officially released.
Phil Dix, Rex Rutter and Tym Chandler soon followed Rowe out of the Rockestra exit door, leaving what remained of the band on the verge of calling it a day.
However, Rockestra's line up finally stabilised in 1978, as a quintet featuring former EAST RIVER DRIVE vocalist Gregg Price, ex-JAX bassist Larry Shelton, guitarist Don West, Tom Sutphen on Keyboards & the ever present Wilcox on drums.
This version of the group built up a considerable live following thanks to their constant gigging schedule which often saw them play as far afield as Florida, Illinois & Georgia.
In 1980 Rockestra released a single on the Moseka label featuring 'Right Or Wrong' on the A Side, with 'Society Girl' on the flipside.
'Right Or Wrong' was also featured the following year as the opening track on the compilation LP, 'FM 104 : Toledo's Best Rock', which was put together by the WIOT radio station to showcase local talent.
Rockestra took the decision to relocate to Florida in 1981, but they went without lynchpin Wilcox who opted to finally leave the band and move to Las Vegas instead.
In Vegas, he would team up again with former Rockestra bassist Tym Chandler, and the pair would play together in several bands over the years.
Tragically, Chandler was murdered in the mid 1990's, shot by his girlfriend's ex-husband.
After their relocation to Florida, Rockestra continued to play live extensively but didn't release any further music, finally splitting up in 1984.
Post-Rockestra Gregg Price eventually returned to Toledo and reformed East River Drive who continue to play to this day.
art & txt included
---------------------------------------------------------------------
01. Right Or Wrong
02. Society Girl